Donald Trump's victory speech: Republican's 'presidential' tone helps markets to recover after big falls
'Now it's time for America to bind the wounds of division — have to get together. To all Republicans and Democrats and independents across this nation', he said
Ben Chapman
Wednesday 09 November 2016 10:20 Comments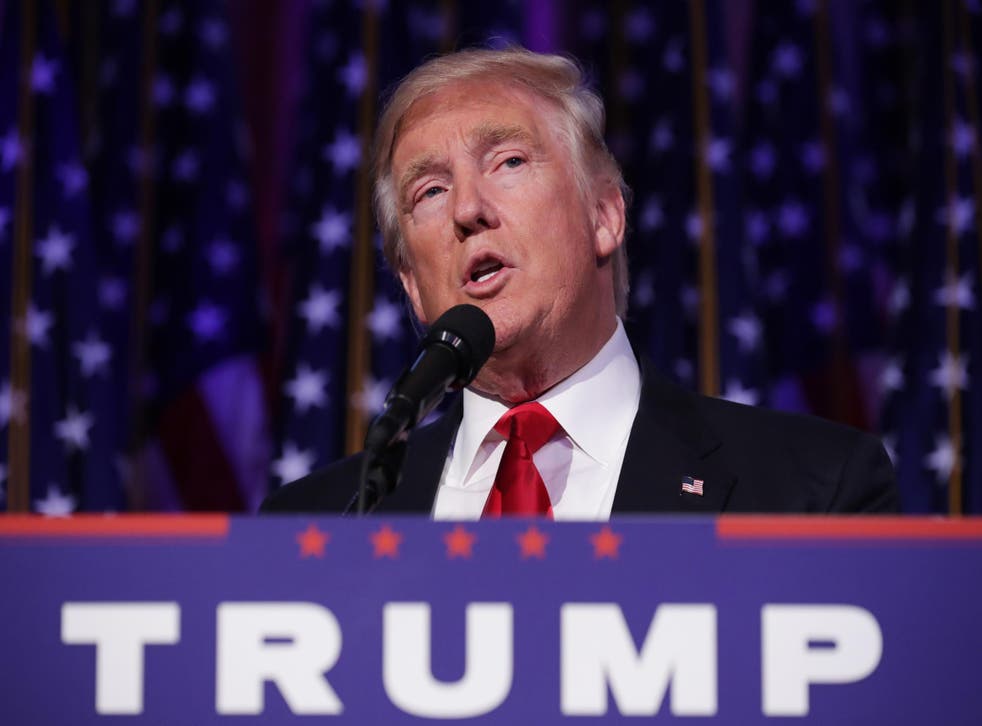 Donald Trump's uncharacteristically measured acceptance speech helped global stock markets and the dollar to recover from big losses overnight as traders grappled with what the new president might mean for the US economy.
Currencies were volatile overnight as the the prospect of Trump in the White House sent the dollar falling overnight but the dollar rallied this morning after the result became certain and Trump seemed to soften his bombastic rhetoric.
The brash New York businessman congratulated Hillary Clinton, adding "Now it's time for America to bind the wounds of division — have to get together. To all Republicans and Democrats and independents across this nation, I say it is time for us to come together as one united people."
Alex Edwards, currency analyst at UKForex said Trump's "appeasing tone" had given some reassurance to markets. "Trump definitely helped. It wasn't quite the reaction we were expecting. Investors and traders are still trying to get their heads around the official result, and there's a lot of trepidation out there," he said.
Edwards warned currency markets would remain volatile as the result is digested. "Spreads are wide and we still expect to see some big moves in the currency markets as the day goes on," he said.
Kathleen Brooks of CityIndex questioned whether President Trump could be different to the often angry candidate seen on the campaign trail. "Could the markets be hoping that 1, Trump won't be as bad a President as they thought he would be less than 24 hours
ago? 2, That he may actually be more establishment and less maverick than he portrayed himself throughout the campaign? At this stage we can't answer these questions, but they give the markets lots to ponder today."
The dollar plunged 2.6 per cent against the yen and 1.6 per cent against the Swiss franc as Hilary Clinton's prospects of gaining the Whithouse ebbed away, but the currency pared some of its losses as the result became a certainty and Trump gave his speech.
Meanwhile, the euro rallied to its highest level in two-months, climbing 1.8 per cent to $1.1225. The FTSE also recovered from its earlier losses.
Trump victory speech calls on Americans to become 'one united people'
The price of gold, seen as a safe place for investors' money in times of uncertainty, saw it biggest rise since the Brexit vote, rising 3.1 per cent, at $1,314.40 an ounce overnight before falling back to around the $1,300 mark.
Given Trump's stance on free trade with its neighbours and immigration, economists have said the Mexican economy could fall into a contraction if he wins. As the result emerged Wednesday, the Mexican peso collapsed 11.5 percent.
Some experts also saw some of Trump's policies as potentially positive for the US economy, particularly his aim to repatriate the hundreds of billions in profits stashed offshore by American multinationals.
Trump's victory could make the US Federal Reserve less likely to raise its key interest rate at its next meeting in mid-December — especially if financial markets remain under pressure. Some analysts are ruling it out entirely.
"Less chance of a Fed rate hike also helps keep investors smiling at the prospect of cheap money and accommodative global monetary policy stance for a while longer," said Mike van Dulken, an analyst at Accendo Markets.
Another point of interest will center on the U.S.'s trade relations with China. Trump's victory has raised concerns that the U.S. and China might embark on a trade war of sorts and that protectionism around the world will grow.
"Investors will right now be in the process of attempting to differentiate between Trump's actual policy positions and some of the more outlandish statements made on the campaign trail," said Michael Levy, an emerging markets investment director at Barings.
In Asia, Japan's Nikkei 225 stock index closed 5.4 percent lower, recouping some losses, at 16,251.54. Hong Kong's Hang Seng closed 2.2 percent lower to 22,415.19 while the main index in Shanghai fell 0.6 percent to 3,128.77.
Click here to download your free guide on how to select shares, with Independent Partner, Hargreaves Lansdown
Register for free to continue reading
Registration is a free and easy way to support our truly independent journalism
By registering, you will also enjoy limited access to Premium articles, exclusive newsletters, commenting, and virtual events with our leading journalists
Already have an account? sign in
Join our new commenting forum
Join thought-provoking conversations, follow other Independent readers and see their replies