Donald Trump's economic policy: Can he really create 25m jobs and grow the economy at 4 per cent?
Economists scrutinise the new President's plans to make America great again
Ben Chapman
Tuesday 24 January 2017 13:26 Comments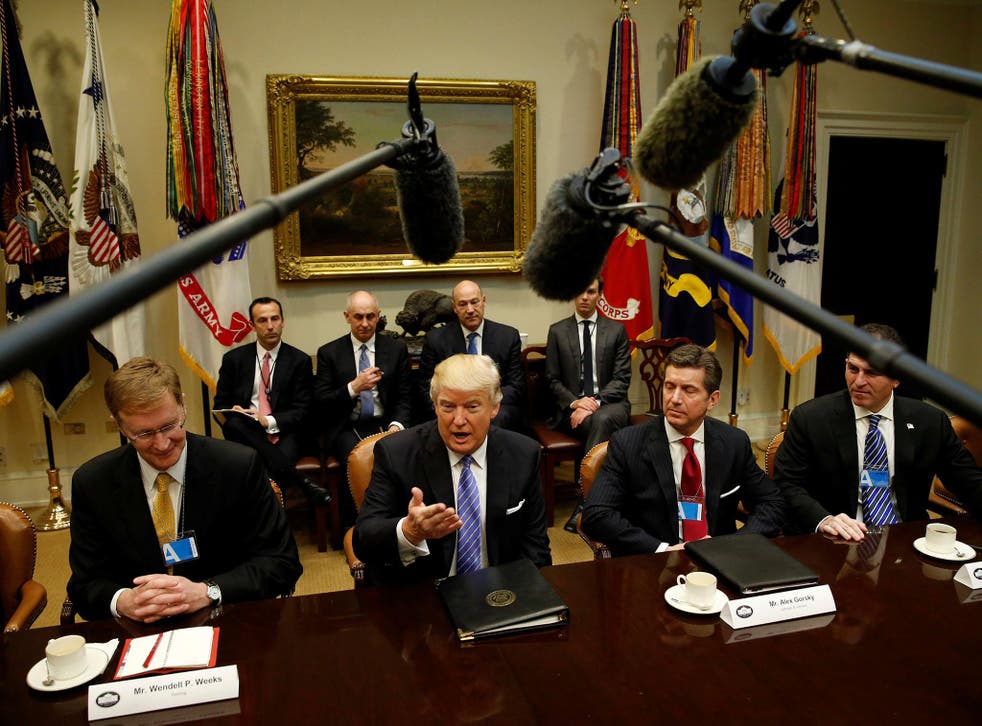 US President Donald Trump has made some eye-catching claims about how exactly he plans to "make America great again". Central to the new US President's platform are promises to supercharge economic growth to 4 per cent per year and create 25 million new jobs over the next decade.
In pursuit of these aims he has already signed orders to tear up the Trans-Pacific Partnership trade deal and renegotiate the North American Free Trade Agreement. He has also pledged to scrap environmental and financial regulation, put up tariff barriers, slash taxes and instigate a massive infrastructure spending spree.
How likely is he to be able to hit such ambitious targets? Many economists are sceptical.
US growth was 1.7 per cent in 2016. The last time the figure hit 4 per cent over twelve months was in 2000 as stock markets surged at the height of the dotcom bubble. Growth has only surpassed that level during three short periods since 1980.
Kallum Pickering, senior economist at Berenberg Bank, pointed out a simple structural barrier to hitting 4 per cent in 2016: The population is getting older. The baby boomer generation is now retiring and the percentage of people in the workforce is falling. Stemming immigration is only set to exacerbate this trend as immigrants are more likely to be of working age than the general population.
Deregulation
A Trump presidency offers "real economic benefits but major political risks", says Mr Pickering.
On the positive side, moves to scrap what Mr Trump describes as burdensome regulations on business, simplify the US tax code and lower a relatively high tax rate on company profits could spur GDP growth to 3 per cent, Mr Pickering said. But 4 per cent looks ambitious.

Deutsche Bank chief economist David Folkers-Landau is also positive about the new President's impact on growth, describing Mr Trump as a "game changer" for the US, in a January note. The bank is predicting a 2.4 per cent GDP rise in 2017 – ahead of other developed economies but some way behind the new President's ambition.
Mr Trump's business-friendly policies make Deutsche Bank "very bullish [on] US growth," Mr Folkers-Landau said. "Fiscal stimulus and broad-based deregulation are expected to jolt the US economy toward a long-term equilibrium of higher growth, inflation, and interest rates," he added.
Fiscal stimulus
Some are less enthusiastic. Mr Trump's tax cuts will have limited impact because they are loaded towards wealthy individuals who have little propensity to spend the gains they make, says Andrew Hunter, US economist at Capital Economics. Spending rises will not boost the economy as much as the President claims because it is already close to full employment, so will serve to fuel inflation rather than real growth.
He predicts the economy will grow at 2.7 per cent this year but says the stimulus will push inflation above 3 per cent, "prompting the [US Federal Reserve] to raise interest rates more aggressively."
Another factor that may put paid to President Trump's economic ambitions is that workers aren't getting much more productive. Output per person is currently rising just 1 per cent per year, Mr Hunter points out, meaning that it is "very unlikely" the economy can expand at 4 per cent for any length of time without significant inflation.
Donald Trump meets business leaders on "Day One" of his presidency
"All this naturally means that we are very doubtful about the 25 million jobs figure as well," Mr Hunter said, pointing out that the US added 15 million jobs since the start of 2010 when the country was recovering from the worst recession in living memory and a 10 per cent unemployment rate.
"It just won't be possible to sustain (let alone exceed) that pace of job creation over the coming years," Mr Hunter added.
Protectionism
Mr Trump has repeatedly taken aim at individual companies including Ford and General Motors, threatening hefty import tariffs if they manufacture goods in Mexico instead of the US. A series of tweets harassing individual companies has repeatedly wiped billions off stock market valuations in minutes.
This erratic "rule by Twitter" strategy will damage the US economy's growth prospects in the long term says Holger Schmieding, chief economist at Berenberg, in a January research note.
"It weakens the overall attractiveness of the US as a place to invest," Mr Schmieding said. "Companies may think twice to which extent they want to expose themselves to such US risks.
"Attempts to shift activities to the US that can be done more efficiently abroad are negative-sum games."
Register for free to continue reading
Registration is a free and easy way to support our truly independent journalism
By registering, you will also enjoy limited access to Premium articles, exclusive newsletters, commenting, and virtual events with our leading journalists
Already have an account? sign in
Join our new commenting forum
Join thought-provoking conversations, follow other Independent readers and see their replies