Donald Trump's pledge to scrap TPP trade deal on day one prompts outrage: 'The US is not an island'
Asia-Pacific leaders meeting at an economic summit in Peru over the weekend pledged to pursue free trade deals despite Mr Trump's opposition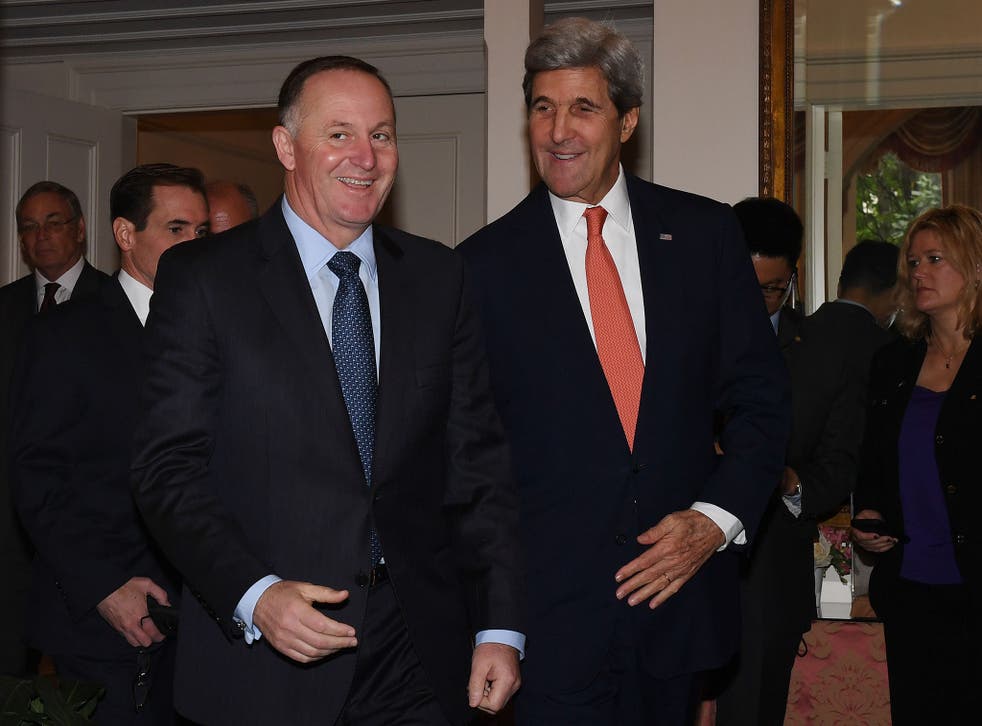 The United States cannot just "sit there" and "not trade" with the rest of the word, the prime minister of New Zealand warned as fellow members of the Trans-Pacific Partnership (TPP) reacted with concerns to Monday's vow of US withdrawal by Donald Trump.
President-elect Trump announced the US will quit the trade deal on his first day in the White House calling the 12-nation agreement, pushed by President Barack Obama, "a potential disaster for our country".The video message released on YouTube was Mr Trump's first public address on policy since his interview on 60 Minutes.
John Key, prime minister of New Zealand, one of the 12 countries which had signed up to the pact, said he was disappointed but not surprised by the announcement.
Mr Key said: "The United States is not an island. It can't just sit there and say it's not going to trade with the rest of the World."
"At some point the US would want to think about how it accesses those very fast-growing markets in Asia, and what role it wants to have in Asia."
He added that the other 11 countries of the TPP could move forward with the deal.
Other fellow members of the trade deal made harsh comments but have suggested they have not yet given up on TPP.
Japanese prime minster Shinzo Abe said the TPP "has no meaning" without the US,
Donald Trump outlines plans for first 100 days in office
Speaking at a press conference in Buenos Aires, Mr Abe declared that renegotiating an 11-member TPP was impossible. However, he added: "At the meeting of TPP leaders, all the participating countries once again shared their determination to complete this challenge."
Asia-Pacific leaders meeting at an economic summit in Peru over the weekend pledged to pursue free trade deals despite Mr Trump's opposition.
Malaysia's economic planning minister Abdul Rahman told the BBC that Trump quitting TPP would be a "sad day for world trade".
"Some governments had to go through very nasty confrontations with their own people in terms of trying to convince them [about this deal].
"If President Trump decides not to go ahead with TPP then it will be a very big blow after a long arduous task to convince Malaysia."
World reaction to President Trump: In pictures

Show all 29
The TPP was signed by 12 countries which together cover 40 per cent of the world's economy, but has not yet been ratified.
Frederic Neumann, head of Asian economic research at HSBC in Hong Kong said China will be the bigger winner from the US decision to withdraw.
He told the Financial Times: "The US is not only losing economic but also political leverage in Asia from withdrawing from the TPP,"
"China can now use its vast internal market as a bargaining chip and bring other economies closer into its orbit.
"It's a watershed moment, not necessarily for the better for world trade. It means greater regionalisation for these economies. American companies will be at a loss, finding they have reduced market access,"
"Vietnam, Malaysia, and Japan will be the losers from the collapse of TPP."
Join our new commenting forum
Join thought-provoking conversations, follow other Independent readers and see their replies