Donald Trump sends US dollar to five-month low after saying the currency is getting too strong
In an interview, the President said that the dollar's strength was 'partially' his fault 'because people have confidence in me'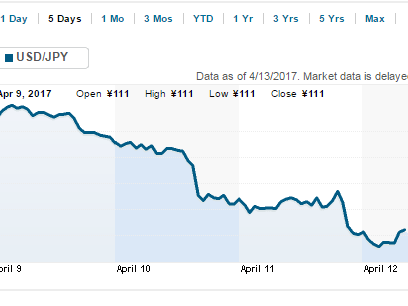 The US dollar slipped to a five-month low against Japan's yen after Donald Trump said the currency was getting "too strong" and that he would prefer the Federal Reserve to keep interest rates capped.
In an interview with the Wall Street Journal, the President said that the dollar's strength was "partially" his fault "because people have confidence in me", but he said that it was starting to hurt.
"Look, there's some very good things about a strong dollar, but usually speaking the best thing about it is that it sounds good," he told the paper.
"It's very, very hard to compete when you have a strong dollar and other countries are devaluing their currency," he said.
Currency investors responded by selling the greenback. Late Wednesday it slipped to its lowest in five months against the yen. It's frequently benchmarked against the Japanese currency, which had already been rising because it is frequently valued as a safe haven during times of geopolitical tension or market uncertainty.
The dollar also slipped against the pound and the Swiss franc and the yield on the 10-year US Treasury note fell to its lowest level in nearly five months.
In Wednesday's interview, Mr Trump also said left open the possibility of renominating Janet Yellen as chair of the Federal Reserve. Her tenure is due to end next year.
Ms Yellen has in the past been a target of Mr Trump's criticism, but asked whether she was "toast" when her term ends he said no.
Business news: In pictures

Show all 13
"I like her, I respect her," he added.
Early Thursday, the dollar had stabilised against the yen.
Register for free to continue reading
Registration is a free and easy way to support our truly independent journalism
By registering, you will also enjoy limited access to Premium articles, exclusive newsletters, commenting, and virtual events with our leading journalists
Already have an account? sign in
Register for free to continue reading
Registration is a free and easy way to support our truly independent journalism
By registering, you will also enjoy limited access to Premium articles, exclusive newsletters, commenting, and virtual events with our leading journalists
Already have an account? sign in
Join our new commenting forum
Join thought-provoking conversations, follow other Independent readers and see their replies