US stock market hits record high after Donald Trump's victory
Republican defies predictions again as global markets react favourably to victory
Ben Chapman
Thursday 10 November 2016 09:16 Comments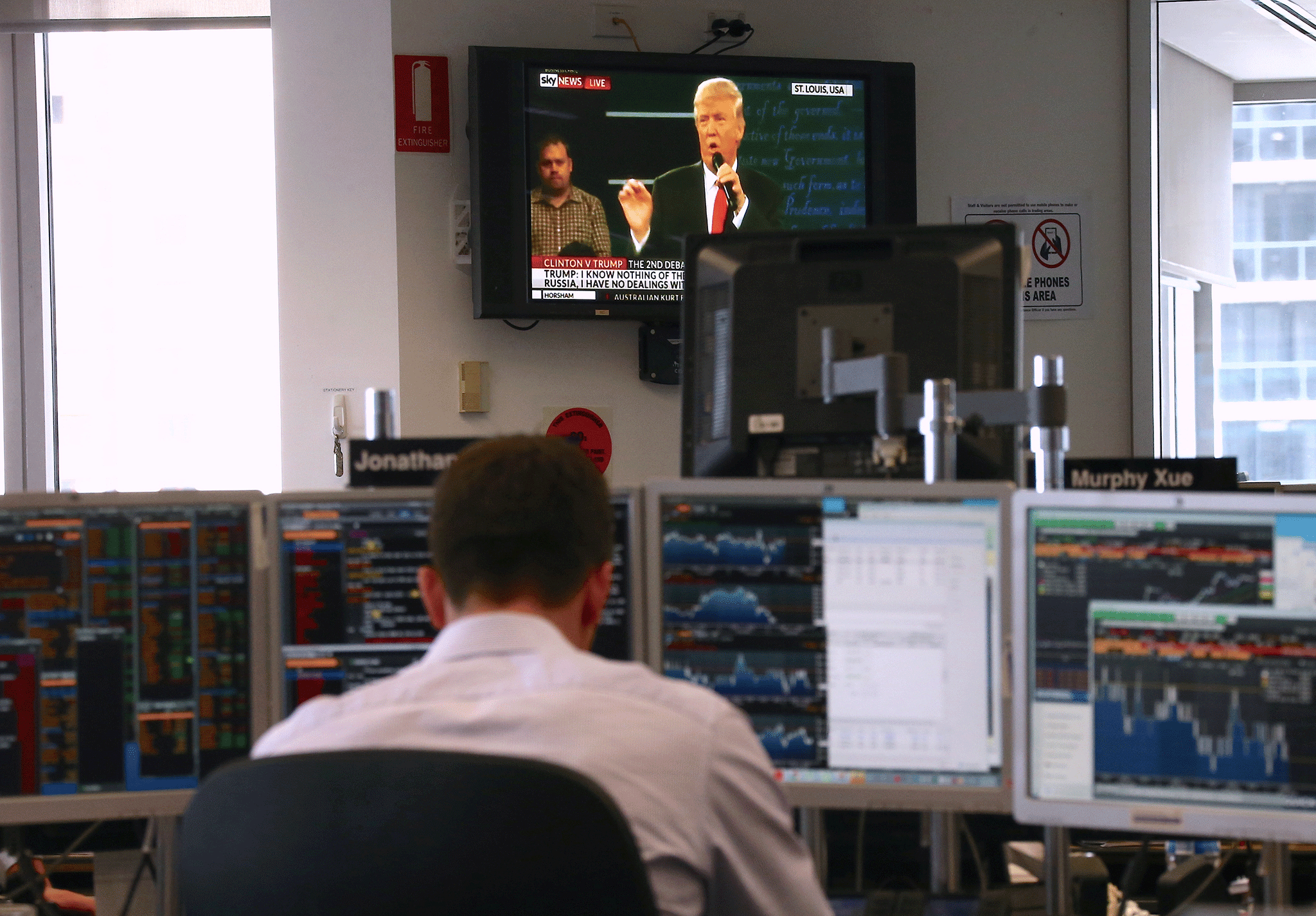 The Dow Jones hit an all time high on Thursday, defying many predictions of a market meltdown in the wake of Donald Trump's shock election victory.
The US index of leading shares hit 18,873 points, its highest ever intra-day level.
European stocks also rose on Thursday following large gains in Asia, as exuberance shot through the markets at the prospect of Mr Trump as the next president of the United States.
Anyone who bought German or French shares during Mr Trump's victory speech on Wednesday morning has seen a 4 per cent boost in their value.
The jump defies the doom-laden predictions of many City analysts, who predicted a huge sell-off if the Republican candidate was victorious.
The consensus view that Mr Trump's unpredictability and protectionist economic policies would spook world markets has proved incorrect as shares have rebounded strongly.
The FTSE 100 jumped up 1 per cent within minutes, but fell back to end the day 1.21 per cent down at 6,827.98 – still above where it stood before Tuesday's election.
Banks gained on the prospect of relaxations on Wall Street regulation, with Barclays up 4 per cent and RBS rising 4.5 per cent. On the other side of the pond, JP Morgan and Goldman Sachs also rose.
Trump's promises to boost defence spending saw BAE Systems add another 5 per cent.
Trading floors were awash in red on Wednesday as investors reacted to news that the firebrand tycoon had defeated establishment candidate Hillary Clinton.
However, a reassuring victory speech – followed by calls by Ms Clinton and President Obama to get behind the President-elect – provided some encouragement to traders, sending stock markets into a rally.
Most markets in Asia either wiped out or clawed back the majority of the previous day's losses, while the dollar pushed higher.
The currency had come under pressure as traders worried that Mr Trump's negative impact on the economy would cause the Federal Reserve to hold off an interest rate rise, but analysts said those worries had abated for now.
There were also gains of more than one per cent in Singapore and Manila.
Click here to download your free guide on how to select shares, with Independent Partner, Hargreaves Lansdown
Register for free to continue reading
Registration is a free and easy way to support our truly independent journalism
By registering, you will also enjoy limited access to Premium articles, exclusive newsletters, commenting, and virtual events with our leading journalists
Already have an account? sign in
Join our new commenting forum
Join thought-provoking conversations, follow other Independent readers and see their replies