Donald Trump victory wipes $1 trillion off value of global bond markets
Investors have rapidly dumped US government debt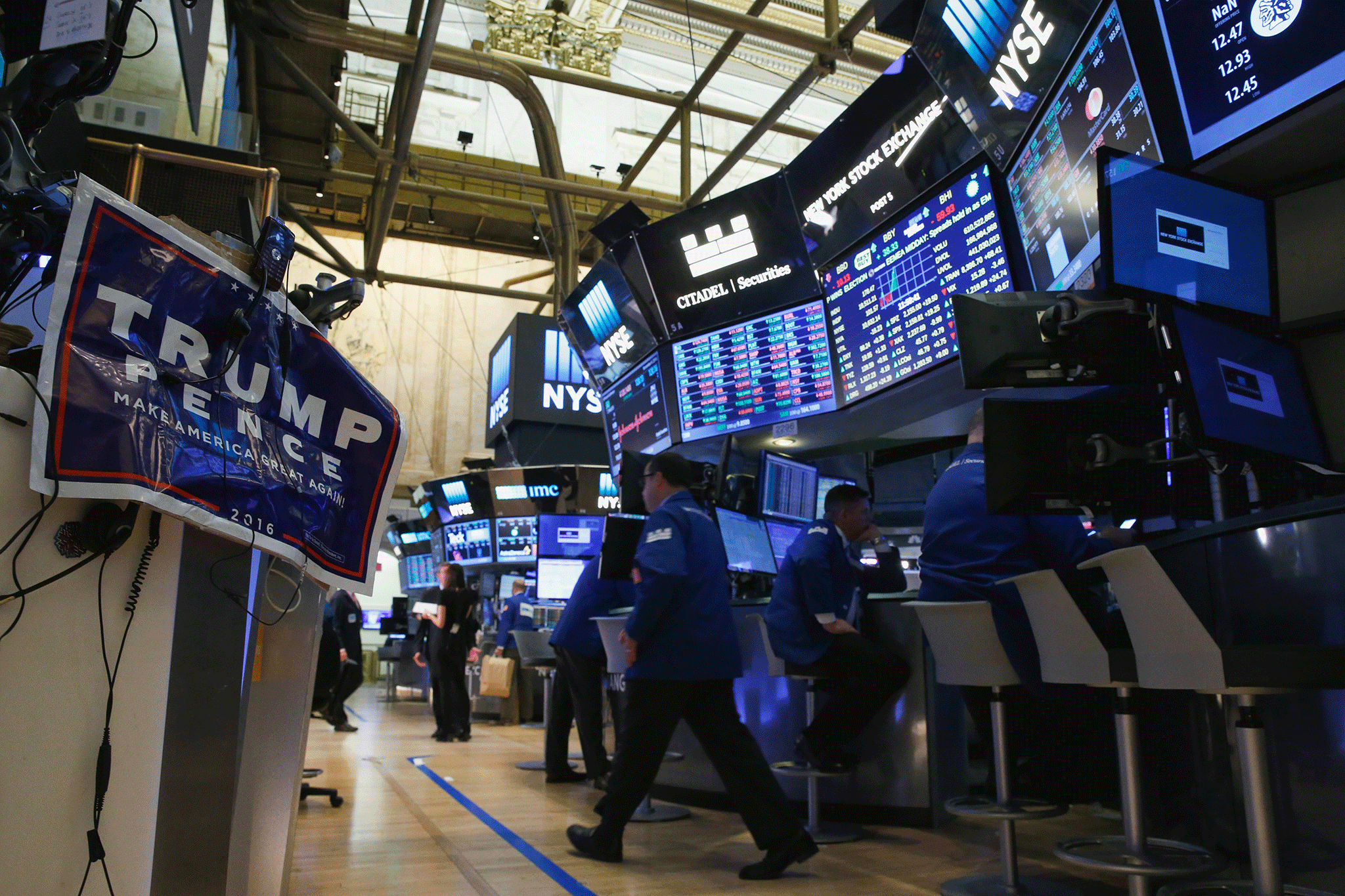 Donald Trump's stunning victory in the US presidential election wiped more than $1 trillion (£800bn) off the value of global bond markets in two days.
President-elect Trump has pledged to massively increase infrastructure spending, which has caused a big shift away from the safety of government debt and into the shares of companies who may cash in on any spending bonanza. The wider stock market has also risen on the back of investors' predictions of increased growth.
Turning on the government spending taps would push up inflation, meaning that the already meagre returns on US bonds would head into negative territory, adding more reasons to sell and move into riskier assets.
The rush to sell bonds sent interest rates on longer-dated US government debt to their highest levels since January with the yield on 30-year bonds increasing at its fastest pace since January 2009. Yields increase as demand for bonds decreases.
Meanwhile, the Dow Jones industrial average of leading US shares completed its best week for five years on Friday as it closed at a record high.
The shift in policy in the White House may mark the long-awaited end to the more than 30-year-old bull run in bonds.
"We've had a sentiment shift in the bond market. We've seen it, too. People have already started reallocating out of bonds and into stocks," Jeffrey Gundlach of DoubleLine Capital told Reuters.
"The cracks have been forming for five years – we're in this slow-grinding higher phase in yields," he said.
The leading index of investment-grade government bonds saw $1 trillion knocked off its value after Mr Trump's victory. The Bank of America Merrill Lynch's Global Broad Market Index, fell at its steepest rate since June 2015, while its US Treasury index saw the biggest weekly decline since June 2009.
The 10-year German Bund yield rose to its highest level in eight months, while the 10-year British gilt yield climbed to its highest level since before the Brexit vote.
Many investors have bought government debt in the belief that a sluggish global economy would mean continued easy monetary policies worldwide, pushing up the value of bonds. They will now hope big insurers and pension plans will keep up demand for government paper.
World reaction to President Trump: In pictures

Show all 29
Goldman Sachs forecast the 10-year US interest rate could climb to 2.5 per cent, up sharply from 2.11 per cent on Thursday.
Mr Trump, who beat Democratic rival Hillary Clinton, campaigned on tax cuts, trade restrictions and a $1 trillion boost to infrastructure spending. But the property tycoon's unpredictable nature – he has already hinted at U-turns on some of his flagship policies – means the impact of his policies on the economy is as yet unknown.
However, a predicted crash in stock markets has not materialised. Equities have rallied strongly on the expectation that, however erratic he may be, Mr Trump in the White House, backed by a business-friendly Republican majority in Congress will boost growth from its level of 2 per cent this year.
Join our new commenting forum
Join thought-provoking conversations, follow other Independent readers and see their replies