Costa Coffee cools for Whitbread
Finance director dismisses talk of a maturing UK coffee market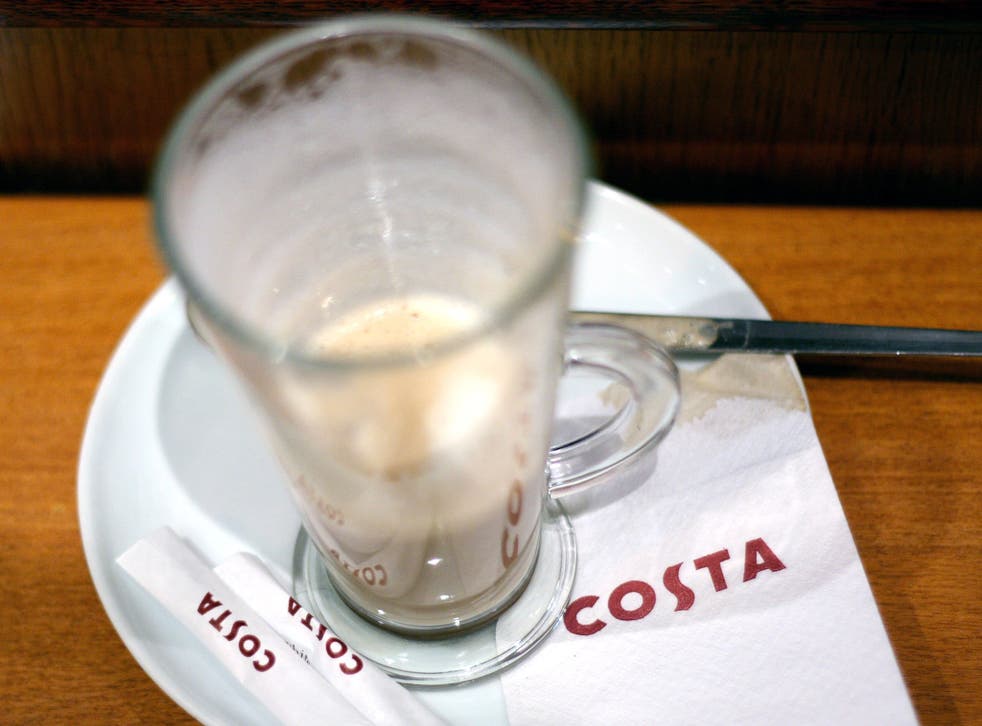 Shares in Whitbread dropped 6 per cent, amid fears that growth at the country's biggest coffee chain may have peaked.
Sales at Costa Coffee stores that have been open at least a year increased by just 0.5 per cent in the 11 weeks to 11 February against growth of 3.7 per cent in the first 40 weeks of the financial year.
But its finance director Nicholas Cadbury dismissed talk of a maturing UK coffee market. Mr Cadbury said: "Some of our stores are so full that it's difficult to find a seat in them."
He added: "The coffee market is more competitive, but if you include our new openings, we still grew at 14 per cent for the year.
"We still have a long way to go to catch up with our continental neighbours who drink twice as much coffee as we do." Plans for this year include 200 new Costa Coffee stores across the world and a further 230 in 2017. The company will also install 1,950 Costa Express machines over the next two years.
For the whole group, which includes the Premier Inn hotel chain and restaurant brands such as Beefeater and Brewers Fayre, like-for-like sales growth for the final quarter of its financial year was 1.7 per cent, and 3.2 per cent for the 50-week period.
Premier Inn showed slower growth in the latest quarter at 2.2 per cent, against 4.9 per cent in the first 40 weeks of the year. Mr Cadbury said this was the normal trend, particularly in London where both tourism and business trade slows down in the first part of the calendar year.
Whitbread's chief executive, Alison Brittain, added that the division had benefited from its "substantial, higher-returning hotel extensions programme". The group plans to open 5,500 new Premier Inn rooms in the UK this year.
A note from Credit Suisse said: "We continue to believe Whitbread is a compelling medium-term rollout story that extends beyond 2020." Whitbread's shares fell 249p to 3,800p.
Register for free to continue reading
Registration is a free and easy way to support our truly independent journalism
By registering, you will also enjoy limited access to Premium articles, exclusive newsletters, commenting, and virtual events with our leading journalists
Already have an account? sign in
Register for free to continue reading
Registration is a free and easy way to support our truly independent journalism
By registering, you will also enjoy limited access to Premium articles, exclusive newsletters, commenting, and virtual events with our leading journalists
Already have an account? sign in
Join our new commenting forum
Join thought-provoking conversations, follow other Independent readers and see their replies