ECB disappoints traders with weaker than expected stimulus
Failure of Mario Draghi to do more drives up euro and pummels stocks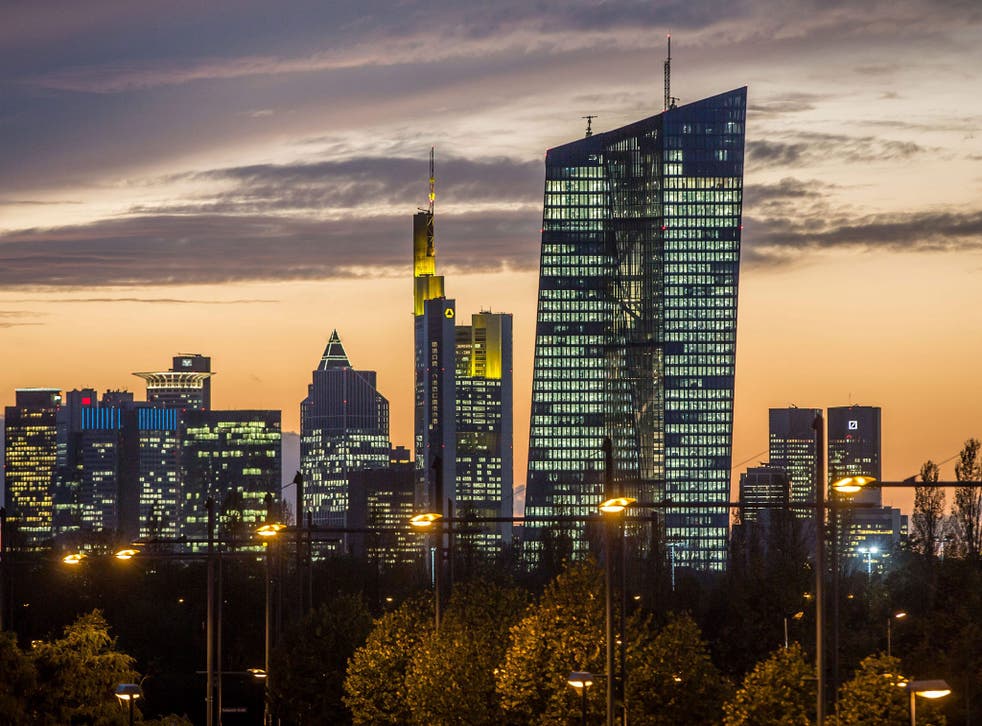 The single currency shot up, eurozone bond yields surged and continental stock markets fell after the European Central Bank's president Mario Draghi surprised financial markets with a less ambitious package of monetary stimulus than many traders had anticipated.
The ECB cut its deposit rate by 10 basis points to minus 0.3 per cent in order to encourage private banks to lend funds to companies and households rather than park them at the central bank. And the central bank pledged to extend its €60bn (£45bn) monthly bond-buying programme for a further six months.
"We are doing more because it works," Mr Draghi said. Yet the ECB did not increase the size of its monthly asset purchases and also dashed expectations that it would cut interest rates more aggressively.
The euro rose almost 3 per cent against the dollar to $1.084 in the wake of the news. Italian and Spanish bond yields both jumped by 27 basis points to 1.623 per cent and 1.721 per cent respectively. European equities were also hit hard, with the Stoxx Europe 600 index closing down 3.14 per cent.
"Hopes and expectations turned to despair for financial markets, as Mario Draghi failed to live up to the sizeable expectations," Joshua Mahony of the spread-betting firm IG said.
Some analysts speculated that there had been a battle between Mr Draghi and other more hawkish board members at the ECB. "The suspicion is that Mr Draghi overplayed his hand and ran into stiff German-led opposition based on doubts about the economic case for further easing, and objections to an income transfer from core to peripheral banks implied by a larger cut in the deposit rate," Simon Ward of Henderson Global Investors said.
"In big decisions in the past, Draghi had usually managed to go beyond the expectations he had raised. This time, he didn't," Kallum Pickering of Berenberg bank said.
The ECB's economics staff downgraded their inflation forecasts for the next two years, seeing consumer prices in the eurozone rising by just 1 per cent in 2016 and 1.6 per cent in 2017 – still well below the central bank's target of just below 2 per cent. The inflation rate currently stands at just 0.1 per cent and core inflation, excluding volatile items such as fuel and food, dropped to 0.9 per cent in November
Business news: In pictures

Show all 13
Mr Draghi stressed again that monetary policy alone could not restore the eurozone to economic health, calling for looser fiscal policy among member states to support demand and more rapid implementation of supply-expanding structural reforms. "In order to reap the full benefits from our monetary policy measures, other policy areas must contribute decisively," he said.
The ECB's €1.1trn QE scheme had originally been due to end in September 2016. Further to its QE extension and deposit rate cut, it said it will reinvest principal repayments from its asset purchases as they mature and extend the scope of eligible purchases to regional and local government debt.
"The ECB failed to convince the market that reinvesting principal payments... and including regional euro-denominated bonds in its portfolio is a big deal," Ipek Ozkardeskaya of London Capital Group said.
Register for free to continue reading
Registration is a free and easy way to support our truly independent journalism
By registering, you will also enjoy limited access to Premium articles, exclusive newsletters, commenting, and virtual events with our leading journalists
Already have an account? sign in
Register for free to continue reading
Registration is a free and easy way to support our truly independent journalism
By registering, you will also enjoy limited access to Premium articles, exclusive newsletters, commenting, and virtual events with our leading journalists
Already have an account? sign in
Join our new commenting forum
Join thought-provoking conversations, follow other Independent readers and see their replies