The Independent's journalism is supported by our readers. When you purchase through links on our site, we may earn commission.
General election 2017: Pound sterling falls sharply as Tories lose majority
'Theresa May's electoral gamble has catastrophically failed,' says Tom Stevenson, an investment director at Fidelity International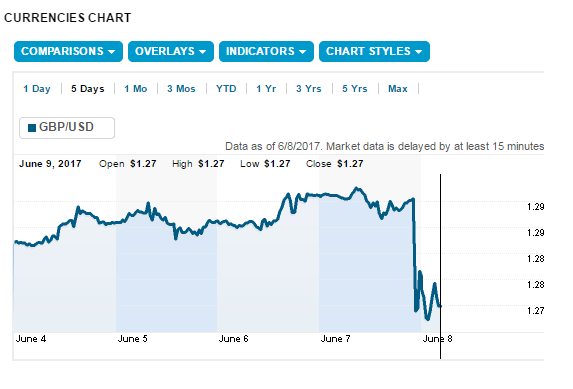 The pound fell dramatically against a host of other currencies on Friday as Britain headed for a hung parliament.
Sterling lost as much as 2.3 per cent against the US dollar in the morning, before paring back to trade 1.7 per cent down on the day at $1.2734 by the end of London trading. The FTSE 100 main stock index gained 1 per cent on Friday, though strategists warned that the result would likely plunge domestic politics into deep uncertainty and raise major questions around Brexit.
"Brexit talks are now likely to be even more unsettling for markets, and the prospect of another election raises the risk of a delay, potentially leaving the UK without a negotiated exit settlement," said Mark Haefele, from UBS Wealth Management's chief investment office.
"Although we believe the pound had already priced in much of the 'hard Brexit' risk before this vote, the currency will continue to experience volatility through the governmental and Brexit talks."
The FTSE 100 has in recent months tended to trade higher when the pound falls, as a result of its high international exposure, but analysts said that significant uncertainty now would likely lead to investors turning cautious on any and all UK assets.
Jameel Ahmad, vice president of market research at currency exchange broker FXTM, said this "looks like another example of traders being on the wrong side of the trade after heavily stacking their cards in favour of a landslide victory for Theresa May when pricing in the UK election".
See how much you could save on international money transfers with HiFX: sign up and make a transfer
Neil Wilson, an analyst at ETX Capital, said the outcome had the potential to be "the biggest upset in British politics, since last June", when the UK voted to leave the EU. Immediately after the referendum, sterling sank 10 per cent against the dollar, taking the currency down to its weakest level in more than three decades.
With all but one seat declaring, the Conservatives are the largest party with 318 seats, a loss of 12 seats and eight short of the 326 required for a parliamentary majority. Labour gained 29 seats to 261 while the Scottish National Party finished on 35 seats, the Lib Dems 12, Plaid Cymru on four and the Greens one.
Commenting on the earlier exit poll, which closely mirrored the actual result, Samuel Tombs, an economist at Pantheon, said it was a "thunderbolt" for financial markets.
"Theresa May's electoral gamble has catastrophically failed," said Tom Stevenson, an investment director at Fidelity International.
"The market reaction to this unwelcome outcome is likely to hit UK shares, bonds and the pound. Markets will likely remain on the back foot while the difficult job of putting together a workable government is undertaken."
Register for free to continue reading
Registration is a free and easy way to support our truly independent journalism
By registering, you will also enjoy limited access to Premium articles, exclusive newsletters, commenting, and virtual events with our leading journalists
Already have an account? sign in
Register for free to continue reading
Registration is a free and easy way to support our truly independent journalism
By registering, you will also enjoy limited access to Premium articles, exclusive newsletters, commenting, and virtual events with our leading journalists
Already have an account? sign in
Join our new commenting forum
Join thought-provoking conversations, follow other Independent readers and see their replies