Pound falls after Survation poll shows Remain and Leave campaigns neck-and-neck
The Survation poll shows that the gap between the two campaigns has narrowed even further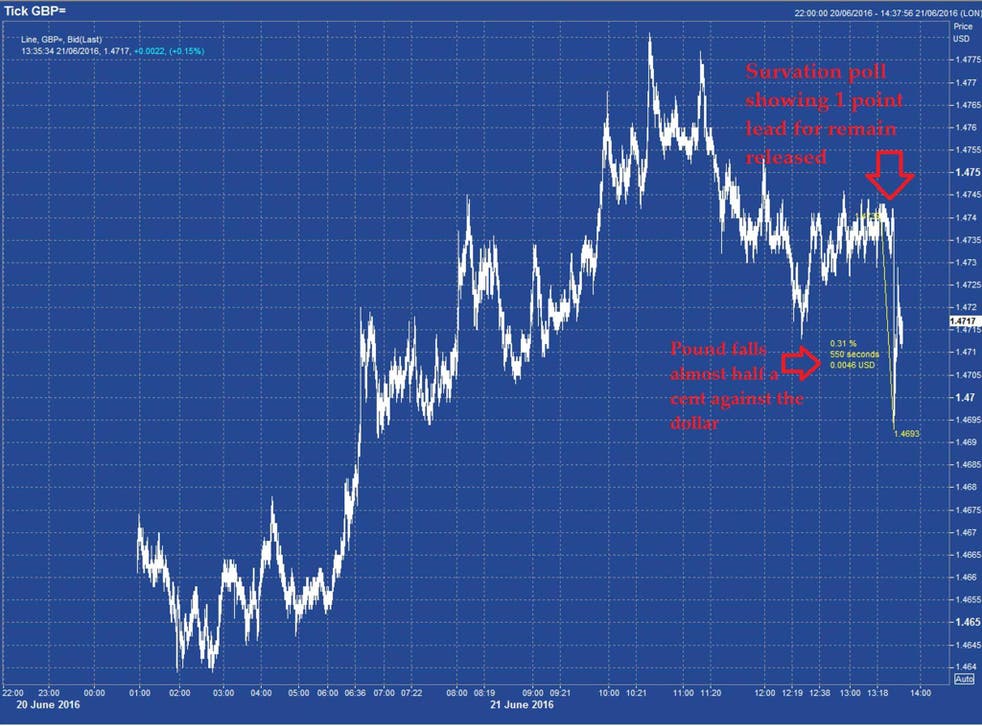 The pound fell half a cent against the dollar following the results of a Survation poll on the EU referendum.
The poll showed that the gap was narrowing between the Remain and Leave campaigns, with Remain unchanged at 45 per cent and Leave two points up at 44 per cent compared to a poll by the same compay for the Mail on Sunday.
If undecided voters are removed, the new poll suggests 51 per cent of people are planning to vote for Britain to stay within the EU and 49 for a Brexit.
The pound had earlier reached its highest level since David Cameron's February announcement of the date of the referendum.
Sterling climbed a further 0.5 per cent against the dollar to $1.4781 after the Bank of England revealed that UK financial institutions have made use of £370 million in emergency cash intended to keep the City afloat if Brexit hits.
Cameron: Brits don't quit
This was the smallest take-up of any Bank of England offer of liquidity for 18 months.
The low take-up suggests banks are not as worried as reports suggest that chaos will hit financial markets on Friday, or that they already feel prepared.
Sterling surged against the dollar on Monday after multiple opinion polls showed that support for the UK staying in the EU was growing.
Sterling approached its biggest one-day rally since 2009, up 1.45 per cent at $1.4676 to the pound.
Analysts have said that the pound could fall to its lowest level this century if the UK votes to leave the EU.
"If Britain votes to stay in the EU, I would expect the pound to spike to its highest level this year. If Britain were to vote out, all signs suggest a massive and immediate drop in the pound – in all likelihood sinking to its lowest point of the 21st century," Paresh Davdra, analyst at RationalFX, said.
Business news: In pictures

Show all 13
But not everyone thinks that would last. Some analysts believe that after the initial sell-off that would follow a vote for the UK to Leave the EU, the pound would bounce back.
Mihir Kapadia, CEO and Sun Global Investments, said that investors were being cautious ahead of the results of the EU referendum.
"The polls are close and no one can be certain of which way the vote will swing. Uncertainty breeds inaction, and so markets are likely to be cautious until they know more come Friday morning," Kapadia said.
Register for free to continue reading
Registration is a free and easy way to support our truly independent journalism
By registering, you will also enjoy limited access to Premium articles, exclusive newsletters, commenting, and virtual events with our leading journalists
Already have an account? sign in
Register for free to continue reading
Registration is a free and easy way to support our truly independent journalism
By registering, you will also enjoy limited access to Premium articles, exclusive newsletters, commenting, and virtual events with our leading journalists
Already have an account? sign in
Join our new commenting forum
Join thought-provoking conversations, follow other Independent readers and see their replies