EU referendum: 'Market volatility' leads to partial shutdown of currency exchange system
Sterling will plunge against all major currencies in the event of Brexit, economists have warned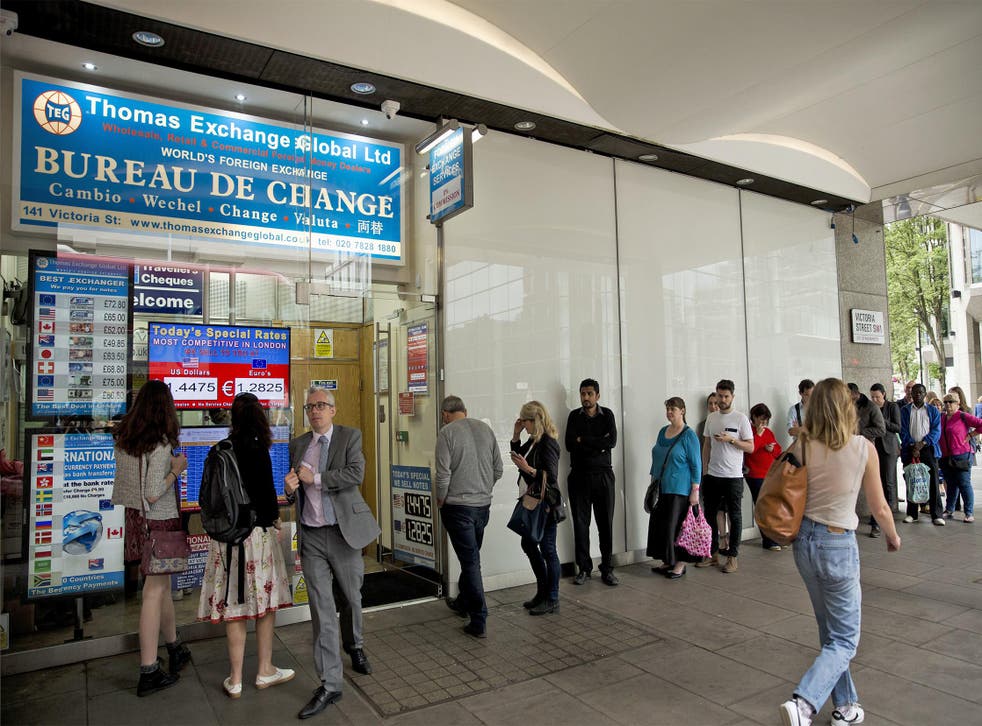 Ahead of the EU referendum, parts of the retail foreign-exchange business are preparing for potential market shocks when the results are known.
With the pound strengthening in the past few days, the length of queues at London bureaux de change suggested holidaymakers are acting like businesses - hedging their holiday money needs against the risk of Brexit. Thomas Exchange Global was selling US dollars at just under $1.45 to £1, with the Euro just above €1.28.
If there is a Leave vote, many economists say, sterling will plunge against all major currencies. But a majority for Remain could see the pound surge in value.
MoneyCorp, one of the largest providers, has reduced its exposure to sharp swings in the value of the pound by temporarily switching off its online service allowing travellers to pre-book currency for collection at airport outlets and London bureaux de change. The firm blames "current market volatility", and says it is "unable to confirm when our collection service will resume."
Travellers who are are travelling imminently can take advantage of online rates "by quoting the word 'reserve' at any of our branches," says MoneyCorp.
In contrast, HifX, says it will be "open for business throughout the referendum 24 hours a day."
Foreign-exchange providers could find their currency reserves increasing in value if the pound slumps, or dwindling if sterling strengthens.
It appears that some firms want to pre-empt the possibility that a customer could "lock in" to a particular rate, then decide whether or not to proceed with the purchase depending on the currency markets.
The EU referendum debate has so far been characterised by bias, distortion and exaggeration. So until 23 June we we're running a series of question and answer features that explain the most important issues in a detailed, dispassionate way to help inform your decision.
What is Brexit and why are we having an EU referendum?
Does the UK need to take more control of its sovereignty?
Could the UK media swing the EU referendum one way or another?
Will the UK benefit from being released from EU laws?
Will we gain or lose rights by leaving the European Union?
Will Brexit mean that Europeans have to leave the UK?
Will leaving the EU lead to the break-up of the UK?
What will happen to immigration if there's Brexit?
Will Brexit make the UK more or less safe?
Will the UK benefit from being released from EU laws?
Will leaving the EU save taxpayers money and mean more money for the NHS?
What will Brexit mean for British tourists booking holidays in the EU?
Will Brexit help or damage the environment?
Will Brexit mean that Europeans have to leave the UK?
Register for free to continue reading
Registration is a free and easy way to support our truly independent journalism
By registering, you will also enjoy limited access to Premium articles, exclusive newsletters, commenting, and virtual events with our leading journalists
Already have an account? sign in
Register for free to continue reading
Registration is a free and easy way to support our truly independent journalism
By registering, you will also enjoy limited access to Premium articles, exclusive newsletters, commenting, and virtual events with our leading journalists
Already have an account? sign in
Join our new commenting forum
Join thought-provoking conversations, follow other Independent readers and see their replies