Euro value bounces back after Italy referendum to reach two-week high
Financial markets have rebounded after initial falls following  Matteo Renzi's heavy defeat in Sunday's referendum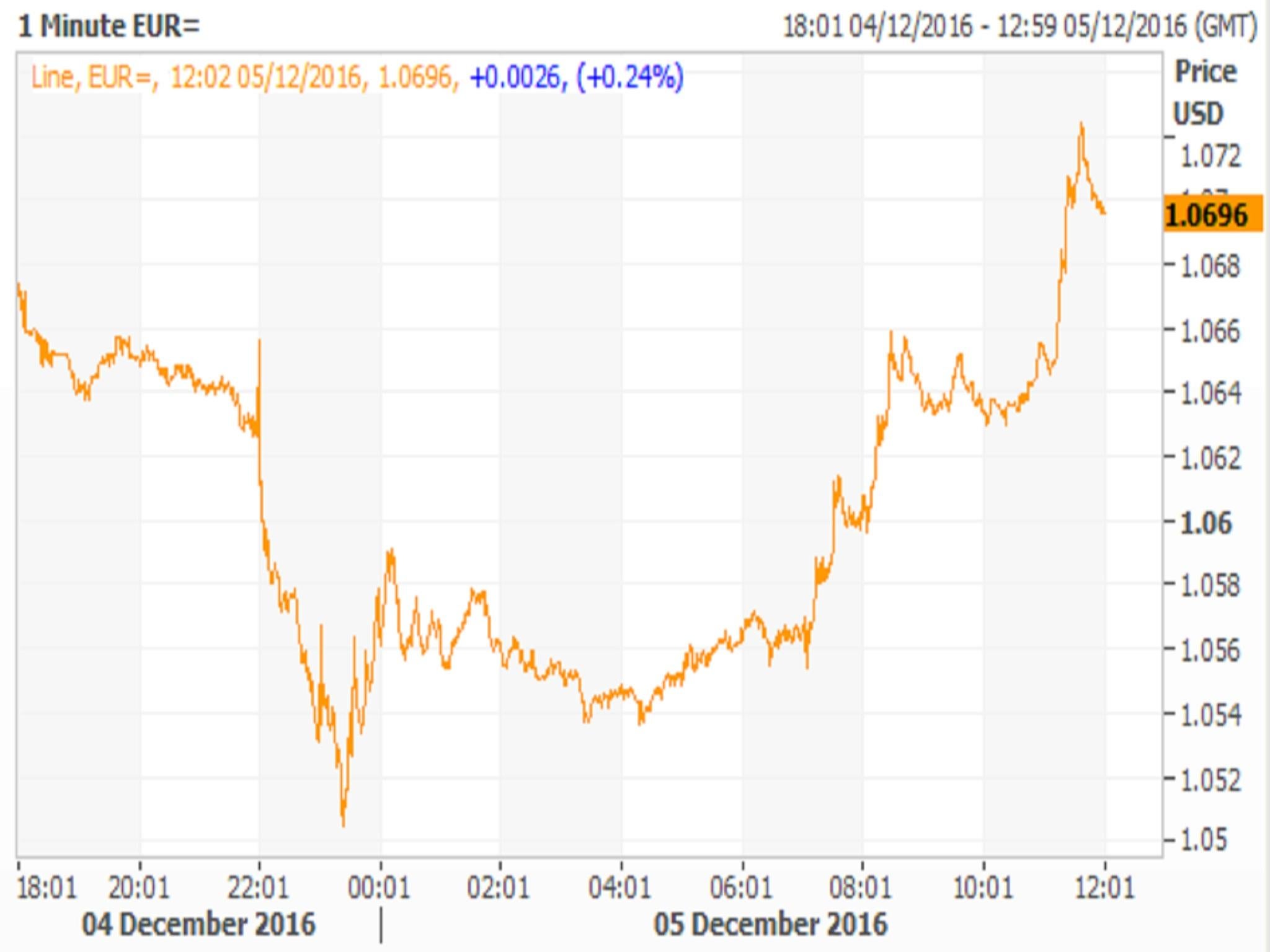 The euro jumped back to its highest level since mid-November, as markets shrugged off the outcome of the Italian constitutional referendum.
The euro tanked to a 20-month low against the dollar overnight after Mr Renzi conceded defeat in a referendum over his plan to reform the constitution and said he would resign.
However, the picture changed dramatically with the single currency climbing to $1.075 – its highest level for two weeks.
Lee Hardman, currency analysts at MUFG, said some political risk of Italy voting No on Sunday was already priced in, unlike with the shock election of Donald Trump or the UK's unexpected vote to leave the EU in June.
He said: "The broader financial market impact has, so far, been relatively limited as evident by only modest gains for traditional safe haven currencies like the yen and Swiss franc. Investors are not expecting financial market stability to be disrupted significantly in the near-term."
"The rejection was signalled in advance by the opinion polls – one likely reason for the limited initial financial market reaction."
Many eyes have turned to the Italian weak banking sector for market reaction.
The share price of Italy's oldest bank Monte dei Paschi di Siena was down by more than 5 per cent when the stock market opened. But it has since recovered those loses.
Major listed banks such as Unicredit, UBI, Mediobanca and Intesa Sanpaolo have also bounced back.
Kathleen Brooks, research director at City Index Direct, said there was caution among investors but not panic: "While the markets are likely to remain nervous as we start a new week, they haven't fallen off a cliff, so far," she said.
"Either markets are becoming immune to political risk, or they are taking the view that the Italian issue will be a slow-burner, even if the president can't form a government, he still has 70 days to try, and that seems quite far away at this stage."
World news in pictures
Show all 50
Analysts predict a caretaker government will be appointed by the Italian President and that this government will still be led by Renzi's Democratic Party, possibly by the current finance minister Pier Carlo Padoan.
This administration could carry on with the previous bank recapitalisation strategy - although there can be no certainty about this.
"Italy's financial markets, its underfunded banks and its overall economy could suffer unless Italy resolves its political crisis fast," said Holger Schmieding of Berenberg.
Join our commenting forum
Join thought-provoking conversations, follow other Independent readers and see their replies