Ex-Barclays boss Antony Jenkins says bank branches will be blitzed
Mr Jenkins was replaced as CEO by the US investment banker Jes Staley
Nick Goodway
Friday 04 December 2015 02:47 Comments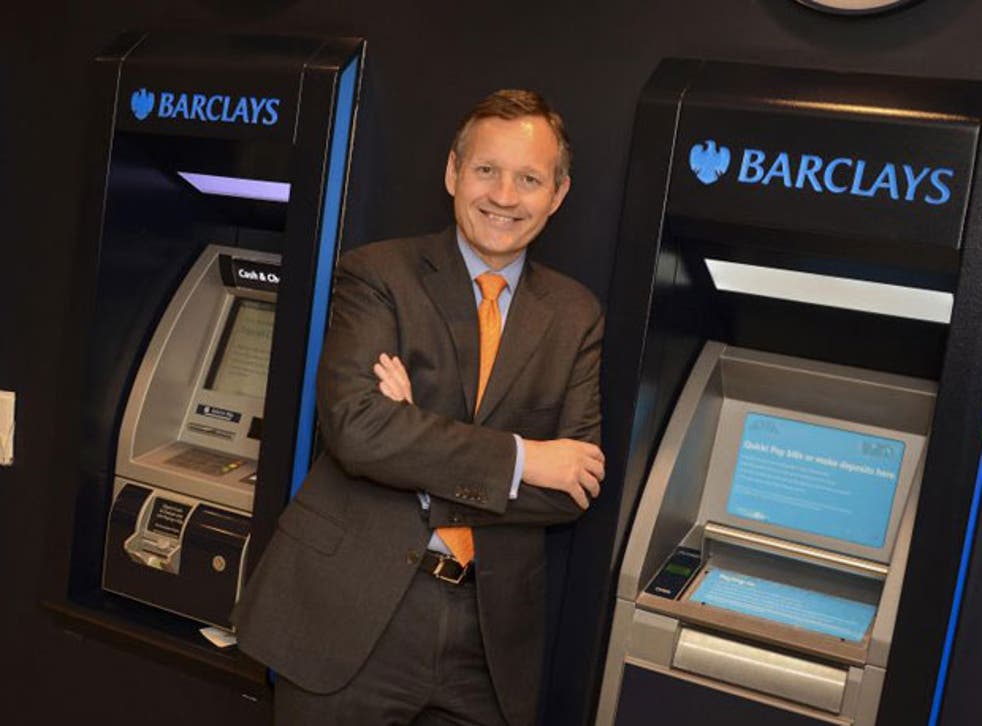 Up to half of Britain's bank branches could close over the next 10 years, the former boss of Barclays has warned.
"I estimate that there will be somewhere between a 20 per cent and 50 per cent reduction over the next 10 years," said Antony Jenkins, who admitted that his ousting from the bank in July after three years in charge came as a shock.
"I'm a human being so I have to say it was surprising to me, but I completely respect the authority of the board in choosing the CEO," Mr Jenkins explained to the BBC.
"It is a source of regret to me that I wasn't able to complete the work," he added. "[But] I'm realistic. I've been in corporate life for over 30 years. These things happen."
Mr Jenkins also said that bankers still had image problems related to their high pay: "It's always hard to justify compared to what the average person makes. In certain areas of banking there are people who bring in a lot of revenue for the company, and it's arguably fair that they should be compensated for what they do."
He was proud of his record, he added: "The bank was performing very well. After three years of incredibly hard work, we had real momentum and you could see that in the results."
That was not the view of the Barclays chairman John McFarlane, who at the time of Mr Jenkins' departure said: "What we need is profit improvement. Barclays is not efficient – we are cumbersome."
Gary Greenwood, a bank analyst at the broker Shore Capital, said: "The problem was that Jenkins was at loggerheads with the investment banking guys on strategy for the division and had lost their confidence. Ultimately, it's not just about shrinking the business but shrinking the right bits at the right pace, while making sure you identify and keep the good bits."
Mr McFarlane chose the US investment banker Jes Staley, who started this week, to replace Mr Jenkins.
Business news: In pictures

Show all 13
Barclays took a £200m loss selling its Italian retail business to Mediobanca for an undisclosed amount. It said the sale of the 89-branch network would reduce its risk-weighted assets by around £800m. Mr Staley said: "This transaction is further evidence of the reshaping of Barclays to focus on our core businesses.
"We continue to make progress in the reduction of Barclays non-core as we target risk-weighted assets of around £20bn at the end of 2017."
Barclays refused to comment on reports that Mr Staley had approached his former high-flying JP Morgan colleague Blythe Masters, who now runs a financial start-up, to head Barclays' investment bank in place of Tom King.
Ms Masters did not comment on the report but said: "I can't think of a better person than Jes Staley, nor a more venerable institution than Barclays, but I am in mid-flight at Digital Asset and fully committed to what we are doing."
Register for free to continue reading
Registration is a free and easy way to support our truly independent journalism
By registering, you will also enjoy limited access to Premium articles, exclusive newsletters, commenting, and virtual events with our leading journalists
Already have an account? sign in
Join our new commenting forum
Join thought-provoking conversations, follow other Independent readers and see their replies