Exxon Mobil fined $2 million for violating Russia sanctions while Rex Tillerson was CEO
The Treasury Department issued the fines as investigations into Russia's influence on the US election continue
Mythili Sampathkumar
New York
Thursday 20 July 2017 16:26 Comments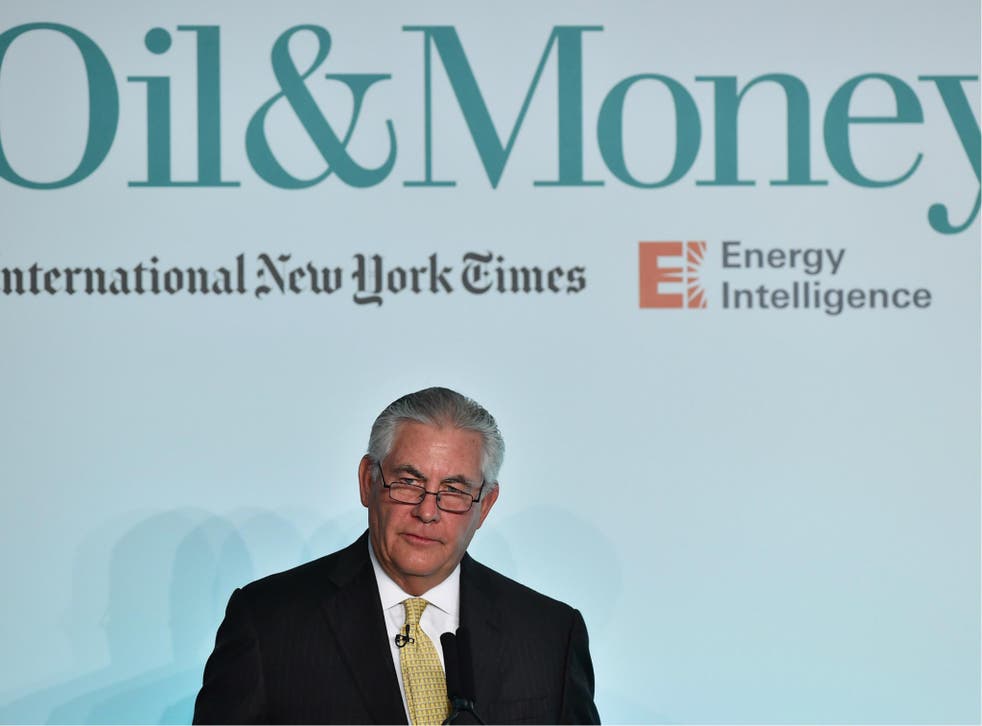 The Department of Treasury has issued a fine on Exxon Mobil to the tune of $2 million for violating Russia sanctions while Secretary of State Rex Tillerson was CEO.
Treasury's Office of Foreign Assets Control (OFAC), which controls lists of sanctioned entities, has said in a public notice that ExxonMobil violation the Ukraine-Related Sanctions Regulations between 14 May 2014 and 23 May 2014.
President Obama had signed an executive order establishing sanctions on Russia on 16 March 2014.
The notice said "presidents of [Exxon's] subsidiaries...sign[ed] eight legal documents related to oil and gas projects in Russia with Igor Sechin, the President of Rosneft OAO, and an individual" who is on the blocked persons that OFAC maintains.
Mr Sechin, chief of the Russian oil giant, was put on the list in April 2014. The list is public and easily searchable.
Treasury referred to it as an "egregious case" of violations since the company's executives knew about Mr Sechin's status at the time of doing business with him.
Russian foreign minister Lavrov uses live TV appearance with Tillerson to joke about Comey firing
Mr Tillerson has said in the past that Exxon did not support sanctions, saying he found them generally ineffective. In March 2017, a legal adviser announced that Mr Tillerson recused himself of any matters at State related to Exxon, prompted by the Keystone XL pipeline matter.
Exxon has said in a statement that its executives at the time "followed the clear guidance from the White House and Treasury Department" because they thought Mr Sechin was on the blacklist because of his personal business, not his position at the Moscow-owned Rosneft.
"OFAC's action is fundamentally unfair," Exxon said in the same statement. The company claims that the "OFAC is trying to retroactively enforce a new interpretation of an executive order that is inconsistent" with the guidance issued by the Obama administration at the time.
Exxon and Rosneft began a joint venture in 2012 to develop offshore reserves in the Arctic Kara Sea and the Black Sea.
The companies also co-developed assets in Sibera onshore.
In 2013, the venture expanded to the Chukchi, Laptev, and Kara seas.
As CNBC reported: "Exxon's operations in Russia represent only a fraction of its global oil and gas production, but the Rosneft joint-venture represents a big part of Exxon's potential future production growth."
The venture has been on hold since the 2014 Ukraine-related sanctions were put in place and Exxon estimated in a filing that it had lost $1 billion in ""pre-tax revenue" as of the beginning of 2016 as a result.
The $2 million fine, though the maximum penalty for such violations, is likely a small amount of money for the oil and gas leader that turned a $7.8 billion profit.
More follows…
Register for free to continue reading
Registration is a free and easy way to support our truly independent journalism
By registering, you will also enjoy limited access to Premium articles, exclusive newsletters, commenting, and virtual events with our leading journalists
Already have an account? sign in
Join our new commenting forum
Join thought-provoking conversations, follow other Independent readers and see their replies