FCA should go further in crackdown on doorstep lending, consumer groups say
Citizens Advice said watchdog should consider imposing price cap on lenders similar to proposed rules for rent-to-own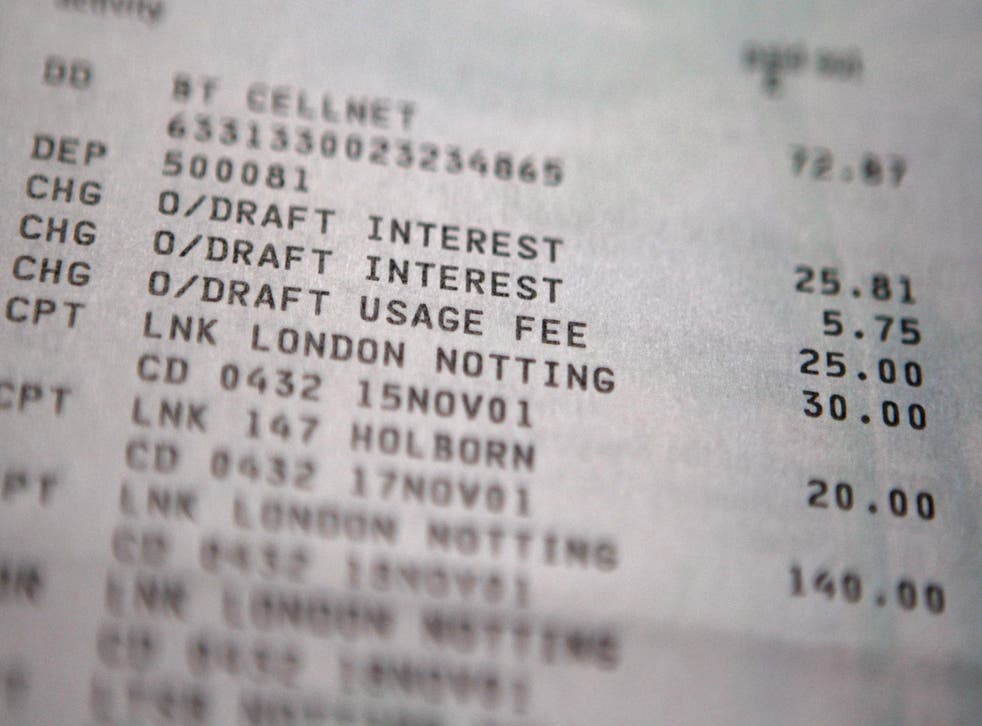 The Financial Conduct Authority's high-cost credit report has been criticised by consumer groups for failing to go far enough in clamping down on doorstep lenders in measures proposed to tackle problems with high-cost credit.
The watchdog set out a list of proposed rules for changing the way banks apply overdrafts, and said there was a need for "fundamental reform", following an in-depth review of the high-cost credit market.
According to the regulator, financial firms made £2.3bn in revenue from overdrafts in 2016, with 30 per cent of the total coming from unarranged overdrafts. The majority of unarranged overdraft fees are paid by just 1.5 per cent of customers, and the FCA said it is considering a ban on fixed fees.
The other rules it has proposed include mobile alerts warning of potential overdraft charges; stopping the inclusion of overdrafts in the term "available funds"; and requiring that banks make it clear overdrafts are credit or borrowing.
The FCA also said it was considering imposing a cap on rent-to-own prices.
Consumer groups welcomed this proposal – however, they also said it was significant that similar measures had not been extended to the doorstep lending market, which includes firms such as Provident Financial and Morses Club. Doorstep loans, or home credit loans, see lenders deliver sums, usually relatively small, right to the doorsteps of borrowers. Despite the small sums involved, however, interest rates on repayments can be very high.
Gillian Guy, chief executive of Citizens Advice, said: "The FCA should reconsider their decision not to consult on a cap in this market. If they fail to act to protect these consumers, the ball will be firmly in the government's court. It must show it is genuine in its commitment to making markets work for everyone, and put pressure on the regulator or legislate to give people the protection they need."
Joanna Elson, chief executive of the Money Advice Trust, said the FCA's decision to introduce a cap on rent-to-own prices "could make a significant difference to thousands of people", and added: "The regulator should keep the impact of its new measures in other sectors, such as doorstep lending, under review – and be prepared to reconsider the case for further cost caps."
The watchdog will now consult on its proposed changes to the high-cost credit market, and further new rules may be introduced in due course.
Andrew Bailey, chief executive of the FCA, said the proposals published on Thursday will "benefit overdraft and high-cost credit users, rebalancing in the favour of the customer".
"Our immediate proposed changes will make overdraft costs more transparent and prevent people unintentionally dipping in to an overdraft in the first place," he added.
"However, we believe more fundamental change is needed in the way banks charge customers for overdrafts. Given the size of the market our work here will be completed as part of our wider review into retail banking."
Register for free to continue reading
Registration is a free and easy way to support our truly independent journalism
By registering, you will also enjoy limited access to Premium articles, exclusive newsletters, commenting, and virtual events with our leading journalists
Already have an account? sign in
Register for free to continue reading
Registration is a free and easy way to support our truly independent journalism
By registering, you will also enjoy limited access to Premium articles, exclusive newsletters, commenting, and virtual events with our leading journalists
Already have an account? sign in
Join our new commenting forum
Join thought-provoking conversations, follow other Independent readers and see their replies