Fears over China's appetite for raw materials crush miners and commodity exporters
BHP Billiton posted its worst results since 2004, with underlying profits sinking by 52 per cent to $6.4bn (£4.1bn) for the year to June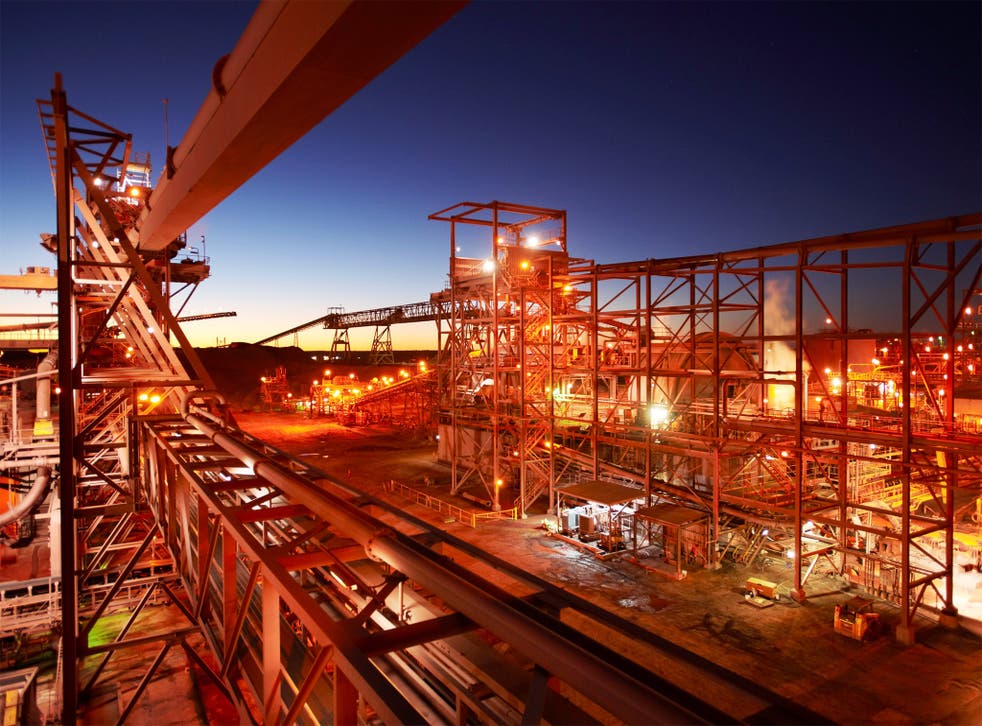 Dramatic declines in commodity prices and spiralling uncertainty about China's appetite for raw materials ravaged the bottom lines of FTSE 100 miners on Tuesday – and inflicted fresh agony on emerging market economies.
BHP Billiton posted its worst results since 2004, with underlying profits sinking by 52 per cent to $6.4bn (£4.1bn) for the year to June. Sliding iron ore, copper, coal and oil prices did the damage, as well as writedowns on shale oil assets that BHP had previously flagged up. The miner is also slashing its capital spending to $7bn by 2017 in order to protect the dividend.
Andrew Mackenzie, BHP's chief executive, said that China, which on Tuesday cut interest rates for the fifth time since November, was likely to create more tremors as Beijing attempts to shift the economy towards consumer spending rather than investment, as well as liberalising its currency.
"In the short term we expect ongoing economic reforms in China to contribute to periods of market volatility," he said.
Although Mr Mackenzie added that he remains "confident" in the long-term outlook for commodity markets, he cut his estimates for steel demand in the People's Republic.
Underlying profits also slumped at Antofagasta – by 49 per cent to $562m in the first half of 2015 – as its fortunes were tied to a copper price currently languishing near six-year lows.
The company's chief executive, Diego Hernandez, is targeting $160m in savings. "Good-quality assets and tight capital discipline mean we can weather the current downturn and maintain our competitive position in this challenging environment," he said.
The prices of global commodities – for which China is one of the world's biggest customers – were boosted along with miners' share prices on Tuesday by China's cut in interest rates by 25 basis point to 4.6 per cent. The price of Brent crude rose 2.3 per cent to $43.62 a barrel, while the copper price was up 2.4 per cent.
Both Antofagasta and BHP's shares were lifted higher, by 8.72 per cent and 5.53 per cent respectively, in the wider market rally sparked by China's monetary easing. That was despite the poor profit performances, which were described as "ugly" by one City analyst.
Matt Basi, CMC Markets' head of sales trading, commented: "This looks like institutional buying because our clients are largely sitting on the sidelines. Institutions can buy with a six-month view but our customers are rightly cautious about getting into this market and then getting burned by a 500-point swing."
The South African economy became the latest to reflect the pain of falling global commodity prices on Tuesday, when it reported a 1.3 per cent contraction in the second quarter of the year. Output from its mining sector, focused on coal and iron ore, fell 6.8 per cent. Zambia, Angola and Nigeria have also been hit by the precipitous declines in oil and metal prices. In Latin America the Brazilian economy is expected to contract by 2 per cent this year.
Meanwhile, Russia's economy minister, Alexei Ulyukayev, predicted on Tuesday that the country – the world's largest energy exporter – will shrink by 3.3 per cent this year, worse than the previous 2.8 per cent decline previously forecast.
Join our new commenting forum
Join thought-provoking conversations, follow other Independent readers and see their replies