French presidential election: Investors, economists and strategists react to Macron's victory
'Macron is expected to work well with German Chancellor Angela Merkel strengthening the Franco-German alliance,' one investor says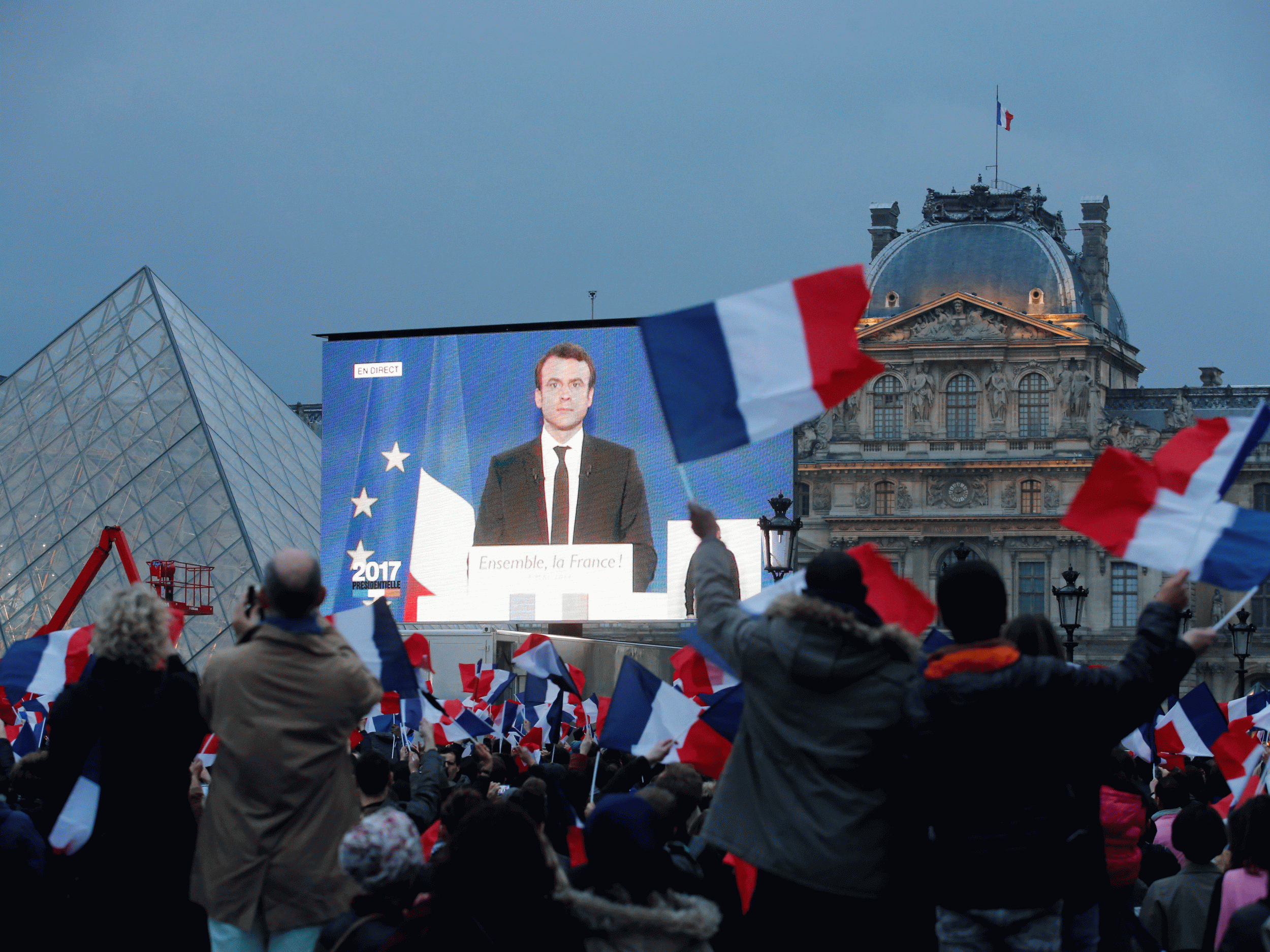 Emmanuel Macron won the French presidential election, easily beating anti-EU rival Marine le Pen. The euro hit a six-month high against the dollar in response and stock markets seem to be cheering the outcome too.
Here's a look at how investors, economists and strategists have reacted.
Kenneth Orchard, portfolio manager at T Rowe Price
"As a committed supporter of the European Union, Macron is expected to work well with German Chancellor Angela Merkel strengthening the Franco-German alliance on which the bloc depends.
"On Brexit, Macron has emphasised the importance of 'defending the integrity' of the EU's key principles on labour movement and trade. Result: the UK will be facing an even tougher negotiating partner in Brexit talks than previously thought. However, Macron's publicly expressed 'sympathy' for the economic plight of countries such as Italy and Greece will raise hopes in those countries that he may help to soften what they regard as German-imposed austerity.
"As things stand, the anti-EU Five Star Movement is on course to become the biggest party in Italy's next election, which will take place either later this year or early next. Macron's victory may provide some much-needed support for pro-European parties in Italy – however, it is difficult to say what impact this will have on voter behaviour."
Global investment manager Blackrock
"The French election result confirms our view that markets until recently had overstated European political risks. Italian political risk and the country's fragile banking system could move back into focus soon, however, particularly if the likelihood of early elections in late 2017 rises.
"These issues as well as Europe's still incomplete banking and fiscal union leave fault lines that could be exposed by eventual ECB normalisation – and which bring into question the longer-term sustainability of the European Monetary Union."
Steven Andrew, fund manager at M&G Investments
"Macron's victory is certainly good news for political supporters of the European project as his programme focuses on a deeper integration and better cooperation between the various countries in the Union. Furthermore, a strong believer in free trade and globalisation, the new French President will aim to benefit from those trends rather than fight to reverse them. This makes his victory all the more impressive, given that popular discontent has been interpreted as a rejection of both closer EU integration and of the merits of globalisation.
"His victory, however, is more about what has been rejected than it is about any distinct shift in the direction of French politics. Certainly, Macron has disrupted the bipartite status quo, with the adoption of a Blairite 'Third Way' style – at least in presentation. But we'll have to wait until the elections to the National Assembly in June to determine the extent to which this represents a tangible change in the direction of French economic policy.
"With that in mind, it might be wise to conclude that the result represents more a rejection of Le Pen's brand of nationalism than a whole-hearted endorsement of Macron's internationalism."
Ugo Lancioni, head of global currency at Neuberger Berman
"Generally, the long-term outlook for Europe looks far more positive than it did a year ago. Data, for example, are generally positive, with signs of higher inflation, lower unemployment and improved economic activity.
"True, there are still upcoming elections in the UK and Germany, but with the Dutch and French elections over, some of the sting has been taken out of European politics. Indeed, should people begin to see the European economy improve, they are less likely to blame Europe's politicians for their economic difficulties, leaving the politicians better able to focus on key issues such as Brexit, immigration and geopolitics."
Bill Street, head of investments for EMEA at State Street Global Advisors
"Emmanuel Macron's victory gives markets a much deserved breather from European politics. This result, combined with last week's preliminary Greek debt agreement, will be enough to support a short-term relief rally.
"Looking forward, Macron only offers upside surprises. In a do-nothing scenario, we have the status quo of political paralysis, but with a favourable external environment and steady growth improvement. In the Goldilocks scenario, Macron gets a working parliament and builds a partnership with Germany to launch meaningful reforms. That would deliver a substantial boost to markets by year-end, which is currently not priced in. In either scenario we could see renewed market pricing for accelerated European Central Bank policy normalisation, especially if the data continues to impress."
Join our new commenting forum
Join thought-provoking conversations, follow other Independent readers and see their replies