From poverty in Ukraine to billions in Silicon Valley: The co-founder of WhatsApp is suddenly worth $6.8bn
Tim Walker reports on Jan Koum's low-key pursuit of the American dream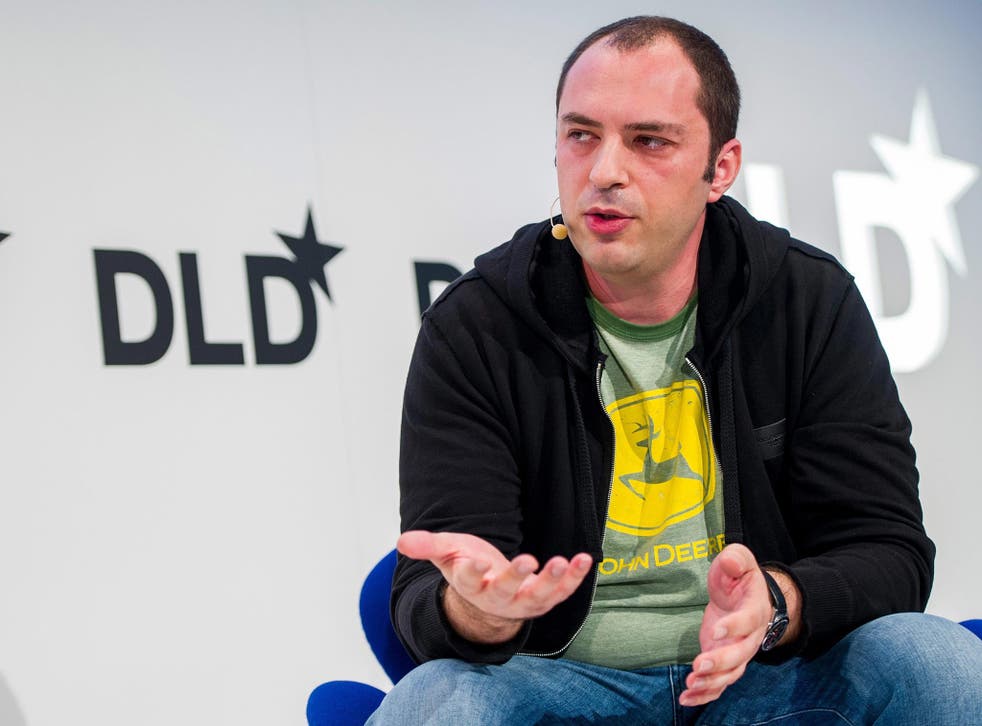 On Wednesday, as he announced Facebook's record-breaking $19bn (£11.4bn) acquisition of the mobile messaging service WhatsApp, Mark Zuckerberg reflected that he had known WhatsApp's chief executive, Jan Koum, "for a long time". It is possible the pair met shortly before WhatsApp's creation in 2009, when Mr Koum and his company's co-founder Brian Acton both applied for jobs at Facebook – and were rejected.
That historical footnote must surely enhance Mr Koum's satisfaction at selling his creation to Facebook
The deal is for $4bn in cash and $12bn in Facebook shares, as well as an additional $3bn in restricted stock units that will vest over the next four years. Forbes reports that Mr Koum owns 45 per cent of WhatsApp, meaning he is now worth about $6.8bn.
Yet an unsuccessful job interview is far from the only obstacle to success that Mr Koum has overcome in his 38 years. He was born an only child in Ukraine, in a rough rural village outside Kiev, in a house with no hot water. His parents – a construction worker and a housewife – feared talking on the phone in case it was being tapped by the Soviet government. "Society was extremely closed off," Mr Koum recently told Wired. "You can read 1984, but living there was experiencing it. I didn't have a computer until I was 19 – but I did have an abacus."
When he was 16, Mr Koum and his mother emigrated to California, where they settled in a small apartment in Mountain View, in the heart of Silicon Valley. He swept floors at a local shop to help pay the bills. Later, after his mother was diagnosed with cancer, the pair lived on disability benefits. This week, Mr Koum chose to sign his $19bn deal with Facebook at the site of the Social Services office where he collected food stamps as a teenager – the building is a short walk from WhatsApp's HQ.
At school, Mr Koum taught himself computer skills with books he bought second-hand and returned as soon as he had read them. He won a place at San Jose State University, while also working as a computer security tester for the accounting firm Ernst & Young. In 1997, the company assigned him to a job at Yahoo, where he was given the desk opposite Mr Acton. The two hit it off, and within a year Mr Koum took a permanent job at Yahoo and dropped out of university.
Mr Koum and Mr Acton became especially close after Koum's mother died of cancer in 2000. Over the years they became increasingly disillusioned with their work at Yahoo, and particularly with the company's reliance on advertising for revenue. They both left in 2007, and not long after made their unsuccessful applications to work for Facebook.
In early 2009, Mr Koum became frustrated with his local gym's ban on using mobile phones, because he kept missing calls as he was working out. He had been trying to come up with an iPhone app, and his initial idea was to allow people to set statuses on their phones, so that their contacts could see what they were up to at any given moment: for instance, "Can't talk, at the gym."
He christened his creation WhatsApp, a bastardisation of What's up?, and incorporated the company in February 2009. When the app's early versions proved buggy and Mr Koum considered giving up, it was Mr Acton who offered encouragement, telling his friend he should give himself a few more months to perfect the product.
A few months later, Mr Koum switched WhatsApp's focus to instant messaging, and it became a hit: smoother than traditional SMS, not to mention cheaper – especially when contacting friends abroad. Today, WhatsApp remains free to install. It also remains true to Mr Koum's early insistence that it would carry no advertising, and that it would not store messages and thus endanger users' privacy. (How those principles align with Facebook's remains to be seen.)
In contrast to many Silicon Valley chief executives, Mr Koum has maintained a low profile, even as WhatsApp exploded in popularity. According to Forbes, at a staff lunch in 2011 one co-worker asked him why he so rarely spoke to the media about the app's success. "Marketing and press kicks up dust," Mr Koum supposedly replied. "It gets in your eye, and then you're not focusing on the product."
The lack of previous press attention seems to have done his business no harm. WhatsApp now claims 450 million active users each month, 320 million of whom use the service daily. In January, more than 18 billion WhatsApp messages were sent, on average, every day.
WhatsApp in numbers
$6.8bn Reported worth of Jan Koum, who owns 45 per cent of WhatsApp, after the sale to Facebook.
450 million Active monthly users.
18 billion Messages sent on the service every day in January.
Register for free to continue reading
Registration is a free and easy way to support our truly independent journalism
By registering, you will also enjoy limited access to Premium articles, exclusive newsletters, commenting, and virtual events with our leading journalists
Already have an account? sign in
Register for free to continue reading
Registration is a free and easy way to support our truly independent journalism
By registering, you will also enjoy limited access to Premium articles, exclusive newsletters, commenting, and virtual events with our leading journalists
Already have an account? sign in
Join our new commenting forum
Join thought-provoking conversations, follow other Independent readers and see their replies