FTSE 100 ends week £80bn down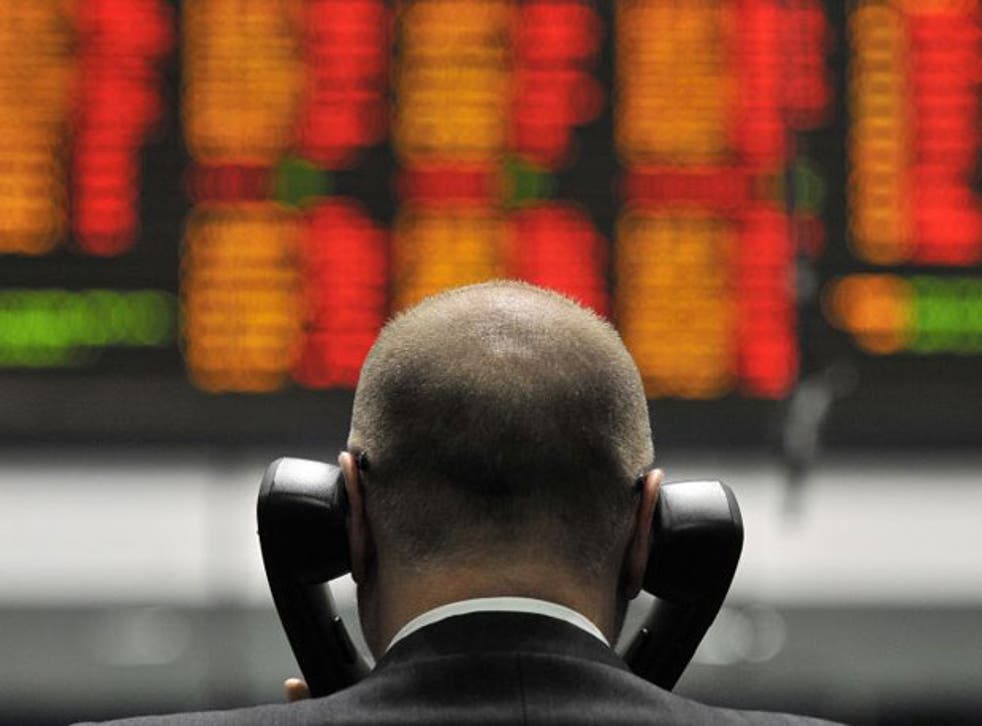 The eurozone storm showed no signs of clearing tonight as fears over Spain and Greece saw £80 billion wiped from the value of London's leading shares index in just one week.
The euphoria around the highly-anticipated Facebook flotation was not enough to lift traders in London, where the FTSE 100 Index closed more than 1% lower at 5267.6.
The top flight has lost more than 5% in one week, its biggest weekly fall since August and hitting its lowest level since November.
Uncertainty on the continent heightened after Moody's Investor Service downgraded 16 Spanish lenders, including the UK arm of Banco Santander.
However, a spokesman for Santander UK reassured customers that it was "completely autonomous" from its parent firm, adding that "money raised in the UK stays in the UK".
And a joint statement from the Treasury, the Bank of England and the FSA said: "All UK banks are well capitalised and are regulated in the UK.
"Depositors in UK-regulated banks are fully protected up to £85,000 under the Financial Services Compensation Scheme."
As Spain's woes deepened, investors continued to be troubled by political turmoil in Greece, where a caretaker government has stepped in to steer the debt-ridden country into repeat elections next month.
Greece, which some fear will have to exit the euro if an anti-austerity party is elected in June, was also hit with a downgrade from ratings agency Fitch.
The "heightened risk" that the political and economic crisis could drag the country out of the single currency prompted the move, Fitch said.
Michael Hewson, analyst at CMC Markets, said: "Concerns remain about the fragility of the banking system across Europe overall, as concerns grow about further downgrades if contagion ripples spread."
Britain's biggest banks took a battering on the markets with Barclays shedding 3%, Lloyds dropping 6% and RBS falling 5%.
While Spain saw its implied borrowing costs pull back slightly, the yield on 10-year bonds still remained above 6%, in a sign that investors lack confidence in the country's finances.
Moody's debt downgrade came after the Spanish government was forced to deny there had been a run on the country's fourth biggest lender, Bankia, amid reports that one billion euros (£800 million) had been withdrawn since it was nationalised last week.
Bankia, which was bailed out last week when the government converted loans into a 45% stake, saw shares recover 30% today, following a 30% plunge yesterday.
The Spanish government tried to reassure the markets by pledging an audit of the banking system but this failed to inspire much confidence.
In the US, Facebook launched on the New York Stock Exchange with great pomp and ceremony, as founder Mark Zuckerberg opened the Nasdaq index remotely from his HQ in California.
The social-networking site opened shares at 38 US dollars (£24) apiece, valuing it at more than 100 billion dollars (£66 billion), and in early trading it rose 10% to 42 US dollars.
Chris Weston, institutional trader at IG Markets, hoped the listing would distract traders in the US and Asia from the gloom in Europe.
He said: "Tonight is all about Facebook, and we thoroughly expect a good day's showing on its first day of trade.
"One hopes a positive tape will lift spirits, if for no other reason than to give traders something other than Greece to think about."
The developments came after David Cameron issued a call for action from eurozone states and institutions to support weaker economies such as Greece or see the single European currency break up.
The Prime Minister said he would do "whatever it takes to keep Britain safe from the storm", but made clear that the UK could not be immune from the consequences of a collapse of the euro.
World leaders will convene in the US for a G8 summit this weekend, where the eurozone crisis is expected to be high on the agenda.
PA
Join our new commenting forum
Join thought-provoking conversations, follow other Independent readers and see their replies