FTSE 100 sees £120bn wiped off its value in worst day of losses since financial crisis
The FTSE 250, which contains a smaller proportion of international companies, fell a record 11.4 per cent
Hazel Sheffield
Friday 24 June 2016 16:06 Comments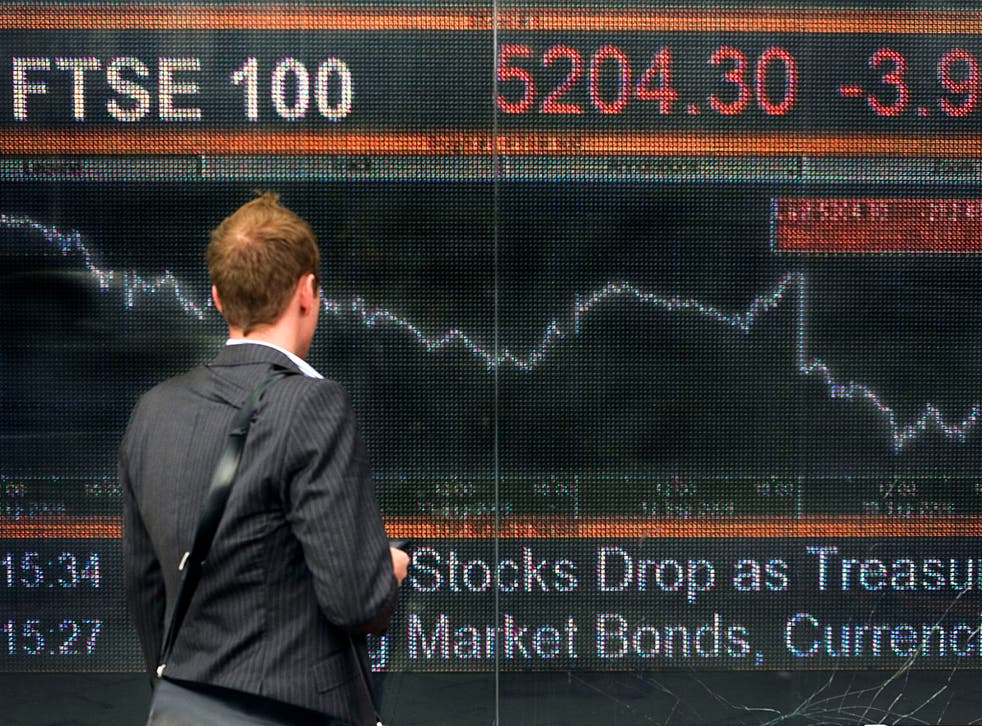 The FTSE 100 plunged more than 8 per cent in its biggest opening slump since the financial crisis, wiping £120 billion off the value of the 100 biggest UK companies, after the UK voted to leave the EU.
"This is a Black Friday for stockmarkets" said Lee Wild of the stockbroker Interactive Investor.
"In a few minutes of absolute chaos at the market open, over 500 points were carved off the FTSE 100, and the mass exodus from risk assets like equities will put February's four-year low of 5,500 under serious threat. After that, it's anyone's guess."
Banks were particularly badly hit, with Barclays's shares dropping 22 per cent, Lloyds down 18 per cent and the Royal Bank of Scotland down 16 per cent.
Housebuilders also saw huge losses, with Travis Perkins down 43 per cent and Taylor Wimpey down 32 per cent on opening.
Meanwhile the FTSE 250, which contains a smaller proportion of international companies and is generally seen as a better bellwether of the UK economy, suffered its biggest fall on record, dropping 11.4 per cent.
By mid-afternoon, trading volumes were about twice the recent daily average, according to Bats Europe, an equity exchange.
The FTSE 100 had made huge gains by close and was just 2 per cent down on the day. Analyst said that a weaker pound was helping to support shares in multinational companies like those listed on the FTSE 100, because they get so much of their revenue from overseas.
Shares rebounded slightly after David Cameron announced his resignation, suggesting a positive reaction among investors.
The losses of the FTSE 100 were almost as severe as those seen during the financial crisis in 2008, when 8.85 per cent was wiped of global stocks in one day on October 10.
Nigel Farage: 'Let today be our independence day'
"We're expecting to see significant and sustained volatility before the market closes," said Caroline Simmons, deputy head of the UK investment office at UBS Wealth Management.
"There is a heightened risk for the FTSE 250 over the FTSE 100 given its greater exposure to the UK. We could see the FTSE 100 drop towards valuations seen during the 2012 Euro crisis. However, in the months ahead this would be cushioned by an 8 per cent boost to earnings from the weakness in the pound," Simmons said.
Germany's DAX index was down 8 per cent and France's CAC 40 lost 10 per cent.
Business news: In pictures

Show all 13
The Japanese Nikkei 225 benchmark index slumped 8 per cent in Asian trading, in the biggest one-day fall since the Fukushima earthquake in March 2011.
Taro Aso, the Japanese finance minister, said he was "very concerned about the world economy" as Japanese traders struggled to get a handle on stocks.
The Hong Kong stock market index the Hang Seng was down 5 per cent, with shares in British insurer Prudential, HSBC and Standard Chartered all sliding more that 10 per cent.
Register for free to continue reading
Registration is a free and easy way to support our truly independent journalism
By registering, you will also enjoy limited access to Premium articles, exclusive newsletters, commenting, and virtual events with our leading journalists
Already have an account? sign in
Register for free to continue reading
Registration is a free and easy way to support our truly independent journalism
By registering, you will also enjoy limited access to Premium articles, exclusive newsletters, commenting, and virtual events with our leading journalists
Already have an account? sign in
Join our new commenting forum
Join thought-provoking conversations, follow other Independent readers and see their replies