G4S suspends nine staff for alleged abuse of migrants at Brook House immigration removal centre
Afghan asylum seeker Samim Bigzad among detainees at Brook House, near Gatwick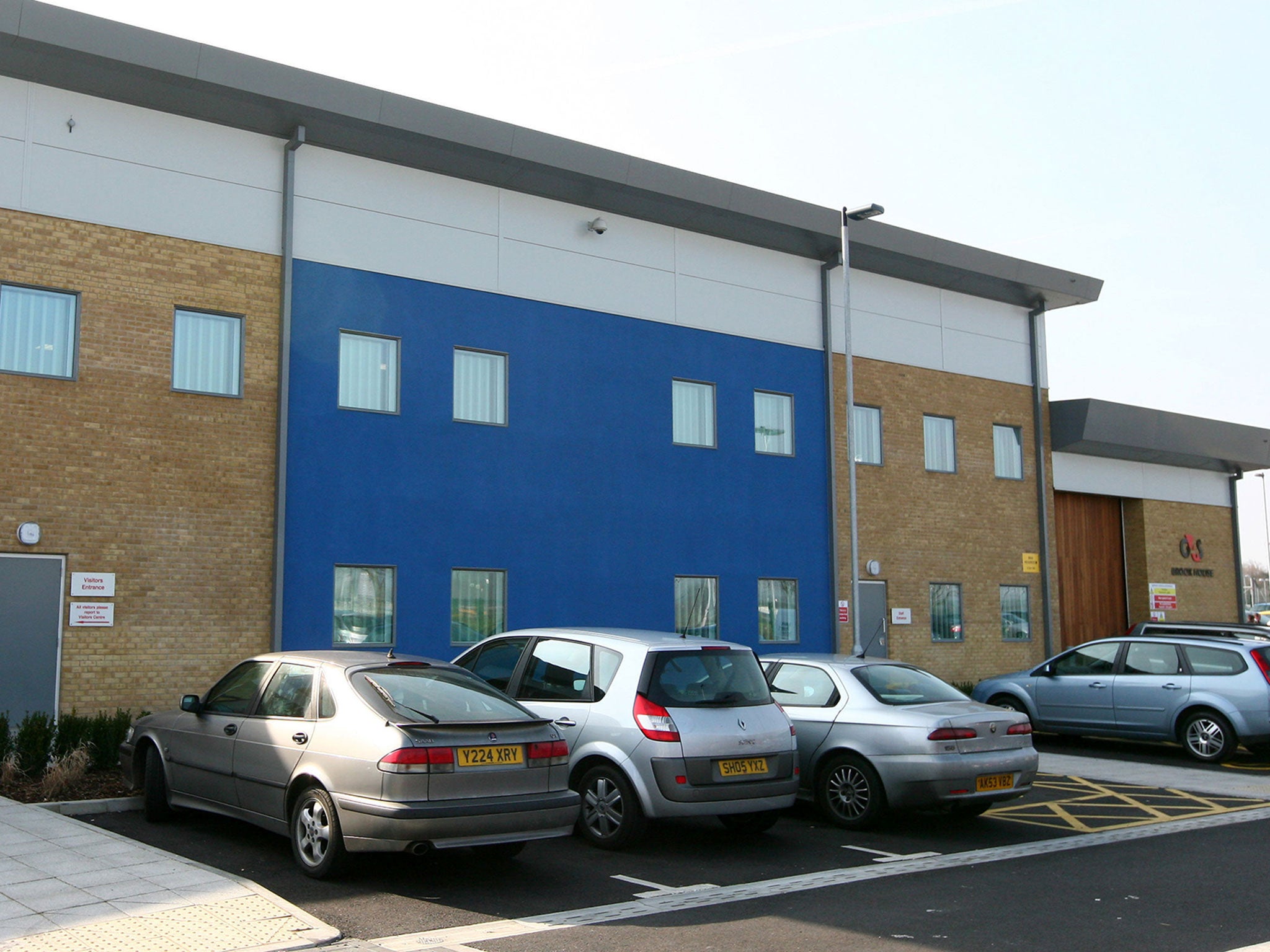 Nine members of G4S staff have been suspended from duty after undercover footage revealed abuse and assaults at an immigration detention centre.
The private security firm runs Brook House near Gatwick, where asylum seeker Samim Bigzad is among those detained while campaigners fight a new attempt to deport him to Afghanistan.
Some of the more than 500 inmates have been held for years at the centre, where BBC's Panorama programme uncovered evidence of officers "mocking, abusing and assaulting" vulnerable people.
The investigation, to be aired on Monday, used footage recorded by a custody officer at the centre, where detainees have self-harmed and attempted suicide.
The footage allegedly exposes "rife" drug use, as well as a "toxic mix [of] chaos, incompetence and abuse".
On Friday evening a Home office employee who used to work for G4S was also suspended, bringing the total number of former or current staff involved to 10.
Panorama found failed asylum seekers being forced to share rooms with foreign criminals who have finished prison sentences.
G4S said it launched an immediate investigation into the allegations and has suspended nine staff pending further investigation.
David Davis suggests immigration target won't happen during next parliament
Jerry Petherick, managing director for custodial and detention services, said: "There is no place for the type of conduct described in the allegations anywhere in G4S.
"Such behaviour is not representative of the many G4S colleagues who do a great job, often in difficult and challenging circumstances, across the country.
"We have not yet been provided with the recorded evidence which forms the basis of the allegations and it is inappropriate for me to prejudge the outcome of our investigation.
"Once we have seen the evidence and concluded the investigation, I will ensure that we take the appropriate action.
"We continue to focus on the care and wellbeing of detainees at Brook House."
Many are held for months or even years, with the UK being the only country in Europe with powers to indefinitely detain people awaiting deportation, despite the fact that most of those taken into custody are eventually freed.
Brook House, housing 508 adult men, is one of 11 detention removal centres in the UK, two of which are run by G4S.
Concerns were raised after the most recent government inspection revealed four men had been held there for more than two years and that the average length of detention had increased from 28 to 48 days.
The report also highlighted issues with the "stark and impersonal" residential units and unsatisfactory sanitary facilities, leading detainees to feel they were being held in prison.
But overall the report by HM Chief Inspector of Prisons said it was an "encouraging" inspection in March, deeming Brook House "reasonably good" for safety, respect, activities and preparation for removal or release.
It is not the first time the conduct of G4S guards has come under scrutiny. The firm has been the subject of numerous scandals, including failing to properly staff security teams at the London 2012 Olympics, losing control of rioting prisoners at HMP Birmingham, manipulating police telephone data and hiring the Orlando terror attacker Omar Mateen in the US.
Many controversies have focused on the treatment of detained immigrants by G4S guards, and their use of force while working for the UK Border Agency and prison service.
Three G4S guards were cleared of manslaughter after the death of Jimmy Mubenga, who was fatally restrained on a deportation flight from Heathrow in 2010.
In that year alone, the company received more than 700 complaints from detained immigrants, including allegations of assault and racism.
The Detention Forum, which represents British charities campaigning on the issue, welcomed the suspension of G4S staff but said further scrutiny is needed.
"We are deeply concerned about the lack of scrutiny of the UK Government's routine use of indefinite immigration detention," a spokesperson said.
"We should not forget that Brook House is only one of nine such detention centres in the UK, which lock up migrants without a time limit.
"Deprivation of liberty must be an exceptional measure of last resort: yet the UK detains migrants routinely, locking up nearly 30,000 people a year for administrative reasons in prison-like conditions."
A 2015 Parliamentary inquiry into the use of immigration detention concluded that people were being imprisoned "completely unnecessarily" in many cases and recommended a 28-day limit for immigration detention, which should be a "last resort".
A separate report by Stephen Shaw also highlighted the impact of indefinite detention and called for exceptions for vulnerable people including rape victims, PTSD sufferers and pregnant women – following at least six recent cases where the UK was found to be violating the European Convention of Human Rights.
The former immigration minister, James Brokenshire, outlined reforms last year intended to "lead to a reduction in the number of those detained, and the duration of detention before removal, in turn improving the welfare of those detained", but little progress has so far been seen and a new review is underway into progress on Mr Shaw's report.
But the more recent statistics released by the Home Office show little change in the scale or duration, with one man held for 1,514 days by the end of June.
The Detention Forum said the "human cost" of incarceration includes self-harm, suicide and mental illness, calling for alternatives based in the community that have been recommended by the UN and Council of Europe, as well as a 28-day limit on detention.
As Mr Shaw mounts a review into progress on his recommendations, the group added: "We urge Mr Shaw and parliamentarians to seek accountability for the broken promise of detention reform that continues to put lives at risk today."
Join our commenting forum
Join thought-provoking conversations, follow other Independent readers and see their replies