George Osborne warned his 'national living wage' will spark job cuts
Nobel economist also says PM's benefits squeeze will not slow EU migration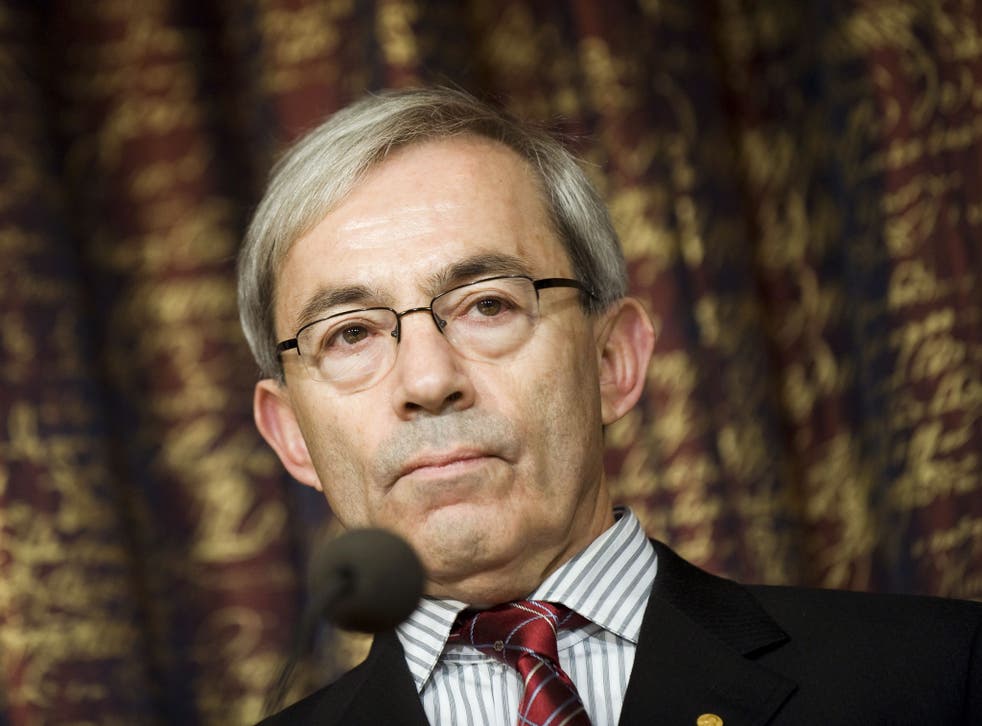 One of the world's most respected experts on labour market economics has lambasted George Osborne's imminent increase in the minimum wage and cast doubt on a key claim in David Cameron's European Union reform drive.
Sir Christopher Pissarides, who was awarded the Nobel prize for economics in 2010, told The Independent that the new "national living wage" rate of £7.20 an hour, effective from April for over-25s, would come at the cost of jobs and he was "worried" about its adverse impact on the less-skilled end of the employment market.
"I think it is going to be a threat," he said, speaking on the sidelines of the World Economic Forum in Davos. "There are going to be job losses. I would not have done it – I'd be worried about what it would do to the lower end of the market."
Sir Christopher said he did not think labour productivity would rise sufficiently to offset the negative impact on businesses' bottom lines, and it was vain to hope they would absorb the hit in the form of lower profits. "They are not going to redistribute profits within the company," he said. "If a job is losing you money you drop it."
The economist said it would be unfair to workers to reverse the policy now, but instead he urged the Chancellor to mitigate its effects by perhaps subsidising affected companies.
Since the Chancellor announced his 'national living wage' in the July Budget a host of major UK companies have come forward to complain about the cost. The Office for Budget Responsibility has estimated that employment will be about 60,000 lower than it would otherwise have been by the end of the decade, when the minimum wage is projected by the Treasury to rise to £9 an hour.
Sir Christopher also said the Prime Minister's claim that limiting new EU migrants' access to in-work benefits – which he has made the centrepiece of his EU renegotiation drive – would reduce inward migration flows was false. "There is no evidence that it [migrant access to benefits] is a big pull factor," he said.
As part of his efforts to secure a new deal for Britain in the EU, in advance of this year's expected referendum, Mr Cameron is pushing for new EU migrants' rights to benefits to be restricted for four years.
Other EU states have objected on the grounds that this would be discriminatory treatment of non-UK workers. One proposed solution is that young UK workers could also be barred from receiving in-work benefits for four years.
Sir Christopher said he was not against the idea of limiting new migrants' access to benefits on the grounds that they had not made tax contributions but he said it would be unfair if this was applied to young people whose parents had made contributions for many years.
"If I have a 20-year-old son who becomes unemployed I would hope that the state would support him, given how much I've contributed to the state budget," he said. "The Government needs to apply this contributory principle across the generations – not only for the individual."
The migrant benefits issue is critical to Mr Cameron's EU reform negotiations, and the Prime Minister is hoping to secure agreement with fellow continental governments by next month's European Council summit, which would then let him set a date for the membership referendum.
Register for free to continue reading
Registration is a free and easy way to support our truly independent journalism
By registering, you will also enjoy limited access to Premium articles, exclusive newsletters, commenting, and virtual events with our leading journalists
Already have an account? sign in
Join our new commenting forum
Join thought-provoking conversations, follow other Independent readers and see their replies