Greece crisis: Tsipras rails against attempts to 'humiliate' government, claiming IMF has 'criminal responsibility'
Greece will default if it does not pay debts of €1.6bn to the IMF by 30 June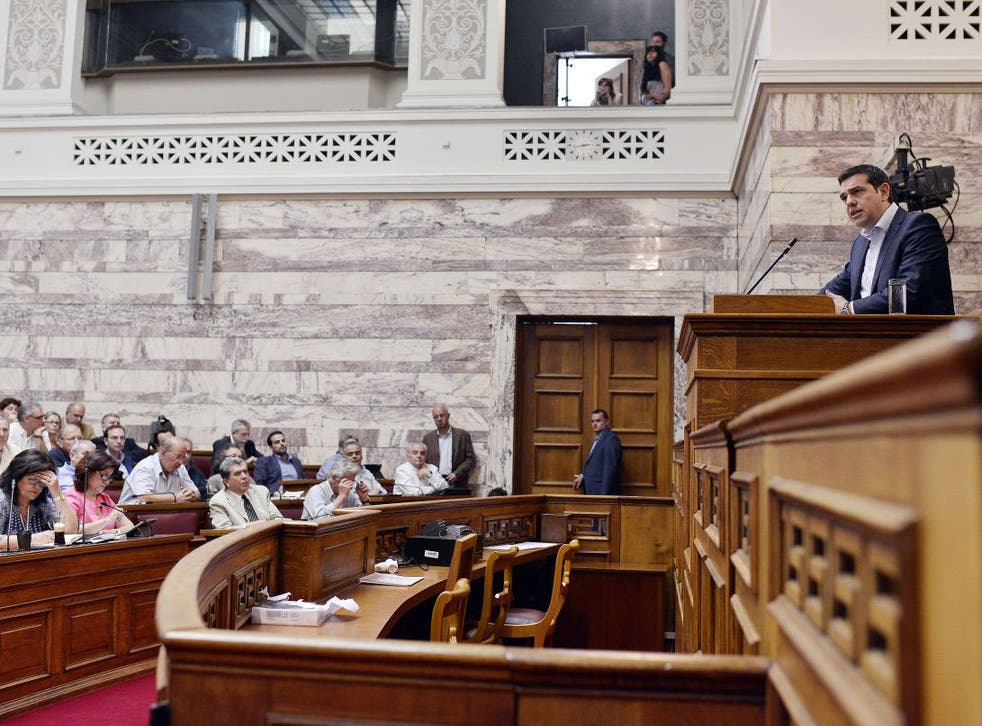 Alexis Tsipras, the Greek prime minister, has railed against attempts to humiliate his government by international creditors such as the EU and the International Monetary Fund, claiming the IMF has 'criminal responsibility' for the deadlock.
"The fixation on cuts...is most likely part of a political plan... to humiliate an entire people that has suffered in the past five years through no fault of its own," he said.
Tsipras said he wanted to strike a deal with creditors that could put an end to fears that Greece will leave the euro. But he said his government had been elected to end austerity – a position he has maintained since talks with creditors broke down after just 45 minutes on Sunday – and that he could not compromise that position by signing up to further cuts to the country's pension system or greater VAT on basic goods.
"The mandate we have got from the Greek people is to end austerity policy," he told his leftist Syriza party at a parliament meeting in Athens, Reuters reports.
"In order to achieve that, we have to seek a deal which will spread the burden evenly and which will not hurt wage earners and pensioners," he said.
On Monday Guenther Oettinger, Germany's EU Commissioner, said Greece could face a 'state of emergency' on July 1 if it does not reach a deal with its creditors.
The market is taking note of the ongoing crisis in Greece this week. Stock markets fell on Monday, hitting Greek shares harder than most. Meanwhile Greek government interest rates shot up, suggesting investors believe a sovereign default is more likely.
Greece will default if it does not pay debts of €1.6bn to the IMF by 30 June. German newspaper Suddeutsche Zeitung has reported that Greece's lenders may force it into an ultimatum as soon as this weekend by cutting its access to the European payments system.
In pictures: Solidarity protest for Greece in London

Show all 7
Join our new commenting forum
Join thought-provoking conversations, follow other Independent readers and see their replies