Greece escapes default to the ECB after emergency cash from the UK-funded EFSM
The funding came from the European Financial Stability Mechanism
Hazel Sheffield
Monday 20 July 2015 16:53 Comments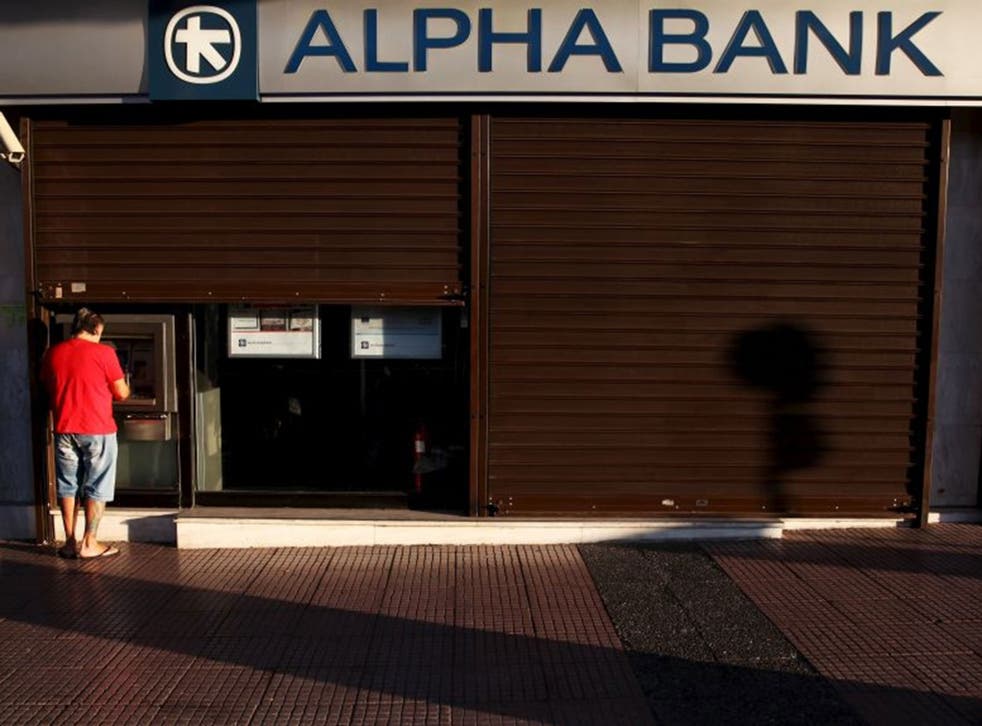 Greece has narrowly escaped defaulting to the European Central Bank after it received an emergency bridge loan of €7.16 billion from the European Union.
The funding came from the European Financial Stability Mechanism, a fund that non-eurozone European countries contribute to. UK Chancellor George Osborne had spoken out against use of the EFSM, but backed down on the assurance that the money would be guaranteed. Part of the money from the loan will be kept aside in an escrow fund as a guarantee.
A European Commission spokeswoman confirmed that Athens has been sent the emergency loan that will allow it to repay €4.2 billion bond, plus €600m in interest to the ECB and escape from default that could have had dire consequences.
A default would have put further assistance from the ECB in jeopardy – and it is financial aid from the ECB that is currently keeping the Greek banks functioning. Greek banks reopened on Monday after being closed for three weeks. A cap on withdrawals was switched from €60 a day to €420 a week – but Greeks still cannot transfer money out of the country or cash cheques.
The bridge loan will also be used to pay €2 billion to the International Monetary Fund. Greece defaulted on an IMF payment of €1.55 billion on June 29, the same day that it called a referendum asking the Greek people if they wanted to accept the austerity demands of its creditors.
Gerry Rice, a spokesman at the IMF confirmed that Greece was no longer in arrears to the organisation. "I can confirm that Greece today repaid the totality of its arrears to the IMF, equivalent to about €2 billion," Rice said.
Register for free to continue reading
Registration is a free and easy way to support our truly independent journalism
By registering, you will also enjoy limited access to Premium articles, exclusive newsletters, commenting, and virtual events with our leading journalists
Already have an account? sign in
Join our new commenting forum
Join thought-provoking conversations, follow other Independent readers and see their replies