Greece referendum: Germany hits back at Greek 'terrorism' claims as voting draws to a close
'Varoufakis's comment is an insult to those who suffer under terrorism'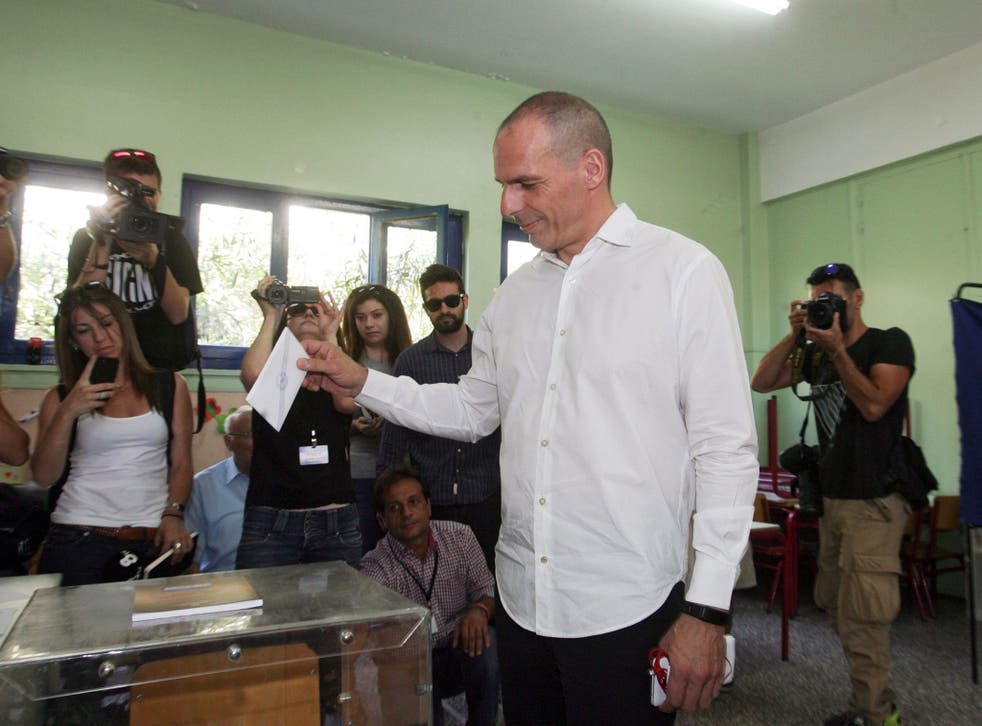 Germany has hit back at claims by the Greek finance minister that the demands being made of Greece by international creditors amount to "terrorism".
With Greece going to the polls on Sunday in a referendum that will effectively decide if it has a future within the eurozone, there are reports that a Grexit would be devastating for Germany's own budget.
Voting has now closed, and opinion polls released by Greek TV stations - not to be confused with exit polls - suggest that the Greek public is set to vote 'no'.
A poll by Metron showed that 'yes' gained 46 per cent of the vote, compared with 49 per cent for 'no'. Meanwhile, Alpha TV results showed 'no' on between 49 and 54 per cent, and 'yes' on 45 and 50 per cent. Projections by MRB showed 'no' on 51.5 per cent and 'yes' lagging behind with 49.5 per cent.
Earlier, Yanis Varoufakis told Spain's El Mundo newspaper that the "troika" of lenders had tried to "instil fear in people" in the run-up to the vote. "What they're doing to Greece has a name: terrorism," he said.
But speaking to the Passauer Neuen Presse newspaper, Germany's defence minister Ursula von der Leyen said: "The comment from Varoufakis is an insult to everyone who suffers under terrorism."
It came amid several reports that one of Greece's four main banks was within days, if not hours, of running out of cash entirely.
The country has imposed capital controls in the past week to prevent people withdrawing their money – but one unnamed senior banking source told the BBC: "People are taking out money around the clock, out of ATMs, on the internet transferring to HSBC - you name it, they're finding ingenious ways to get their savings."
Voting closes at 5pm local time (7pm BST), and Greeks were said to be turning out in solid numbers to vote. Turnout is predicted to surpass the 40 per cent required for the referendum to be considered valid.
The government of Prime Minister Alexis Tsipras has called on the country's 9.8 million voters to choose "No", saying they reject the joint proposals of the European Commission, ECB and IMF which would release bailout funds in exchange for Greece committing to years of austerity measures.
In pictures: Greek referendum

Show all 28
But those supporting a "Yes" vote say this would commit the country to new levels of chaos and see Greece kicked out of the euro altogether.
Sunday's vote was the first Greek referendum since 1974, when the country voted to abolish its monarchy, and as he cast his own vote Varoufakis said it was an opportunity for the public to decide on the "ultimatum" they had been given by the rest of the bloc.
The finance minister said the eurozone's own "massive failures" had led to demands for more austerity measures in Greece. He said the referendum "gives hope to Europe that a common currency and democracy can coexist".
Join our new commenting forum
Join thought-provoking conversations, follow other Independent readers and see their replies