Greene King to rename pubs over 'links to racism'
Pub chain expecting 'backlash' over rebranding of four venues but says 'we want to make this positive change for the better'
Sam Hancock
Sunday 17 January 2021 02:43 Comments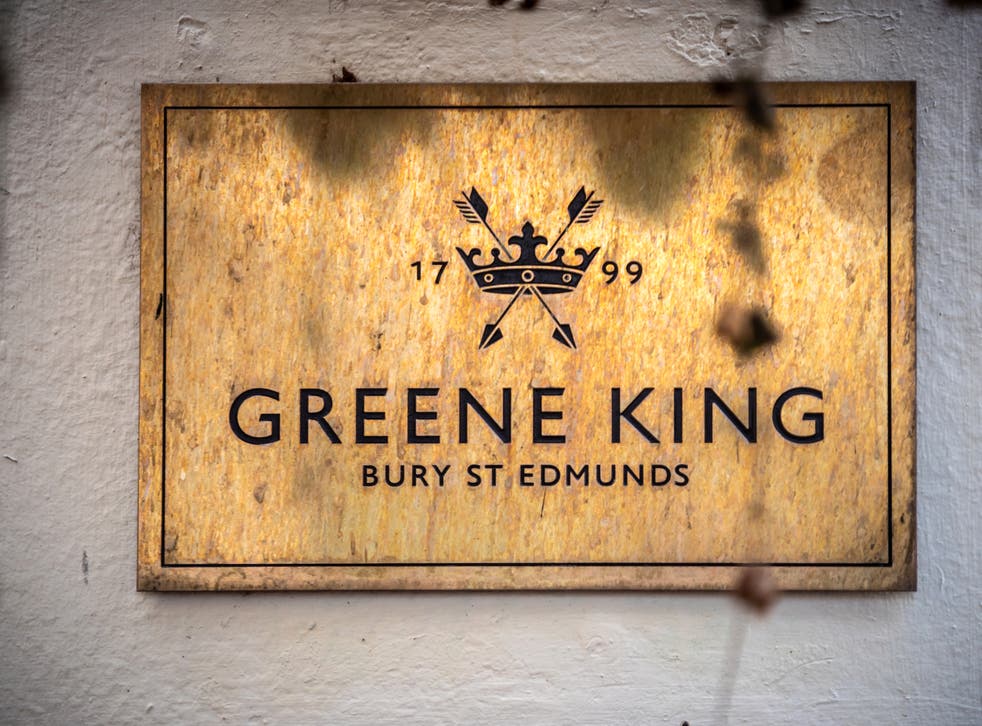 Greene King is to rename four of its pubs over possible links to racism.
The UK pub chain announced it would rebrand three venues currently called The Black Boy – in Bury St Edmunds, Sudbury in Suffolk, and Shinfield in Berkshire – as well as the Black's Head in Wirksworth, Derbyshire, due to their "potentially offensive connotations".
The move comes after the company's historic links to slavery were exposed through a University College London (UCL) database of slave profiteers in June last year. That prompted Greene King to pledge it would make "substantial investment" in black, Asian and minority ethnic (Bame) communities as part of anti-racism efforts in the wake of Black Lives Matter protests.  
Bosses said the racial origins of four pubs' names had not been definitively confirmed but the rebrand is to go ahead nonetheless as part of a bid to make the company a "truly anti-racist organisation".
Nick Mackenzie, Greene King's chief executive since 2019, said it was important to acknowledge the chain's "history" but acknowledged it was "just as important to work proactively to eradicate racism in our society today".
"We have looked at pub deeds, consulted with colleagues and while the origins of these pub names are obscure," he said on Friday, "and what is clear is that there is a perception that they are linked with racism today and we want to make this positive change for the better".
"We've thought long and hard and feel this is the right thing to do as it is incredibly important to us that our pubs are warm and welcoming places for everyone as we continue on our journey to become a truly anti-racist organisation," he added.
When the UCL database was revealed last summer, Mr Mackenzie admitted the company's links to slavery were "inexcusable". Shortly after, reports in The Telegraph suggested Greene King's 19th century founder, Benjamin Greene, received the equivalent of £500,000 in compensation for his West Indies plantations after abolition.
Mr Mackenzie accepted there would be some "backlash" over the decision to tackle racism by rebranding venues, and said his firm remained "conscious of the history and heritage of pub names".
The pubs being rebranded are to have their new names chosen by the communities they serve via online polls, with locals selecting from a list of pre-set suggestions for each of the four venues.
Greene King said the renaming idea had come as a result of thorough research into the pubs' histories. It is part of the company's plans for increased inclusion, which last year led bosses to pledge all 38,000 employees would be educated on the slave trade.
While no distinct origin was found by Greene King for the Black Boy name, a hotel in Norfolk with the same name has said its own research suggested a possible link to slavery. 
"Firstly, the most favourable suggestion was that it was named after King Charles II who was nicknamed The Black Boy because he had black hair and a swarthy complexion," the hotel's website says.
But it adds: "Secondly, it may have a connection with the black boy slaves who were used as servants in local wealthy households in the 17th century."
Meanwhile, the proprietor of The Black Boy in Bury St Edmunds said he was happy to see the venue rebranded.
"Now is the right time to make this change and I look forward to the new name continuing to reflect the heritage and history of this pub which has been a part of Bury St Edmunds for hundreds of years," Mark Eames said.
Register for free to continue reading
Registration is a free and easy way to support our truly independent journalism
By registering, you will also enjoy limited access to Premium articles, exclusive newsletters, commenting, and virtual events with our leading journalists
Already have an account? sign in
Join our new commenting forum
Join thought-provoking conversations, follow other Independent readers and see their replies