Breakthrough for British firm in medicinal use of marijuana for children with epilepsy
Firm says drug reduced seizures in children with Dravet syndrome by 39 per cent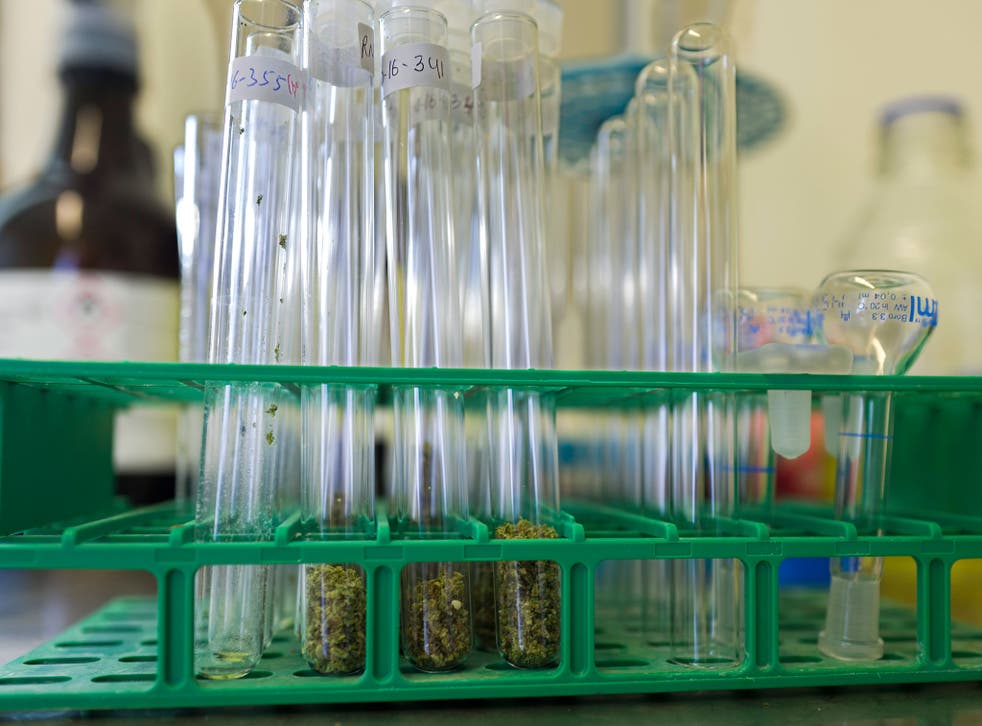 A British company that has been working for 18 years to find medicinal uses for marijuana has had a major breakthrough in the treatment of childhood epilepsy.
Yesterday GW Pharmaceuticals, which has a licence from the Home Office to grow cannabis, announced final-stage tests on 120 children with Dravet syndrome (a type of epilepsy) had successfully reduced seizures by 39 per cent. The phase 3 trial of the drug known as Epidiolex has been extremely closely watched in the medical community, due to the current absence of a cure for the painful and dangerous condition. Currently, Dravet sufferers have to take a cocktail of medicines but still suffer an average of 13 seizures a month.
For GW, the test results mark a huge breakthrough after many rocky years for the company studded by disappointments. Only in January, another of its treatments, Sativex, failed tests which were hoped to show it helping alleviate pain in cancer sufferers.
Shares in the company jumped 136% after the breakthrough announcement yesterday afternoon, closing last night up 293p at 510p.
"The positive outcome of the Phase 3 trial "is a significant milestone in the development of Epidiolex as a potential new treatment for patients suffering with Dravet syndrome," said GW chief executive Justin Gover. He said two further Phase 3 trials were now close to completion for another epileptic condition known as Lennox-Gastaut syndrome. A Phase 3 trial for a further syndrome, tuberous sclerosis complex, commences shortly. There are 150,000 children in the US with forms of drug-resistant epilepsy and a similar percentage in the UK and Europe.
"We are thrilled to learn of these positive results," said Mary Anne Meskis, executive director of the Dravet Syndrome Foundation.
Although GW's Sativex treatment did not help cancer patients, it has been available in the EU for three years as an effective cure for the painful muscle seizures known as spasticity suffered by multiple sclerosis patients.
Business news: In pictures

Show all 13
However, in terms of the potential numbers of patients, epilepsy is seen as a far bigger area of need. As a result, GW has been able to raise $500m of new equity in the US to fund the current series of trials. The Dravet drug should be on the market by the end of next year in the US and soon after that in Europe.
GW is headquartered in London but has laboratories in Cambridge and Porton Down. Its cannabis crop is grown in an undisclosed location due to concerns about theft, although the plants they use have been biologically engineered not to produce the plant's famous high.
The business was set up with the encouragement of the British government by biotech scientists and entrepreneurs Dr Geoffrey Guy and Dr Brian Whittle, to examine the medicinal properties of cannabis.
Rather than farm out the patent to bigger companies, GW retains the licensing rights to Epidiolex, meaning it will not have to share out the profits when the medicine becomes available to the public. The company has been working on its epilepsy cures since 2013 and began to develop the Epidiolex syrup in October 2014.
Join our new commenting forum
Join thought-provoking conversations, follow other Independent readers and see their replies