High streets 'are being failed by planning law'
Government rejects claim by a new study that small businesses are being sacrificed to big out-of-town developments – in spite of Town Centre First policy
Laura Chesters
Sunday 08 December 2013 01:00 Comments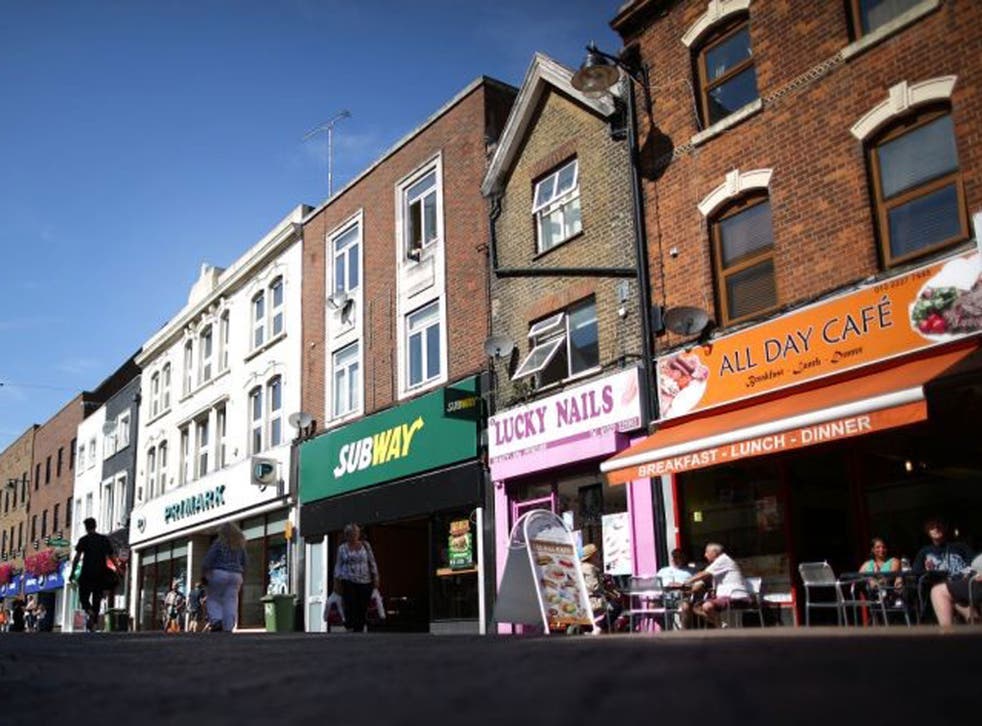 Britain's beleaguered high streets are still failing despite the Government's much-vaunted Town Centre First policy, which pledged to protect small independent shopkeepers from out-of-town shopping developments, new research claims.
The study found that more than three-quarters of new retail space approved since the national planning laws came into force last year have been located outside of town centres – exactly the opposite of what the legislation was created for. The study used a sample of 50 planning applications and found that of those approved more than 70 per cent were outside of town centres and 16 per cent were on the edge of towns.
The findings came as ministers and MPs from all parties yesterday took part in Small Business Saturday to mark the UK's first celebration of small firms. The 18-month long independent study was commissioned by a group of local shop organisations, including the Association of Convenience Stores, the Federation of Small Businesses, Town and Country Planning Association and the British Independent Retail Association. They have written to Eric Pickles MP, the Secretary of State for Communities and Local Government, calling for intervention to ensure that applications are blocked when they fail planning tests.
Mary Portas, the Government's retail tsar, who carried out a review for ministers on how to rejuvenate town centres and has been tasked with helping to turn struggling towns around, said: "We are still building out-of-town retail space at an alarming rate while many high streets have perfectly viable space available for new retail and other uses. If people hear about loggers ripping up the rain forest or developers building on green field sites, they get it. This is just as silly a use of space and we can do better. If we say Town Centre First, let's mean it."
Places where new shopping developments have left local high streets behind include Horfield, a suburb of Bristol, and Margate – which was chosen as a pilot town for Mary Portas's improvements.
James Lowman, the chief executive of Association of Convenience Stores, said: "This report paints a disturbing picture about planning decisions being driven by developers rather than local people. The planning framework is simply not being applied properly, as underresourced councils fail to get to grips with making coherent local plans and out-of-town developers fill their boots."
The planning survey took as a sample half the local planning authorities in England (excluding inner London); new shops accounted for more than 2 million square feet.
The Government defended its position on planning, and a spokesman from the Department for Communities and Local Government insisted the survey was "unrepresentative". "It does not reflect what is really happening across the country. Our national planning policy makes clear that town centres are the hearts of local communities, and that local councils should recognise this through adopting planning policies that support their vitality and viability. It sets out that all new town centre uses – which includes retail and leisure uses – should be located in existing town centres out of preference. It is also clear that where a proposal would have a likely significant adverse impact on town centres it should be refused.
"Our Town Centre First policy also asks local councils to proactively plan for vibrant and diverse town centres, engaging with business and communities in doing so."
In the Autumn Statement, the Government announced plans to cap business rates at 2 per cent, instead of linking them to inflation, but critics claim it is not enough to help small businesses. John Longworth, the director general of the British Chambers of Commerce, said the measures were "not strong enough to boost companies' cash flow and investment". He said the Chancellor should have been "bolder, freezing business rates entirely".
The Government also promised yesterday to spend £100m on faster broadband internet connections to boost local retailers. It was the latest in a package of measures it hopes will encourage spending in local shops, which are a major provider of private sector employment .
On Friday, Mr Pickles issued a £1bn "package of support for local shops" including plans to target parking issues. He said: "New tax breaks for shops and sensible changes to over-zealous parking rules will help make high streets more attractive to shoppers."
Register for free to continue reading
Registration is a free and easy way to support our truly independent journalism
By registering, you will also enjoy limited access to Premium articles, exclusive newsletters, commenting, and virtual events with our leading journalists
Already have an account? sign in
Join our new commenting forum
Join thought-provoking conversations, follow other Independent readers and see their replies