Hinkley Point nuclear plant in doubt as Government announces review
Critics have said the plan represents poor value for money for consumers, who will pay EDF billions of pounds in subsidies to operate the plant of 35 years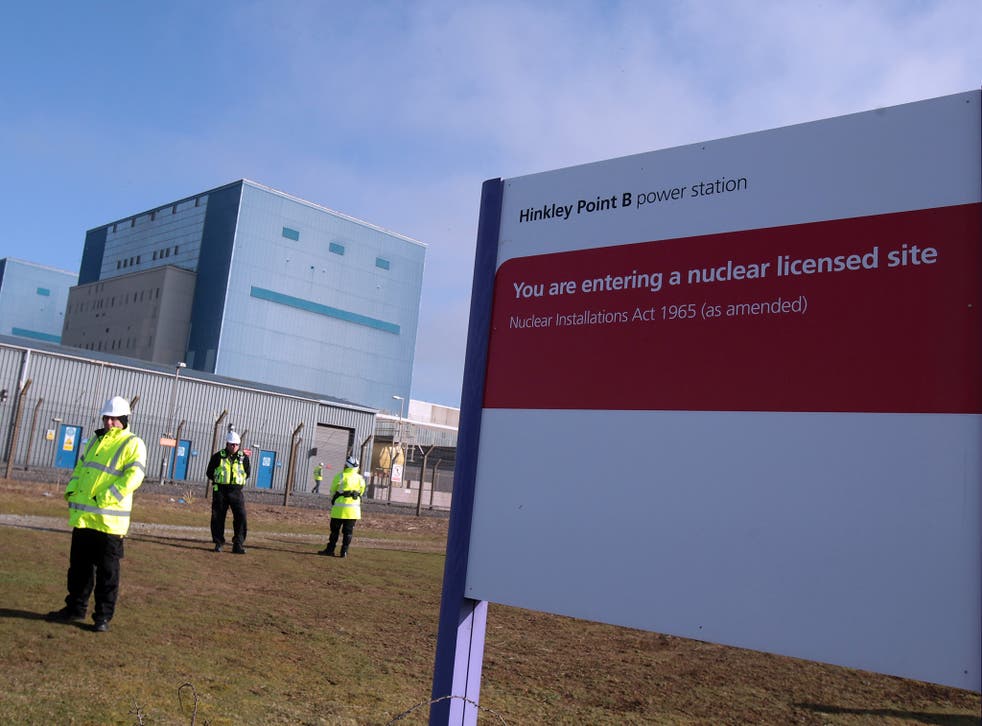 The Government cast doubt on the future of a controversial £18 billion project to build Britain's first nuclear power plant in more than 20 years, pledging to review the deal just hours after the board of France's state-run utility gave the go-ahead.
Greg Clark, the business and energy secretary said late on Thursday that the Government would carefully consider the project before deciding on it in "early autumn."
Critics have said the plan represents poor value for money for consumers, who will pay EDF billions of pounds in subsidies to operate the plant of 35 years.
Earlier in the evening, the French company's board had voted to sign contracts for the construction of two nuclear reactors at Hinkley Point in southwest England, a project that would take 10 years to build and eventually supply about 7 per cent of the UK's electricity.
The French government and EDF see the project as essential to the future of France's nuclear industry. In the UK, Theresa May's predecessor David Cameron had enthusiastically backed the project, arguing construction would create jobs and allow Britain to meet it's carbon reduction goals.
In a meeting with Francois Hollande last month, May was non-committal about the project, according to people present at the talks.
Before EDF can start pouring cement, the UK government needs to ratify a contract that would subsidize prices for the electricity generated.
The two reactors "will strengthen EDF's presence in Britain, a country where its subsidiary, EDF Energy, already operates 15 nuclear reactors and is the largest electricity supplier by volume," the Paris-based company said in a statement Thursday.
Hinkley Point "is a unique asset for French and British industries as it will benefit the whole of the nuclear sectors."
China General Nuclear Power, which is funding a third of the project, understands the UK government's position and is ready to push forward with the development, it said following EDF's approval.
The company, China's largest nuclear-power operator, didn't say in its statement when it would approve its share of the investment. A CGN spokesman didn't immediately respond to requests for comment on Friday.
EDF's management had hoped that Thursday's board meeting would end debate about the project's merit. At Flamanville in France, where the company is building a reactor of the same design proposed for Hinkley Point, costs have more than tripled to £9 billion and construction is six years behind schedule.
"Similar reactors to Hinkley have never been built on budget or on time," John Sauven, Greenpeace executive director, said in a statement. "This government should be supporting renewable energy companies whose power plants are safe, quicker to build and coming down in cost."
Boris calls Hinkley 'a disgrace'
EDF also faces opposition to the plant at home.
The financial risks were highlighted in March when former Thomas Piquemal, chief financial officer, resigned because of concerns the company's balance sheet was too stretched to handle construction, despite the projected return once Hinkley is operational
Levy responded with a plan to sell €10 billion of assets by 2020 to help fund the project, and shareholders on Tuesday approved the sale of €4 billion of new shares by early 2017. The French government owns 85 per cent of EDF.
EDF reported new income, excluding non-recurring items of €3 billion in the first half of the year, beating analyst estimates. The company is also in talks with reactor-builder Areva to create a company called New Areva, in which EDF would hold at least 51 per cent of the shares.
Three of EDF's trade unions, CGT, FO and CFE-CGC, are seeking a court decision to void the board's decision as they want the project to be delayed by about three years to give the company time to complete the construction of similar reactors in France and China, which are several years behind schedule.
If ratified by the UK, the Hinkley Point contract would result in EDF being paid £92.50 for every megawatt-hour of electricity it produces for 35 years, more than twice the current market price.
That would generate an annual rate of return of 9 per cent if the plant is built on time and budget, according to Levy.
"Although some may think that the strike price is high, it isn't when you compare it with the cost of offshore wind, solar or other forms of renewable energy," Sue Ion, a fellow of the Royal Academy of Engineering, said in a statement.
"Over its 60-plus-year lifetime, Hinkley Point will deliver enough consistent reliable baseload electricity to power 5 million homes."
Business news: In pictures

Show all 13
EDF, which has already spent £2.5 billion on Hinkley Point, would risk losing the contract if it were to delay the project for years, the chief executive has said.
The company needs the project to maintain its know-how and prepare for the retirement and renewal of its aging French and British nuclear fleet, according to Levy.
Ratings agencies have said a decision to proceed with Hinkley Point will probably trigger a credit downgrade for EDF, and three of the French company's largest trade unions have called for the development to be delayed to reduce financial pressure and construction risks.
© Bloomberg
Register for free to continue reading
Registration is a free and easy way to support our truly independent journalism
By registering, you will also enjoy limited access to Premium articles, exclusive newsletters, commenting, and virtual events with our leading journalists
Already have an account? sign in
Register for free to continue reading
Registration is a free and easy way to support our truly independent journalism
By registering, you will also enjoy limited access to Premium articles, exclusive newsletters, commenting, and virtual events with our leading journalists
Already have an account? sign in
Join our new commenting forum
Join thought-provoking conversations, follow other Independent readers and see their replies