Honda's job cuts spark fears for UK car industry
Weak demand across Europe is blamed as company joins Rolls-Royce, Ford and Vauxhall in sending out distress signals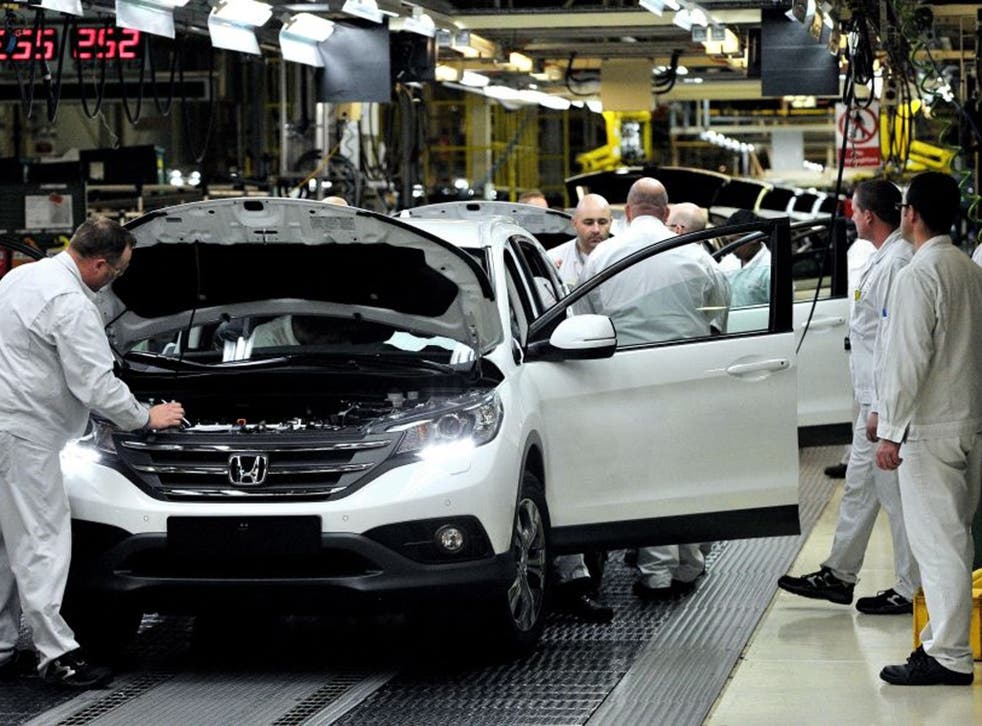 The outlook for UK car makers deteriorated further after Honda announced 800 redundancies at its Swindon plant, blaming weak demand across Europe.
A day after Rolls-Royce said its sales growth dived to 1 per cent last year – down from 31 per cent in 2011 and 150 per cent the year before – Honda said the slump in European sales had made it necessary to cut jobs for the first time since it came in 1992. The move would reduce its workforce in South Marston, near Swindon, from 3,500 to 2,700.
The plant, which produces the Civic, Jazz and CR-V models, made 150,000 cars in 2012, well below its capacity of 250,000. Its closure raised fears that there could be more redundancies to follow in the UK vehicle making industry, with Europe's beleaguered car at its lowest for nearly two decades and the market showing little sign of recovery.
Tony Murphy, the national officer of the union Unite, said: "This is a hammer blow to UK manufacturing… it's a disaster for manufacturing in the UK and for the local economy."
Paul Everitt, the chief executive of the Society of Motor Manufacturers and Traders (SMMT), said: "There are difficulties in Europe, there is no doubt about it. But the market in the UK has held up reasonably well."
Ford announced plans in October to cut 1,400 jobs at plants in southern England, ending UK production of the famed Transit van. In the same month, Vauxhall's Ellesmere Port Factory moved more than 2,000 workers to a four-day week to help its owner, General Motors, looks for savings at its European operations.
Last week, GM, which owns UK-based Vauxhall, sent shock waves through the industry when it forecast European car sales will weaken further this year. In comments that raised fears the $510m (£318m) cost-cutting programme GM announced last year may not be enough, Dan Akerson, the chief executive, said: "We must scale our operations to meet expected demand… if we can manage our cost structure so we can reduce our losses by a third to a half this year, that would be a good first step to a goal of being profitable by mid-decade."
Across the UK, sales performed well last year, rising by 5.3 per cent to a four-year high of 2.04 million, and business is forecast by the SMMT to remain flat in 2013.
However, since the UK exports 82 per cent of its cars, the health of the domestic market has a relatively small bearing on the fortunes of its manufacturers, analysts say. Europe is a much more significant market, accounting for about half of Britain's exports, but sales across the EU fell by 7.6 per cent in the first 11 months of 2012, according to the latest figures from the European Automobile Manufacturers' Association (EAMA).
Car sales are weaker in Europe than the UK in part because of the eurozone crisis, which has hit demand in Southern European countries. France was also hit badly, with sales falling 14 per cent last year, prompting Peugeot to cut 10,000 jobs. UK sales have been boosted by demand that has built up in the past three years as Britons held on to their motors. But there is no such pent-up demand in Europe, analysts argue.
Honda staff were told yesterday about the prospect of the job losses as the company began a 90-day consultation period on the redundancies at Swindon, which sells 40 per cent of the cars it makes to the UK, and hopes to avoid compulsory redundancies.
"Sustained conditions of low demand in European markets make it necessary to realign Honda's business structure," a Honda spokesman said.
The company recruited 500 extra staff to the plant only a year ago.
In a further sign of strain, Rolls-Royce yesterday refused to give a figure for its UK sales growth for 2012, after trumpeting a year earlier that British revenues jumped 30 per cent in 2011.
Made in Britain
Aston Martin Gaydon
Bentley Crewe
Caterham Dartford
Honda Swindon
Jaguar Castle Bromwich
Land Rover Solihull and Halewood
Lotus Norwich
McLaren Woking
MG Motors Longbridge
MINI Oxford and Swindon
Morgan Malvern
Nissan Sunderland
Rolls-Royce Goodwood
Toyota Burnaston
Vauxhall/Opel Ellesmere Port
Join our new commenting forum
Join thought-provoking conversations, follow other Independent readers and see their replies