Inflation will return to 2 per cent, says Bank of England Governor
Mark Carney pledges to reach target within two years as Goldman Sachs boss warns against Britain leaving EU
Mark Leftly
,
Ian Johnston
Sunday 25 January 2015 21:28 Comments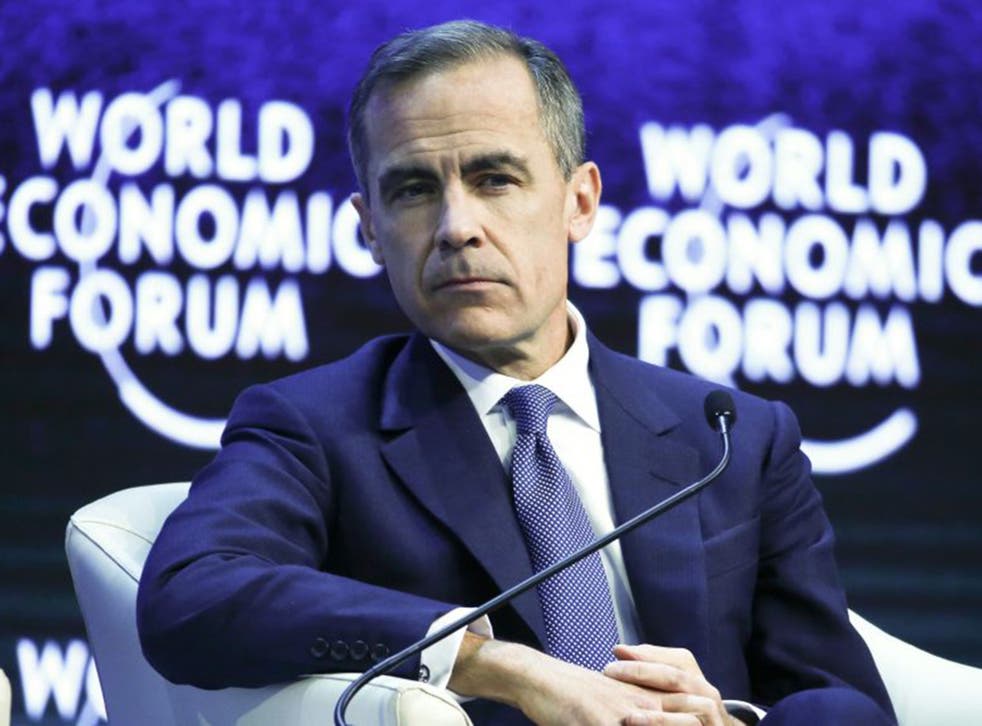 The Bank of England Governor Mark Carney has pledged to get inflation back to its target rate of 2 per cent within two years.
Inflation dipped to a record-equalling low of 0.5 per cent in December, largely because of low oil prices, sparking fears that the UK could enter a period of deflation, which many economists believe would be damaging.
Speaking at the World Economic Forum in Davos, Switzerland yesterday, Mr Carney said that signs of growth in wages would help the Bank of England avoid a deflationary spiral. He said: "We have the responsibility, we have the means and the will to… return inflation back to target within the two-year horizon."
Mr Carney also cautiously welcomed the European Central Bank's €1.1trn (£822m) boost to the ailing eurozone economy, announced on Thursday. Known as quantitative easing (QE), the ECB will buy ¤60bn of bonds a month from banks, which effectively increases the money supply, keeps interest rates low, and encourages spending.
However, he warned that QE has to be watched carefully, as traders and governments might take the sort of financial risks that caused the global economic crisis.
Also in Davos yesterday, the president of global investment bank Goldman Sachs warned that the financial services industry could leave London if the UK leaves the European Union. Gary Cohn said the sector was a "huge economic engine" and it was "imperative" for Britain that it stayed in the capital. If voters decide to leave the EU – the Conservatives have promised a referendum on the issue if they win the general election in May – banks might come under pressure from clients on the continent to relocate, he said
Britain's economy relies heavily on financial and related professional services. These industries contributed £174bn to the UK economy in 2012 – more than 12 per cent – and paid £65bn in tax in 2012/13.
Speaking to BBC Radio 4's Today programme, Mr Cohn said "having the UK be part of Europe is the best thing for all of us".
"It's been very good for the UK to have the financial services industry there [London]. We are large employers, we are large taxpayers. There's enormous trickle-down employment from having the financial services industry there," he said.
"I think for the UK it is imperative to keep the financial services industry in London. We all want to stay in London. It is our European headquarters, and hopefully we're all going to be able to stay there. I don't know what would really replace that industry in the UK."
However Eurosceptic Tory MP Sir Bill Cash, who has claimed up to 200 Conservative MPs could call for Britain to leave the EU, said Mr Cohn's comments were a "misconceived, mischievous kind of propaganda".
"The average British elector is not going to be persuaded by bankers, by arguments from an American multi-national," he said. "Goldman Sachs… has no interest specifically in the UK as such, and this is just scare tactics."
Register for free to continue reading
Registration is a free and easy way to support our truly independent journalism
By registering, you will also enjoy limited access to Premium articles, exclusive newsletters, commenting, and virtual events with our leading journalists
Already have an account? sign in
Join our new commenting forum
Join thought-provoking conversations, follow other Independent readers and see their replies