Interest rates hike: here are the nine people who may raise them
The Monetary Policy Committee members will decide if there's a risk inflation is getting out of control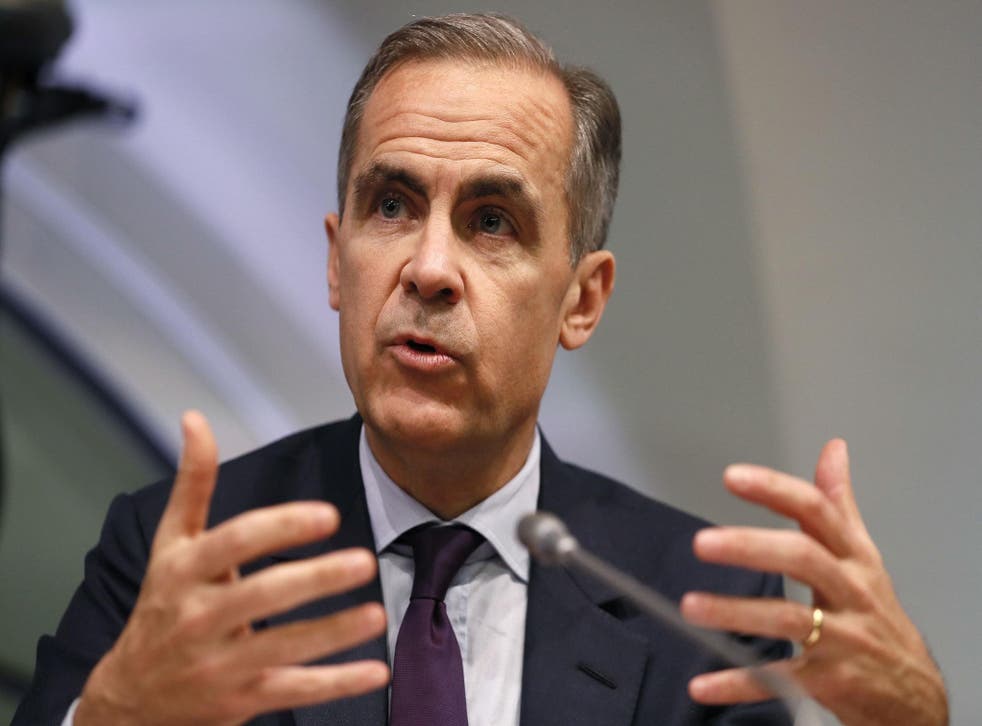 The Bank of England may be heading for its first interest-rate increase in a decade, which will lift the cost of a variable or tracker rate £200,000 mortgage ($262,000) by almost £300 a year. So who makes that call? Here are the nine members of the Monetary Policy Committee about to decide if there's a risk inflation is getting out of control and the UK needs higher borrowing costs.
Mark Carney: Governor
The former Bank of Canada governor and Goldman Sachs banker joined the BOE in July 2013. The first foreigner to lead the institution, he's been criticised for giving mixed messages on interest rates in the past and clashed with lawmakers over Brexit. Having loosened policy in 2016 to help the economy, he's now switched to warning that the UK may soon need higher rates to tame inflation pressures.
Hawk or Dove? Hawkish
Last interest-rate vote: 0.25 per cent
What he's said recently: "Having used up more spare capacity, having seen some evidence of building domestic pressures, the judgement of the majority of the committee is some raise in interest rates over the coming months may be appropriate." (17 October)
Did you know? He ran the 2015 London marathon in three and a half hours.
Ben Broadbent: Governor of monetary policy
Another Goldman alumni, Mr Broadbent joined the BOE as an external MPC member in 2011 and was appointed deputy governor in 2014. He hasn't given a steer on policy recently, though in July he said Brexit had made firms cautious and he wasn't at the time ready to vote for a hike.

Hawk or Dove? Neutral
Last interest-rate vote: 0.25 per cent
Did you know? He studied music in Paris and plays violin and piano.
Andrew Haldane: Chief Economist
Mr Haldane has spent more than a quarter of a century at the BOE and is known for colourful speeches that have analysed policy through the prism of everything from biology to frisbee-catching. He co-founded Pro Bono Economics, a charity that links economists with charities.
Hawk or Dove? Hawkish
Last interest-rate vote: 0.25 per cent
What he's said recently: An increase "would be interest rates getting back to normal, even if the new normal is different than the old normal. This would be a sign of the economy healing. So rather than be a source of fear or trepidation, this ought to be a good news story." (27
September)
Did you know? He was named one of Time Magazine's most influential people in 2014.
Dave Ramsden: Deputy Governor of markets and banking
Mr Ramsden joined the BOE in September 2017, joining from the UK Treasury, where he was chief economic adviser. He was in charge of the Treasury's controversial forecasts on Brexit before the 2016 EU referendum.The newest member of the MPC, he set out his position at his appointment hearing this month, indicating he leans to the dovish side of the spectrum.

Hawk or Dove? Dovish
Last interest-rate vote: 0.25 per cent
What he's said recently: "I still think there is some slack in the economy. I'm going to approach each MPC meeting as it comes." (17 October)
Did you know? He's been attending MPC meetings for a decade as a Treasury representative and has probably seen more decisions than anyone else on the panel. But this is only the second time he gets to vote.
Jon Cunliffe: Deputy Governor of financial stability
Mr Cunliffe worked in the UK Treasury for almost two decades and was the British Permanent Representative to the EU from 2012 to 2013. He has indicated he's cautious on the timing of the first rate increase.
Hawk or Dove? Neutral
Last rate vote: 0.25 per cent
What he's said recently: If the economy continues as expected, "I'm very clear interest rates will need to rise, slowly and gradually, over the period. When that process should actually start, that for me is the more open question." (19 October)
Did you know? He studied English and lectured on English literature in Canada.
Silvana Tenreyro: External member
The only woman on the nine-member MPC, Harvard-educated Ms Tenreyro is a professor in economics at the London School of Economics. She holds British, Italian and Argentinian citizenships.
Hawk or Dove? Neutral
Last interest-rate vote: 0.25 per cent
What she's said recently: "We are approaching a tipping point. If the data outturns are consistent with the picture I just described, of an output gap going toward zero, then I'd be minded to vote for a bank rate increase in the coming months." (17 October)
Did you know? She previously served on the Monetary Policy Committee of the Central Bank of Mauritius.
Ian McCafferty: External member
Mr McCafferty joined the MPC in September 2012 and was reappointed for a second three-year term in 2015. He's effectively the business representative on the committee, having previously worked at the Confederation of British Industry and BP.
Hawk or Dove? Hawkish
Last interest-rate vote: 0.5 per cent
What he's said recently: "Until recently, financial markets had appeared to believe that, almost regardless of how the economy behaved, Brexit-related uncertainties effectively tied our hands until after the U.K. had left the European Union. This, we felt, was a misreading of our reaction function." (5 October)
Did you know? No stranger to dissent, he's unsuccessfully voted for a rate hike 14 times since his appointment.
Michael Saunders: External member
One of the two hawks on the MPC (along with Mr McCafferty), he's voted for an interest-rate increase at the last three meetings. He was a UK economist at Citigroup from 1990 to 2016, and a research analyst at the Institute for Fiscal Studies in the 1980s.
Hawk or Dove? Hawkish
Last interest-rate vote: 0.5 per cent
What he's said recently: "We do not need to be putting the brakes on so much that the economy weakens sharply. But, our foot no longer needs to be quite so firmly on the accelerator in my view. A modest rise in rates would help ensure a sustainable return of inflation to target over time." (31 August)
Did you know? He paid to join the Nottingham Chamber of Commerce so he could get a spot at Carney's first public event. Having travelled to the event and got in a question, Carney responded: "Have you moved up here, Michael?"
Gertjan Vlieghe: External member
Mr Vlieghe previously worked at Brevan Howard and Deutsche Bank before being appointed to the MPC. It marked a return to the central bank, as he worked there from 1998 to 2005, including a stint as Mervyn King's economic assistant. Initially the uber-dove on the committee, his position has shifted more recently.
​Hawk or Dove? Hawkish
Business news: In pictures

Show all 13
Last interest-rate vote: 0.25 per cent
What he's said recently: "The evolution of the data is increasingly suggesting that we are approaching the moment when bank rate may need to rise." (15 September)
Did you know? His appointment was mired in controversy after he initially attempted to retain his rights to a share of future payouts from Brevan. He eventually agreed to sell his interest after lawmakers expressed concern.

Bloomberg
Join our new commenting forum
Join thought-provoking conversations, follow other Independent readers and see their replies