IoS investigation: The great online delivery scandal
Christmas was chaotic for thousands of consumers who were left out of pocket when packages went astray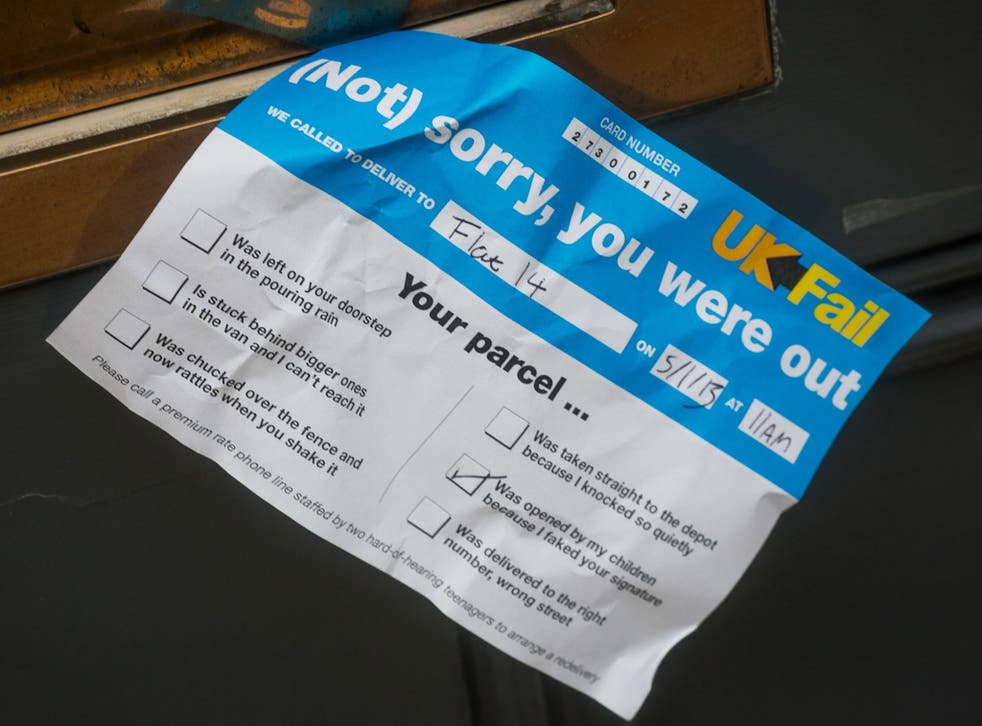 Hundreds of thousands of people who opted to shop online this Christmas were left frustrated by disastrous service, with many still struggling to trace missing parcels or get their money back.
There is growing alarm that consumers are losing out because of glaring flaws in the quality of service provided by some parcel courier firms. Experts warned that poor regulation was compounding the situation, leaving cash-pressed shoppers to foot the bill.
Politicians warned that consumers were struggling to seek redress, with some retailers obscuring customers' rights, including the right to a refund. During December, industry executives estimated that at least 225,000 parcels each day failed to arrive when promised.
The worst problems faced by disappointed online shoppers included Christmas presents disappearing; packages being left at the wrong address; couriers claiming addresses didn't exist; days wasted waiting for non-existent deliveries; and spending large sums calling premium-rate numbers to try to track down missing parcels.
Research by the consumer campaigners Which? found that 60 per cent of people shopping online last year had problems with delivery of their item. Home deliveries have exploded in the past few years, creating a profitable market for couriers. One firm handled 50 per cent more business in December 2012 than in December 2011.
Labour's consumer affairs spokesman Ian Murray, who was left out of pocket after his goods went astray, said yesterday: "It needs to be made easier for consumers to seek redress. I suspect lots of people get turned over because they don't know the rules. This is a regulatory problem. Legislation needs to be simpler and clearer. The consumer ends up stuck in the middle."
Martin Lewis, a consumer champion and the force behind MoneySavingExpert.com, called for "an ombudsman-type system" to solve disputes. He criticised retailers for failing to put delivery firms under enough pressure, adding: "We, as consumers, need to get more militant. The fact is these companies are crap."
A Which? spokesman said: "People's knowledge of their delivery rights is poor. If retailers want to keep their customers happy and keep business coming in, it is vital they use courier firms that won't let people down. But consumers must get clued up on their delivery rights or they will remain vulnerable to receiving a substandard service."
A complete picture of the scale of the fiasco has yet to emerge, but Citizens Advice said the number of people seeking online guidance about courier services had doubled in December compared with the previous month.
Baroness Hayter, an opposition spokeswoman for consumer affairs, said it was frustrating that shoppers couldn't choose their preferred courier. "It's the producer that decides which company to use, so consumers can't shop around. This isn't a regulated area, so the Government can't enforce this."
Lady Hayter, who is the former chair of the legal services consumer panel, said it was clear that parcel delivery firms "need to improve their service". She added: "The people who can make this happen are the retailers." She urged anyone who had suffered a bad experience to complain. "The only way companies will improve their service is if they know when they are going wrong. I know it's boring, but it's really important that people write in and complain. Please ask for your money back, or a reduction in price."
Mr Murray, Labour MP for Edinburgh South, said a firm that let him down was DPD, which claimed the address he had provided for the delivery of some Christmas presents did not exist. It was, in fact, his constituency office in the Scottish capital. Mr Murray still hasn't received the goods – racing cars for his seven-year-old niece Isla, and two-year-old nephew Harris, ordered from the internet retailers I Want One of Those; nor has he received a refund.
"I'm £100 out of pocket as I had to buy them from somewhere else so the children could have them on Christmas Day. I've been stonewalled by the retailer. There's nothing on the form they sent me to suggest they will refund the money," he added. He said one of the reasons the retailer claimed it had had difficulty delivering his order was partly "due to Scotland not being part of the UK".
Simon Veale, an authority on the domestic parcel industry who runs the courier firm GFS, admitted that many companies failed to handle complaints very well. "That is a real challenge for the industry. You can't just throw people at the complaints issue and resolve it because you would have to double the number of people working in your customer service centre. Carriers need a sexy way of letting people know [what is happening with their deliveries] and that's not there."
Gary Winter, European sales and marketing director for the German courier Hermes, said it had been a "major challenge to manage December's unprecedented demand". He admitted some parcels "inevitably" went astray but insisted the company, which had 25 per cent more business last month than the previous year, had improved its service overall.
Neil Beauchamp, who runs a courier firm, admitted there were a lot of problems with neighbours refusing to yield parcels they had signed for to their rightful owners. He added: "Mistakes happen, especially with the volumes that we do. We're allowed to leave parcels in safe places. Clearly, the doorstep isn't safe."
Dick Stead, chairman of Yodel, which handled 14 million parcels in December, defended his company's performance, which he said had prompted a number of major clients to use his network as other suppliers struggled. After losing contracts with Mothercare, John Lewis and Debenhams last year, Mr Stead predicted the company would shortly "win a number of new contracts".
Additional reporting by Tali Kord
The customer
Nicola Arthur, 25, is a beauty blogger from Lancashire. She says she doesn't "even know where to begin" about her bad experiences with the delivery firm Yodel. She blamed them for ruining her Christmas party: the dress, bag and shoes from the online retailer Very never turned up.
"I waited in all day and nothing turned up. I rang at 9pm, the last time for delivery, and they said to call back if it wasn't delivered first thing on Saturday. Nothing turned up. Then [Very] instructed me to chase up Yodel myself. I found out that the delivery driver had the details of the package but it wasn't on the delivery van as it had been lost. I instructed them to return it to the sender if they found it. When I got my phone bill, the calls totalled about £15."
The driver
Steve, 48, works for Interlink Express. Like many of the older generation of courier drivers, he insists the problems lie with the temporary, often younger drivers, who are hired to cope with peak periods such as Christmas.
"Companies do not take the time to properly train them and instead send them out with no idea what they are doing." This inevitably leads to disaster, he added, especially when the recipient isn't home. "Safe areas for parcels are very specifically defined. In any case, parcels aren't supposed to be left outside without the customer's written permission. But how would an inadequately trained agency courier know this?" He blames companies for being greedy: for taking on more than they can handle.
Know your rights
Cancelling your order You can cancel your online order for goods from the moment you place it to up to seven working days after you receive it.
Returning goods If an online shop doesn't explain who pays to send returned goods back, then it must pay. There are exceptions: you can't return CDs, DVDs or software if you've broken the seal on the wrapping.
Returning faulty goods Items must be "fit for their purpose", as described, and of satisfactory quality. If you have to return an item because it fails on either count, give the retailer the chance to collect it, or ask for the postage back.
Contacting the retailer An online shop has to provide a geographical address and an email address. Your contract is with the retailer, which must reimburse you for any problems. Complain to the retailer, not the courier.
Join our new commenting forum
Join thought-provoking conversations, follow other Independent readers and see their replies