Italy, Inflation, rate-rigging: Business news in brief, 22 December
Banks get €20bn rescue fund, UK firms see costs escalate, RBS Barclays among banks fined after four-year probe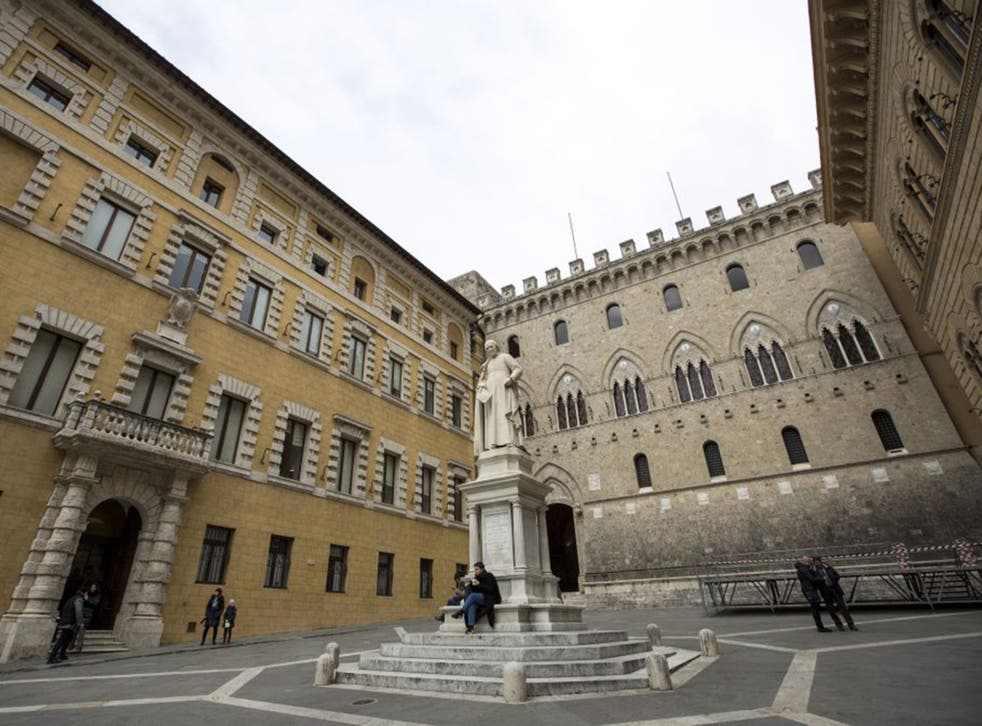 Italy approves €20bn plan to prop up banks
Italy's parliament gave the green light on Wednesday for a €20bn (£17bn) plan to prop up the country's weaker banks, starting with a bailout as early as this week for the third largest, Monte dei Paschi di Siena.
The Tuscan lender – recently judged the weakest of the EU's major banks – needs to erase a mountain of bad loans and raise €5bn in capital by the end of the month or risk being wound down by European regulators.
But its hopes of raising the money from private investors, via a debt-for-equity swap and a share placement that ends on Thursday, are fading. A failed Monte dei Paschi would rock Italy's banking system, the eurozone's fourth largest.
In the latest prospectus for the deal, the bank warned it could run out of liquidity in four months – as opposed to the projection of 11 months made as recently as Sunday.
The bank said a key investor in its rescue plan, bailout fund Atlante, had set new conditions for its participation.
If Monte dei Paschi's capital plan fails, Prime Minister Paolo Gentiloni's new government is likely to meet this week to issue an emergency decree to inject capital into it.
But that could prove to be politically explosive given that investors are required to bear losses under EU bailout rules.
Parliamentary approval for the €20bn government plan was needed to allow the state to take on new debt. Italy's debt burden, at about 133 per cent of annual output, is already the second highest in the eurozone after Greece.
Reuters
Inflation means higher costs for UK firms
British companies' costs for materials and imports have risen faster than they have for five years, over the past three months. This will boost inflation noticeably next year, according to a survey by Bank of England.
Growth in both services and the manufacturing sector improved a little in the fourth quarter, helped by the strongest reading for factory exports since the third quarter of 2014, according to the Bank's survey, which is based on reports from its staff across the UK.
The survey added to signs that Britain's economy has sustained a solid pace of growth through the lpast three months, with scant evidence of any hit to companies' day-to-day business from June's shock Brexit vote.
But it also highlighted growing worries about inflation since the pound's post-Brexit-vote drop, as well as weak investment.
Prices paid for materials by companies rose at the fastest pace since the end of 2011, while import costs rose at the fastest pace since the start of 2012, the Bank's report showed.
Philip Rush, chief economist of consultancy Heteronomics said the survey "supports the view that the pound's devaluation will be passed through [to consumers] quicker – Brexit hedging was low and the shock is seen as persistent."
Reuters
RBS and Barclays among banks fined for rate-rigging after four-year probe
Royal Bank of Scotland and Barclays are among seven banks that have been hit with total fines of around 99m Swiss francs (£78m) for interest rate rigging after a four-year probe.
The Swiss Competition Commission, known as Comco, said a raft of banks ran cartels to influence rates dating as far back as 2005.
As well as RBS and Barclays, Comco also fined US investment banking giants JP Morgan Chase & Co and Citigroup, German group Deutsche Bank, French player Societe Generale and Swiss bank Credit Suisse.
It marks the latest in a long line of bank penalties for rate-rigging scandals that have come to light since the 2008 global financial crisis.
Just weeks ago, the European Commission announced fines totalling €485m (£409m) for HSBC, JPMorgan and Credit Agricole for the part they played in conspiring to rig interest-rate derivatives.
PA
Thousands of JCB workers to get £400 Christmas bonus
More than 5,000 workers at manufacturing giant JCB are to receive a £400 Christmas bonus.
The payout was confirmed today and means employees at the firm's 11 plants in Staffordshire, Derbyshire and Wrexham will share in a festive bonus pot worth more than £2m.
The news follows a vote by workers earlier this week in favour of a 2.2 per cent pay rise.
Chief executive Graeme Macdonald said: "While global construction equipment markets have remained fragile during 2016, JCB has made some good progress and has grown its share in a declining market.
"We expect continued market fragility next year but we enter 2017 with a degree of confidence driven by the recent introduction of innovative new products."
PA
Coca-Cola buys AB InBev Africa unit for $3.2bn
Coca-Cola will pay $3.15bn (£2.6bn) to buy Anheuser-Busch InBev out of a bottling joint-venture in Africa.
The announcement comes just over two months after the companies said they were in negotiations following AB InBev's takeover of SABMiller – Coke's partner in the region.
Coca-Cola also agreed to buy AB InBev's interest in bottling operations in Zambia, Zimbabwe, Botswana, Swaziland and Lesotho for an undisclosed sum – along with operations in El Salvador and Honduras.
For Coca-Cola, the acquisition of AB InBev's 54.5 per cent stake in the venture provides a firm footing in a region that is probably one of the last where it can grow its core soft drinks products, said Sasha Naryshkine, an analyst at Johannesburg-based money manager Vestact. The transaction continues AB InBev's asset-pruning following its purchase of SABMiller, coming only days after the brewer agreed to sell its central and eastern European assets to Asahi Group.
"Considering the speed that this deal was done I would expect AB InBev to continue selling non-core assets quickly," Naryshkine said. "It's a good price for Coca-Cola."
Bloomberg
Nike earnings top estimates, soothing concerns about slowdown
Nike posted second-quarter results that surpassed estimates, easing concerns that the world's largest sports brand is losing ground to competitors such as Adidas and Under Armour.
Profit was 50 cents (40p) a share in the period ending 30 November, Nike said in a statement. That compared with analysts' projections of 43 cents per share. Sales rose 6 per cent to $8.2bn (£6.6bn), beating the estimate of $8.09bn.
The results helped rebuff critics who warned that Under Armour and a resurgent Adidas were stealing Nike's market share, especially among US shoppers. Consumer demand globally helped fuel sales last quarter, especially in Western Europe, China and emerging markets. Lower selling and administrative expenses also helped bolster profit.
"We are well-positioned to carry our momentum into the back half of the fiscal year and beyond," said chief executive Mark Parker, 61.
The stock, which has been on pace for its first annual decline in eight years, rose as much as 3.3 per cent to $53.48 in early trading in New York on Wednesday.
Bloomberg
Singapore ex-banker convicted in 1MDB Malaysia fund case
A court in Singapore has found a former private banker guilty of trying to obstruct investigations linked to 1MDB, the debt-ridden Malaysian state investment fund.
The State Court on Wednesday found Yeo Jiawei, a former wealth-planner at Swiss private bank BSI, guilty of four charges relating to obstructing, preventing or perverting the course of justice. Yeo denied involvement in the case.
Singapore ordered BSI to stop operating there in May due to violations of anti-money laundering requirements, among other problems.
Investigators in Singapore, Switzerland, Hong Kong and the US have been probing allegations that people close to Malaysian Prime Minister Najib Razak stole over $1bn (£800m) from 1MDB.
In February, Singapore authorities said they had seized a large number of bank accounts.
PA
Ethiopia unrest impacts UK leather firm
Leather goods firm Pittards has warned that falling demand and political unrest in Ethiopia will result in a hit to its full-year performance.
The Somerset-based firm said a state of emergency in the African country has affected the company's tannery in East Shewa, where some production has been lost.
The company said: "Levels have not yet returned to the levels pre-disruption. The effect has to some extent been mitigated by undertaking production in the UK but there will nevertheless be an impact on the results for the second half of the year."
Pittards added that a "prolonged depressed demand for leather" has resulted in disappointing sales volumes in the last few months of the year, meaning that the overall performance for the full year is likely to be "lower than our expectations at the time of the half-year results".
The firm said a new management team is now in place and further progress has been made in the second half to simplify the group and better position it for growth.
PA
Join our new commenting forum
Join thought-provoking conversations, follow other Independent readers and see their replies