Workers producing Ivanka Trump's fashion line subjected to verbal abuse and 'poverty pay'
'The buck stops with her. It's her name that's on the dress. Without her there is no brand,' said Jim Keady, an American labour rights activist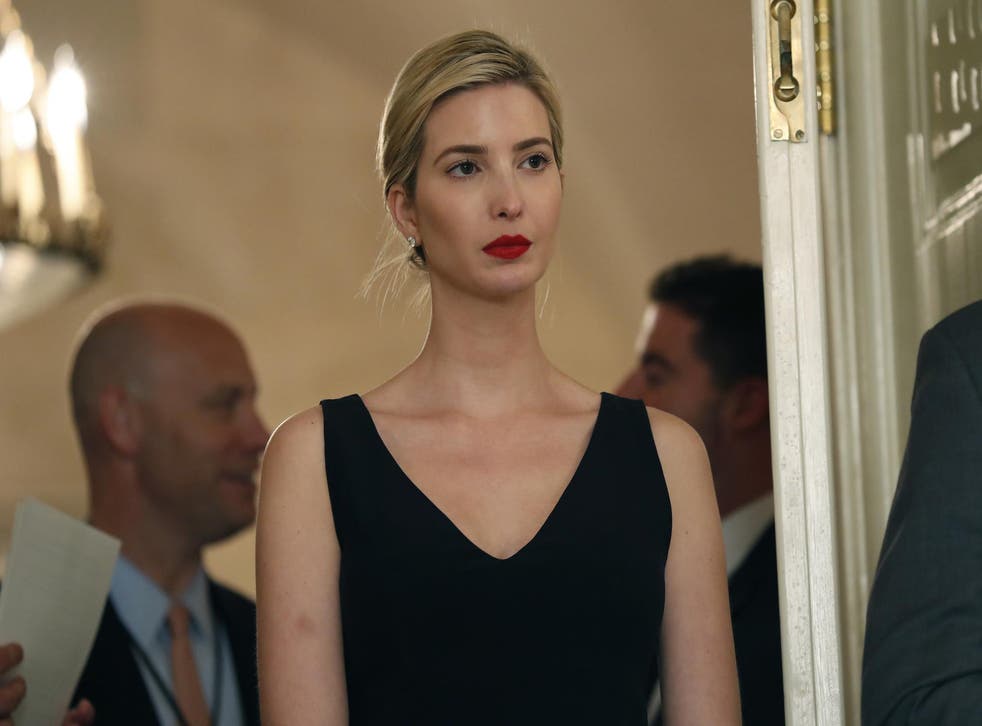 Ivanka Trump has come under fire again after workers at a factory making clothes for her brand in Indonesia described an environment of "verbal abuse" and poverty wages.
More than a dozen workers at the factory in Subang told the Guardian that they regularly work unpaid overtime and are paid one of the lowest minimum wages in Asia, despite production targets that are impossible to meet.
Workers said that management often calls them derogatory names such as "animals," "moron" and "monkey".
Other employees reportedly said they are paid so little that they cannot afford to live with their own children.
"I can't stand it any more," said a worker called Sita. "I work unpaid overtime every day and still earn just 2.3 million [rupiah, £136] a month.
"I'm planning to move from Subang, where the minimum wage is too low. But I don't know where to go yet. I haven't got any connections."
Another worker told the newspaper: "The management is getting smarter: they tap out our ID cards at 4pm so you can't prove anything."
Workers also accused factory managers of not paying a government-mandated Ramadan bonus by firing them just before the Muslim holy month, only to take them on again after it ends.
Jim Keady, an American labour rights activist, told the paper: "It's not surprising to me that in a factory like this, you have rank and file workers who are unclear on what their rights are, and what the law says in terms of wages and rights.
"But with these poverty wages – and I would call it that – just because something is legal, doesn't mean it is moral."
He added: "The buck stops with her [Ivanka].
"It's her name that's on the dress. Without her there is no brand."
Last month Chinese authorities detained three activists who were investigating reported labour abuses at factories producing Ivanka-branded clothing. The trio remains in detention and, despite calls to speak out about the issue, Ms Trump has remained silent.
The three activists were investigating labour conditions at Huajian's shoe factories for China Labor Watch, a New York-based non-profit organisation that aims to defend workers' rights.
Huajian has previously said that it had been making shoes for Ms Trump's company for nearly a decade, accounting for one third of the company's shoes made in China but only a small proportion of its total output.
The biggest names involved in the Trump-Russia investigation

Show all 17
But China Labor Watch said its investigation into the working practices at the Huajian factories had been closed down by local police.
Ms Trump has been dogged by conflict of interest allegations since she assumed the role of assistant to her father in the White House administration.
She reportedly stepped down from leading her business in January but all merchandise sold by the company still bears her name. In April, Chinese authorities granted Ms Trump's company several valuable trademarks, giving her rights to sell Ivanka branded jewellery, bags and spa services in the world's second-largest economy.
On the same day, according to the Associated Press, the first daughter and her husband, Jared Kushner, sat next to the president of China and his wife for a steak and Dover sole dinner at Mar-a-Lago.
Register for free to continue reading
Registration is a free and easy way to support our truly independent journalism
By registering, you will also enjoy limited access to Premium articles, exclusive newsletters, commenting, and virtual events with our leading journalists
Already have an account? sign in
Register for free to continue reading
Registration is a free and easy way to support our truly independent journalism
By registering, you will also enjoy limited access to Premium articles, exclusive newsletters, commenting, and virtual events with our leading journalists
Already have an account? sign in
Join our new commenting forum
Join thought-provoking conversations, follow other Independent readers and see their replies