Japanese automakers look to robots to keep an aging population on the move
Toyota invests in robotic services to help Japan's increasing elderly population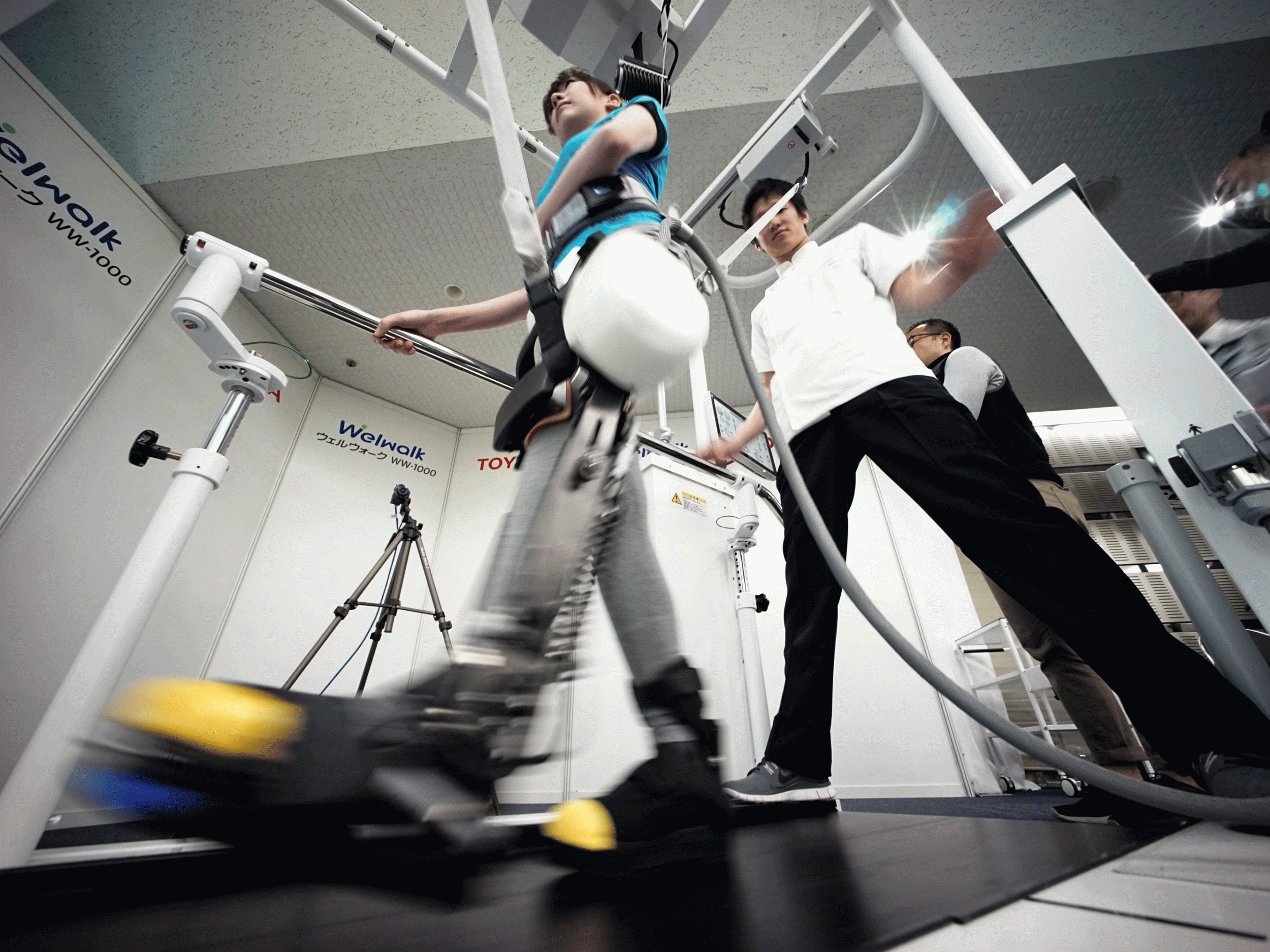 Japanese auto makers are looking beyond the industry trend to develop self-driving cars and turning their attention to robots to help keep the country's rapidly greying society on the move.
Toyota Motor Corp said it saw the possibility of becoming a mass producer of robots to help the elderly in a nation whose population is ageing faster than the rest of the world as the birth rate decreases.
The country's changing demographics place its auto makers in a unique situation. Along with the issues usually associated with falling populations, such as labour shortages and pension squeezes, Japan also faces dwindling domestic demand for cars.
Toyota, the world's second largest auto maker, made its first foray into commercialising rehabilitation robots on Wednesday, launching a rental service for its walk assist system, which helps patients to learn how to walk again after suffering strokes and other conditions.
Toyota's system follows the release by Honda Motor Co of its own walking assist "robotic legs" in 2015, which was based on technology developed for its ASIMO dancing robot.
"If there's a way that we can enable more elderly people to stay mobile after they can no longer drive, we have to look beyond just cars and evolve into a maker of robots," Toshiyuki Isobe, chief officer of Toyota's Frontier Research Centre, told Reuters in an interview on Wednesday.
Speaking to reporters, he added that mass producing robots would be a natural step for the company, which evolved from a loom maker in 1905 into an auto maker whose mission is to "make practical products which serve a purpose".
"Be it robots or cars, if there's a need for mass produced robots, we should do it with gusto," Mr Isobe said.
Japan is greying faster than the rest of the world, with the number of people aged 65 or older accounting for 26.7 per cent of the population in 2015, dwarfing the global average of about 8.5 per cent.
As a result, demand for care services for elderly people has boomed and a shrinking working population means that fewer able-bodied adults are available to look after them.
Globally, sales of robots for elderly and handicap assistance will total about 37,500 units in 2016-19, and are expected to increase substantially within the next 20 years, according to the International Federation of Robotics.
At the same time, car sales in Japan have fallen 8.5 per cent between 2013-16, as older drivers stop buying cars while car ownership becomes less of a priority among younger drivers.
Like most major auto makers, Toyota is still competing fiercely to develop self-driving cars, committing $1bn (£800m) to a robotics and AI research centre.
Mr Isobe conceded that it took Toyota longer to develop robots than cars, as it stretched the company further beyond its comfort zone. As a result, Toyota's new walking assist system took more than 10 years to bring to market.
"The biggest challenges have been in determining the needs of the robot market, which is relatively new, and to ensure that our products are safe," Mr Isobe said.
Business news: In pictures

Show all 13
Still, industry experts said that auto makers were well placed to compete with medical technology companies including Switzerland's Hocoma and robot manufacturers such as ReWalk Robotics of the United States, both of which have developed robotic walking assist systems.
"Cars operate using engines and other components which enable mobility and control," said Nagayoshi Nakano, research vice president at Gartner Research's IoT Center of Excellence.
"On top of that, many of them have been partnering with the likes of Google and other companies looking at applying artificial intelligence, which will put them in a strong position to compete in robot services for the elderly."
Reuters
Join our new commenting forum
Join thought-provoking conversations, follow other Independent readers and see their replies