Jes Staley: New Barclays chief says reputation is his first priority
British bank  to pay JP Morgan veteran as much as £10.2m in his first year at helm  
Russell Lynch
Thursday 29 October 2015 02:24 Comments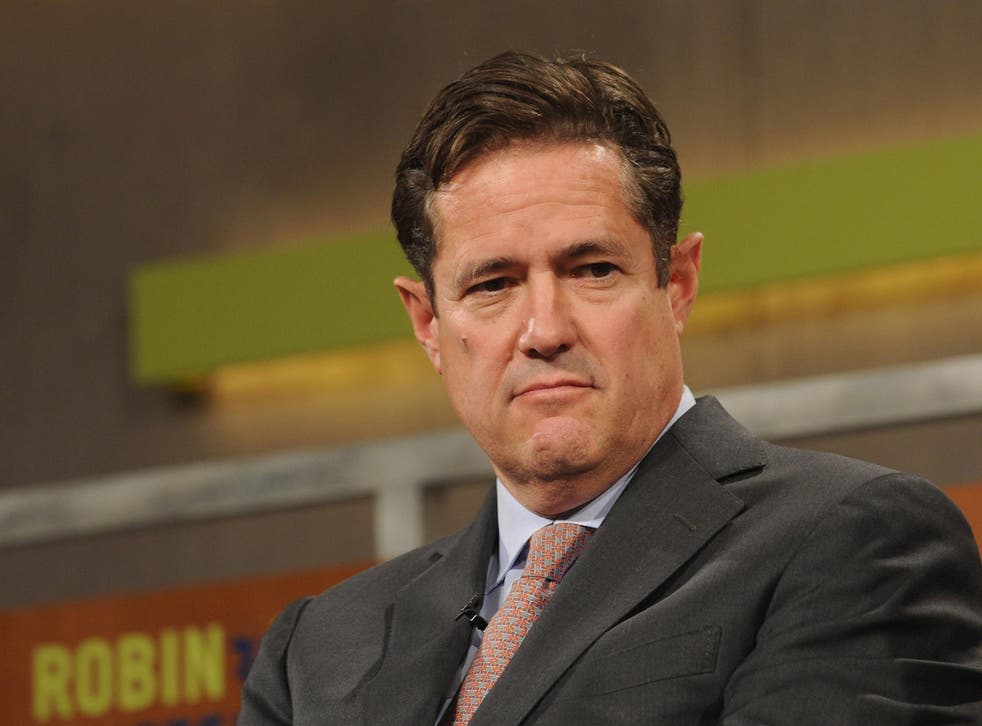 Jes Staley has become Barclays' £10m man and the new chief executive immediately pledged to rebuild the reputation of a bank savaged by a series of scandals.
The veteran former JP Morgan banker will join in December on £2.75m in annual pay including a £1.2m salary, £1.15m in "role-based pay" and a £400,000 cash top-up in lieu of pension contributions. The American will also be eligible for an annual bonus and a long-term share award worth a potential 200 per cent of fixed pay, or £5.5m. A further £1.93m in compensation for unvested share awards from his 30-year career at JP Morgan – albeit a one-off payment – takes his maximum package to £10.2m.
Mr Staley stressed the ongoing task of completing Barclays' "cultural transformation" in a memo to staff which struck a clear contrast with the bank's last chief executive from the US, Bob Diamond. Mr Diamond infamously said in 2011 that the "period of remorse and apology for banks … needs to be over", but a year later was engulfed by the Libor-fixing scandal which saw the bank fined £290m. As recently as May, Barclays paid a combined £1.53bn in settlements over currency rigging.
The new chief executive, hired by Barclays' chairman John McFarlane after Antony Jenkins was sacked in July, wrote that "trust is the most precious asset a bank can have", adding: "There can be no retreat from becoming a values driven organisation which conducts itself with integrity at all times. My ambition is to restore Barclays to its rightful standing – successful, admired and well regarded by all."
In 2012 the then Governor of the Bank of England, Mervyn King, accused Barclays of "sailing too close to the wind across a wide number of areas" in its dealings with regulators. Mr Staley offered an olive branch to Threadneedle Street and the Prudential Regulation Authority, saying: "My respect for the critical role which regulators play in our industry is unequivocal." He stressed the need for "collaborative, not adversarial" relationships with watchdogs.
Despite Mr McFarlane's recent hints over creating a major European investment bank, Mr Staley's arrival will not prompt a U-turn on scaling back Barclays' own operation, which is likely to produce much weaker results on Thursday in line with its US rivals. "We will complete the necessary transformation and repositioning of the investment bank to a less capital intensive model," he added.
Mr Staley was in the running to become chief executive three years ago when Mr Diamond stood down, but at the time the board shied away from appointing another American investment banker. The cost of buying out Mr Staley's JP Morgan share options in 2012 was also prohibitive.
Mr McFarlane said of Mr Staley: "He is a man of enormous integrity, and someone who both understands the business, but also the importance of cultural reform and the need to conduct our business in a way that we can all be proud of."
Business news: In pictures

Show all 13
Mr Staley was a candidate to succeed Jamie Dimon as the boss of JP Morgan but was sidelined in a reshuffle in 2012 and left for the hedge fund BlueMountain Capital in 2013.
Shares in Barclays rose 2.3p to 253.15p.
Register for free to continue reading
Registration is a free and easy way to support our truly independent journalism
By registering, you will also enjoy limited access to Premium articles, exclusive newsletters, commenting, and virtual events with our leading journalists
Already have an account? sign in
Join our new commenting forum
Join thought-provoking conversations, follow other Independent readers and see their replies