KLM to partner with Heineken to offer draft beer during flights
The differences in air pressure previously made serving draught beer at altitude impossible
Zlata Rodionova
Wednesday 20 July 2016 09:42 Comments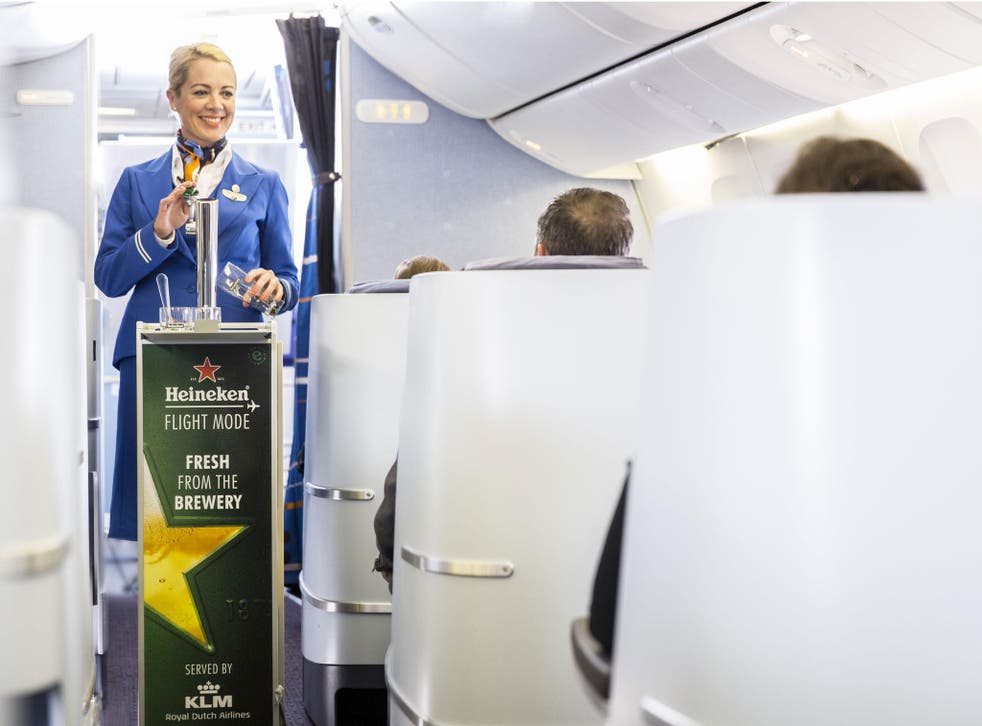 Dutch airline KLM has teamed up with brewer Heineken to offer draught beer on tap to its passengers.
The differences in air pressure previously made serving draught beer at altitude impossible.
But KLM and Heineken claim to have spent years developing a "Brew Lock" keg to overcome the technical challenge, leaving the taste of the beer unchanged.
As cabin pressure at altitude differs considerably from air pressure on the ground, the keg boasts new technology that works with the aid of air pressure instead of CO2.
"Because the air pressure is so much lower in an airplane than at sea level, a traditional beer tap will not work as it will only dispense a huge amount of foam," Edwin Griffioen, supply development manager global innovation at Heineken, explained to Fox News.
"We do have dispensers that work on air pressure, but these were too big to fit in a plane. It was one big jigsaw puzzle, as the keg of beer, the cooling system and the air pressure compressor all had to fit in an airline catering trolley," he said.
The cooling system had to be left behind but Griffioen compared the drinks trolley to a "Thermos flask" saying it will keep the beer under five degrees Celsius at all times.
The Heineken beer offered in-flight is brewed at the Zoeterwoude brewery in the Netherlands and each serving will be the standard Heineken draught serving of 25cl.
The airline hoped to launch the service in early July but it is currently still being cleared by civil aviation authorities.
KLM expects to use the new system on selected flights starting from August.
The brewery fresh draught beer will only be available for passengers flying in business class.
In recent year airlines have been launching additional services and perks to make the experience more exclusive for business class passengers.
The poshest beers

Show all 10
In December, WindSpeed Technologies, a "premier aerospace engineering services company", released details of a system called SkyDeck that allows passengers to observe the view in-flight from on top of the plane.
Emirates was the first airline to offer a shower to its passenger when it installed bathrooms on its Airbus A380s in 2008. It now also offers an on-flight bar for passengers travelling in business class.
Passengers with Etihad Airways can experience a completely private suite in the skies with an area called The Resident, a self-contained apartment on board, among other perks.
Register for free to continue reading
Registration is a free and easy way to support our truly independent journalism
By registering, you will also enjoy limited access to Premium articles, exclusive newsletters, commenting, and virtual events with our leading journalists
Already have an account? sign in
Join our new commenting forum
Join thought-provoking conversations, follow other Independent readers and see their replies