'Limp-wristed and lettuce-like': MP attacks inquiry into BP and Shell petrol price-fixing allegations
Oil giants targeted by European Commission in probe into suspected market manipulation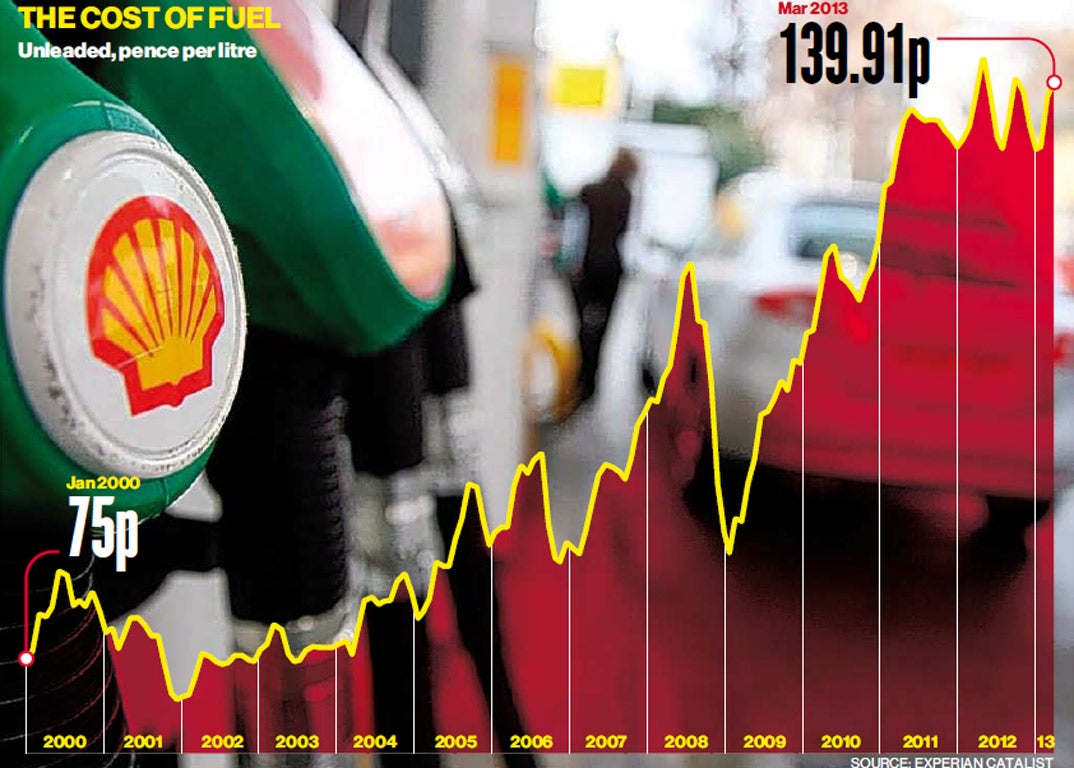 A Tory MP has attacked the Office of Fair Trading inquiry into petrol prices as "limp-wristed and lettuce-like" in the wake of price-fixing allegations and has led calls for a probe.
Harlow MP Robert Halfon, who has campaigned for three years on fuel prices and allegations of oil cartels, said despite the Commons unanimously calling for a thorough probe into petrol pricing, it could be a "national scandal" if the regulator failed to spot any of the allegations currently under review.
Mr Halfon said: "Last year in this House we had a unanimous motion for a full OFT inquiry into price fixing by oil companies ... we were approached by a whistleblower who suggested the things we have seen over the past two days had been going on.
"Do you not agree that what really happened was the OFT carried out a limp-wristed, lettuce-like inquiry when they should have done a full 18-month inquiry into what has been going on?
"Do you not also agree this is, if it is proved true, a national scandal and that the Government should look at changing the law and put people in prison for fixing oil prices? This has caused misery for millions of motorists up and down the country.
"And finally, will you impose, if this is proved, very harsh penalties on all the oil companies involved and give those billions of pounds in penalties back to the motorist?"
Energy Secretary Ed Davey defended the OFT as an "independent body, a strong body", which has powers to determine its own investigations.
In a statement, a spokesman for the OFT said: "The Office of Fair Trading carried out a call for information on UK road fuels, the findings of which were published in January of this year.
"As part of this call for information, the OFT asked for evidence on whether speculation or manipulation of oil spot and futures markets or inaccurate oil or wholesale road fuel price reporting could be leading to higher pump prices.
"The OFT stated these issues could potentially raise serious concerns but no credible evidence was submitted to the OFT in response to the call for information.
The European Commission raided the offices of BP and Shell on suspicion that they are playing a central role in what could be the next price-fixing scandal – colluding to inflate oil prices and, in turn, the cost of petrol.
In the wake of the Libor interest rate and gas price manipulation scandals, the EC has launched an investigation into whether oil producers and traders are colluding to rig oil prices in a move that inflates their profits at the expense of consumers.
"The commission has concerns that companies may have colluded in reporting distorted prices to a price reporting agency to manipulate the published prices for a number of oil and biofuel products," an EC spokesman said.
"Officials carried out unannounced inspections at the premises of several companies active in and providing services to crude oil, refined oil products and biofuels sectors," he added.
"Even small distortions of assessed prices may have a huge impact on the prices of crude oil, refined oil products and biofuels purchases purchases and sales, potentially harming final consumers," the spokesman said.
The price people pay for oil, petrol and related products around the world is determined by a handful of "benchmarks", the best known of which is Brent crude.
So-called price reporting agencies calculate the benchmark rate using data provided to them by firms such as oil companies, banks and hedge funds, which trade oil on a daily basis – submissions which the EC suspects are in some cases fraudulent.
A small increase in the price of a benchmark has a ripple effect on the prices of a wide range of products, potentially across the world analysts said.
"Benchmarks can be very influential and are used to determine all sorts of transactions. Ultimately, it effects the amount you pay for your petrol," said Andrew Whittock, an analyst at Liberum Capital, the City broker.
BP and Shell declined to comment on whether their offices were raided – although they are known to be among a handful of players that have had "unannounced inspections", with the Platts price reporting agency and Norwegian producer Statoil among the others. BP and Shell both conceded that they were under investigation and that they were co-operating.
The EC also said that it had concerns that some companies may have sought to increase the influence of its price inflations by "preventing others from participating in the price assessment process, with a view to distorting published prices".
The EC's decisive action escalated a campaign that has been gathering momentum in recent months, after a report for the G20 last summer found that the market is wide open to "manipulation or distortion".
The G20 report concluded that traders have an "incentive" to distort the market and are likely to try to report false prices because the market is unregulated and relies on the honesty of firms to submit accurate data about all their trades.
For its part, the UK government is also investigating the potential rigging of the oil market after concerns were raised by MPs.
It has asked the Financial Services Agency to examine whether the oil price could have been manipulated – and whether that had affected the price consumers paid at the pumps.
In addition the Bank of England is understood to have expanded its inquiry into Libor to include the oil price.
Last night the Conservative MP Robert Halfon, who has led the campaign for a formal investigation, said it was time for the oil companies to "come clean".
"Last year Parliament voted unanimously for an investigation into the oil market," he said.
"These latest allegations underline why that must happen. Motorists are being taken for a very expensive ride. The Government has done its bit, by freezing fuel duty for three years. Now oil companies must come clean and show some responsibility for what is happening to the international oil price." Mr Halfon added that any company found guilty of rigging the market should face a windfall tax – with the proceeds passed onto motorists in the form of lower fuel duties.
A spokesman for the Department of Energy and Climate Change described the claims against the oil companies as "concerning". However, he said that "until the facts are clear it would be inappropriate to comment further."
The EC pointed out that making unannounced inspections "does not mean that the companies are guilty of anti-competitive behaviour nor does it prejudge the outcome of the investigation itself".
Q&A: How petrol prices were fixed
Is it actually a scandal?
No, it's probably better characterised as a scandal-in-waiting. Following the Libor interest rate and gas-price fixing scandals, the world's guardians have been looking for the next big rigging target – and in recent months there has been a growing consensus that the price of black gold has also been routinely manipulated.
How does it work?
It's not actually that complicated – certainly nothing like as knotty as the Libor price-rigging. Basically, the European Commission suspects that oil companies and traders are pretending to sell oil and related products like petrol for a higher price than they really are to give the impression that it's more valuable than it really is. In other words, they are allegedly massaging the law of supply and demand that the free market says should determine prices.
I thought you said it wasn't complicated?
It's not. The price people pay for oil, petrol, biofuels and related products is determined by a few "benchmark" prices – you've probably heard of Brent crude, that's a benchmark. Now these benchmark prices are calculated by so-called price reporting agencies, based upon submissions from oil companies, banks, hedge funds and other players in the oil trading game. By colluding to inflate the price of their transactions, so the argument goes, they can increase the price of the benchmark and, in turn, the price of oil and oil products across the world.
So the big oil companies and their mates are lining their pockets at the expense of muggins here, who's paying extra for his petrol?
That's the accusation yes, although I would like to point out that nothing has been proven. Still, even if they're completely cleared, it'll probably leave more of a stain on the big oil companies, who have already made quite a few enemies over the years as a result of environment disasters, most notably the Gulf of Mexico oil spill that resulted in 11 deaths.
Who's implicated?
Well, the European Commission has raided the offices of BP, Shell, Statoil of Norway and the Platts price reporting agency. It may turn out that all are innocent – alternatively it could turn out to be a huge scandal implicating a large number of traders and oil companies across the world.
What are BP and Shell saying?
Both have admitted that they are being investigated and say they are co-operating with the investigation. They won't say whether they have been raided, although it is known that they have been.
Is there any evidence that the price has been manipulated?
None has been published, but the EC would have to be fairly concerned to launch a series of raids and make them public. Furthermore, a G20 report last year found that the unregulated oil market is wide open to "manipulation or distortion" because it is unregulated and relies on the honesty of its firms to submit accurate data about their trades.
Tom Bawden
Join our commenting forum
Join thought-provoking conversations, follow other Independent readers and see their replies