Lloyds caught in new PPI storm: Taxpayer-backed bank saved tens of millions of pounds by wrongly cutting compensation to it's customers
'Scandal within a scandal' may affect thousands of claimants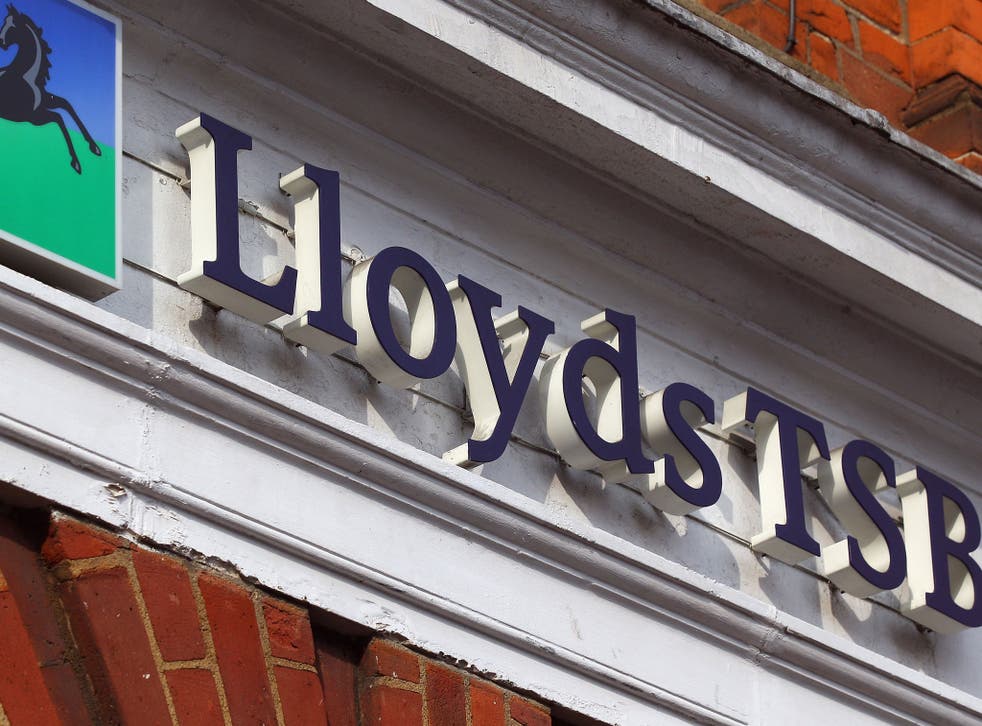 One of Britain's biggest banks has cost victims of the payment protection insurance (PPI) scandal tens of millions of pounds by wrongly cutting their compensation awards, a new investigation claims.
Lloyds Banking Group, which is 33 per cent owned by the taxpayer after a £20bn bailout, has been unilaterally reducing payouts to people who were mis-sold the notorious policies. The bank's behaviour has been described by one expert as "a scandal coming out of a scandal".
An investigation by the BBC has found evidence to suggest that in some months the bank provided more than one in four PPI claimants – a figure that the bank disputes – with "alternative redress" – an obscure loophole that allows Lloyds to assume victims who were wrongly sold single-premium PPI policies on loans would have bought a cheaper regular premium PPI policy. Single-premium policies involve one-off payments, rather than monthly outlays. Over the past year, the bank – which has been forced to set aside £10bn to cover PPI compensation claims – has allegedly often been cutting the cost of the cheaper regular premium policy from the full payout it would otherwise have been required to pay.
Claims management companies told BBC Radio 4 that when they challenge Lloyds' reduced offers on behalf of clients, the financial ombudsman has overruled the bank in every single case.
Cliff D'Arcy, an expert on the PPI scandal, said he believes Lloyds has reduced payments by tens of millions of pounds over the past year. "Frankly, I'm amazed that this problem has existed throughout the last year and hasn't emerged into the light," he told the BBC. "What's happening here is a taxpayer-sponsored bank depriving taxpayers of their rightful compensation by using a loophole. It's a scandal coming out of a scandal."
The MP John Mann, who sits on the Treasury Select Committee, said: "This appears to be legalised theft and yet again it shows Lloyds as the unacceptable face of banking. This raises major questions for the Treasury, which has a multibillion-pound stake in the bank. "
The payment protection insurance scandal became one of the most egregious chapters in the financial crisis when it emerged that PPI policies had been pushed alongside loans and other credit deals with the promise that payments would be covered if borrowers found themselves unable to work. But, in many cases, the fine print meant that customers could never make a claim.
Eric Daniels, the former boss of Lloyds, recently said that the bank was "on the side of the angels" when it came to PPI sales. But in a BBC Radio 4 special entitled Britain's Biggest Banking Scandal, broadcast tonight, it has emerged that Lloyds is still wrongly targeting PPI victims.
Research into the "alternative redress" loophole was conducted by the Professional Financial Claims Association (PFCA). It analysed more than 70,000 PPI offers over the past 12 months and found that in some months more than 25 per cent of Lloyds claimants were being wrongly hit with the increased charges. The PFCA estimated that affected Lloyds customers were "worse off" by more than £1,100 on average. Lloyds Banking Group said last night it disagreed with these figures and that the overturn rate for complaints where they offer comparative redress is in line with all other PPI complaints.
Martin Baker, who heads one claims management company, said: "I can't imagine any other industry where there is a failure rate of 85 to 90 per cent in a product where there is not a mass recall. But unfortunately the banks are insisting that people go through the rigmarole of making a complaint and putting obstacles in their way."
Mr D'Arcy told the BBC he is glad that Lloyds offers are being overturned by the financial ombudsman but warned that many more are slipping through the net as nine out of 10 settlements are not independently scrutinised. He said: "Lloyds is making substantial savings of millions of pounds a month, and customers are being short-changed."
Lloyds Banking Group said: "There are a small number of loan customers who were eligible and suitable for PPI and who bought a single-premium PPI policy. In some cases if the option had been available to these customers at the time, they would have bought a regular premium policy instead of the single premium policy.
"The FCA handbook is very clear that in these specific circumstances, the provider should give redress that puts the customer in the position they would have been in had the customer taken a regular premium policy. Since February 2013 and on this basis, we have offered comparative redress only on loans PPI complaints, which is itself a relatively small subset of all PPI complaints.  To put it another way, since February 2013, 95% of the total upheld PPI claims have been paid with full redress.."
Join our new commenting forum
Join thought-provoking conversations, follow other Independent readers and see their replies