Mario Draghi sparks currency turmoil after stepping up ECB stimulus plan
ECB chief has 'shot down his bazooka' by saying rates are unlikely to fall again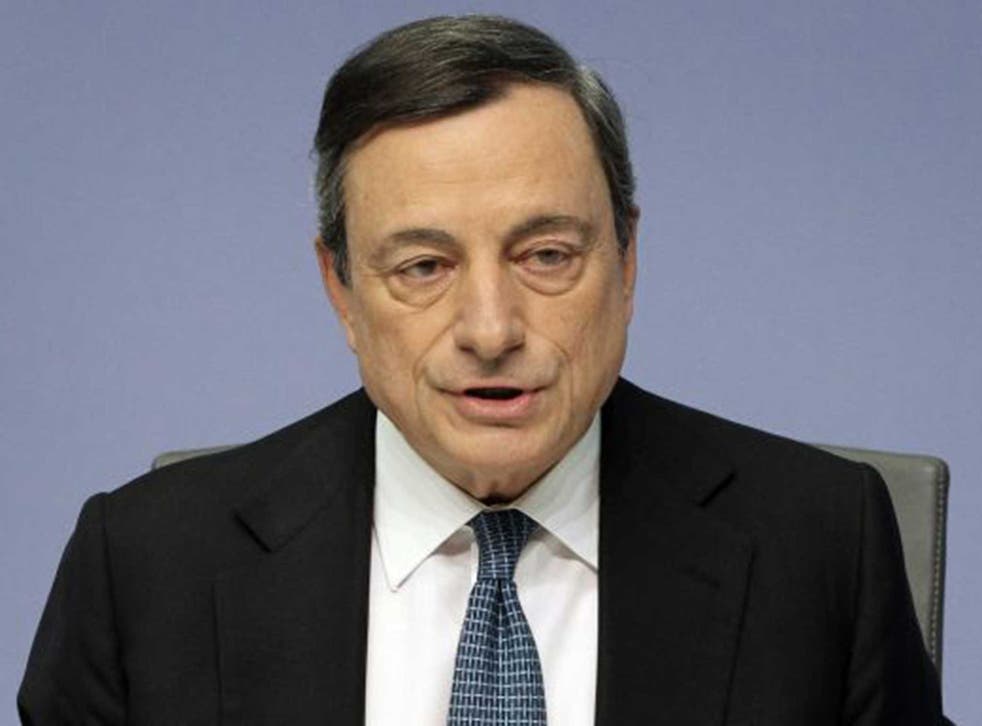 The European Central Bank's president, Mario Draghi, fired off a salvo of measures yesterday aimed at strengthening the eurozone's tepid recovery – but ended up shooting down his own "bazooka" by triggering turmoil in currency markets.
The ECB's broader than expected package included upping the size of its monthly €60bn (£47bn) money-printing programme by €20bn, and expanding the scope of the scheme beyond government bonds to other assets.
The central bank also cut its main interest rate to zero and lowered its deposit rate even further into negative territory at minus 0.4 per cent, in effect charging banks more to hold deposits with it. Four long-term loan schemes were also announced, with banks given incentives to boost credit growth with cheaper rates.
Mr Draghi is bidding to lift the inflation rate – currently minus 0.2 per cent – and growth, which was just 0.3 per cent in the latest quarter.
The ECB was determined to avoid the disappointment over its stimulus measures in December, treated as a damp squib by the market.
However, although the latest package unveiled by the central bank chief initially sent the euro plunging against other major currencies – with the benefits that implied in terms of boosting eurozone exports and importing inflation – Mr Draghi reversed the sell-off in just one sentence during his press conference.
His comments that "taking into account the support of our measures to growth and inflation, we don't anticipate that it will be necessary to reduce rates further" sent dealers piling back into the single currency. It ended up gaining ground against the pound and the dollar.
Simon Derrick, the chief currency strategist at BNY Mellon, said: "If the intention of the ECB board was to help weaken the euro then their work was entirely undone by Mr Draghi's comments about the future path of rates."
Investec chief economist Philip Shaw said the central banker had "shot down his own bazooka", adding: "We judge Mr Draghi's comments on interest rate prospects to have been unhelpful, especially if today's market reaction is not unwound."
The need for action, however, was underlined by the ECB cutting its inflation forecast for this year to just 0.1 per cent, from 1.0 per cent. In its latest quarterly forecasts, it also suggested that inflation would remain below its goal of just under 2 per cent over the coming years.
Mr Draghi said inflation would be low or negative this year following tumbling commodity and energy prices, with the bank's broad package of measures designed to prevent "second-round effects" across the eurozone such as falling wage demands.
What is negative inflation?
ABN Amro economist Nick Kounis warned: "The package represents a significant set of measures that will lead to an easing of financial conditions. But the ECB may well need to follow up with fresh measures in the coming months given the sharp deterioration of the growth and inflation outlook."
Register for free to continue reading
Registration is a free and easy way to support our truly independent journalism
By registering, you will also enjoy limited access to Premium articles, exclusive newsletters, commenting, and virtual events with our leading journalists
Already have an account? sign in
Register for free to continue reading
Registration is a free and easy way to support our truly independent journalism
By registering, you will also enjoy limited access to Premium articles, exclusive newsletters, commenting, and virtual events with our leading journalists
Already have an account? sign in
Join our new commenting forum
Join thought-provoking conversations, follow other Independent readers and see their replies