Medvedev: Russia is open for business
In a flying visit to the World Economic Forum in Davos, President urges foreign investors not to be put off by terrorism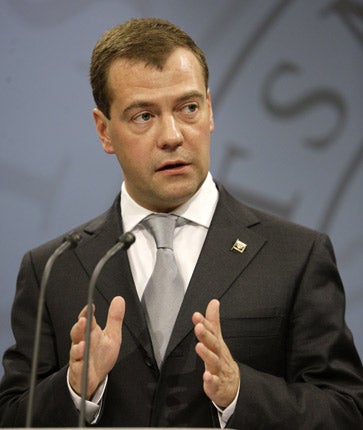 Dmitry Medvedev, the President of Russia, last night set out his country's stall in an attempt to attract international investment, vowing to fight to "eradicate the terrorism" his country has repeatedly suffered.
Speaking to the World Economic Forum in Davos, Switzerland, Mr Medvedev unveiled a series of reforms and initiatives he said he hoped would prompt investors to flock to Russia, while also chiding Western countries for their failures during the financial crisis and subsequently.
Mr Medvedev made only the briefest of visits, flying back to Russia immediately after his speech. He said that the terrorists responsible for the bombing at Domodedovo airport in Moscow earlier this week, which killed 35 people and injured more than 100 others, had expected him to cancel the visit altogether but that they had "miscalculated".
The President urged other countries to help him in the fight against terrorism, without which efforts to "develop the global economy would be futile". He said that Russian democracy would develop alongside its economy but declared: "Russia, despite its difficulties, is an open country."
Mr Medvedev's most striking commitments to reform included a pledge to work closely with the European Union in order to establish a common economic area. "We are moving towards establishing a single market stretching from the Atlantic to the Pacific," he said. Russia hopes to complete its entry to the World Trade Organisation later this year and then to join the Organisation for Economic Co-operation and Development.
The Russian leader sought to contrast his desire to open up trade with the dangers of protectionist instincts elsewhere in the world. "No matter how difficult it is to resist narrow national interests, it must be done," he added. He also warned that many countries had been too interventionist following the financial crisis. And he said the West had yet to learn all the lessons of the crisis. "Man has to live within his means," Mr Medvedev said, in a comment that will be seen as a dig at America's soaring budget deficit.
The President also ruled out new taxes on the financial services industry in Russia, a vow that will disappoint campaigners for global levies on banks to fund development projects. Mr Medvedev said his opposition to such taxes was based on his desire to open up Russia's financial system.
He said Russia would seek to boost its energy efficiency through deals with foreign companies, such as the one between Rosneft and BP. He dismissed suggestions that corruption and state autocracy should deter foreign investors.
"We are developing and moving ahead [on fighting corruption and boosting independent justice systems]," he said. "These are realistic attempts to improve the investment climate in Russia, but what we do not need is lecturing – we should be working together."
Join our commenting forum
Join thought-provoking conversations, follow other Independent readers and see their replies