Microsoft donated $500,000 for Donald Trump's inauguration before filing legal brief against President's 'Muslim ban'
Google and Amazon also gave money and services for the event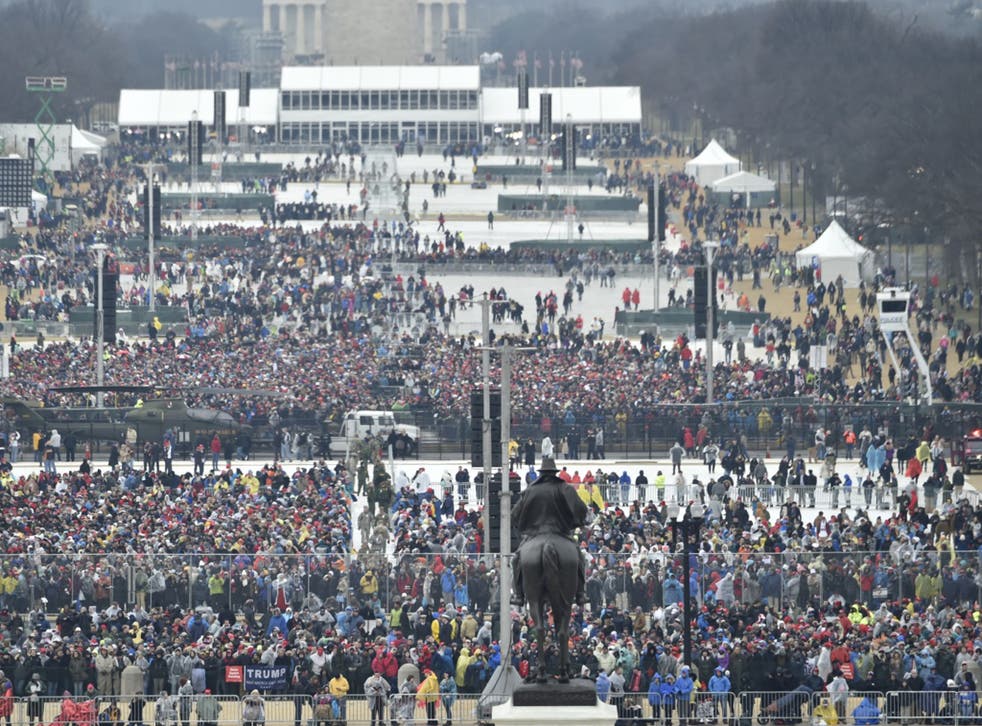 Silicon Valley companies who have backed a legal brief against Donald Trump's immigration ban donated money and services for his inauguration, Politico has reported.
Microsoft donated $250,000 (£200,000) in cash and provided services of the same value, according to the report. Google and Amazon also each provided undisclosed cash amounts as well as technical services. All three now have now publicly decried the US President's ban on immigrants from seven majority-Muslim countries.
Prior to the donations being made, Mr Trump had already promised to ban all Muslim immigration to the US, "until we find out what the heck is going on".
Microsoft made its contribution on 28 December, Politico said, citing federal ethics filings.
The gift would have entitled the company to a host of benefits including two tickets to "an intimate policy discussion and dinner with Vice President Mike Pence and Mrs Karen Pence" along with entrance to a series of other lobbying events with top-level administration staff, according to the Presidential Inaugural Committee website.
Google provided a YouTube livestream of the event and an unspecified donation, while Facebook supplied Instagram photo booths and a "mini Oval Office", Politico reported, citing sources close to the matter.
Uber and Twitter told Politico they did not donate to the inauguration. Apple has yet to comment, but explicitly withdrew from the Republican National Convention in July 2016 over fears about being associated with Mr Trump's controversial remarks about women and minorities.
Despite widespread concern about Mr Trump's controversial views, the President raised a record $90m for his inauguration, far surpassing the $44m President Barack Obama raised in 2013 and the $53m he raised in 2009, Time reported.
Oil giant, Chevron, gave $500,000 while Boeing, which has been a target of the President's Twitter barbs, gave $1m.
The controversial orders Donald Trump has already issued

Show all 9
Mr Trump's slew of executive orders since he assumed office, has now gone too far for some companies however. Over a hundred firms had by Monday evening filed a legal brief expressing their opposition to Mr Trump's immigration ban, which they said is "inflicting substantial harm on US companies".
Technology companies, which tend to recruit a high proportion of employees from outside the US, have been among those most affected.
Google chief executive Sundar Pichai came out against the order in an internal memo to colleagues in January, saying: "It's painful to see the personal cost of this executive order on our colleagues. We've always made our view on immigration issues known publicly and will continue to do so."
Register for free to continue reading
Registration is a free and easy way to support our truly independent journalism
By registering, you will also enjoy limited access to Premium articles, exclusive newsletters, commenting, and virtual events with our leading journalists
Already have an account? sign in
Register for free to continue reading
Registration is a free and easy way to support our truly independent journalism
By registering, you will also enjoy limited access to Premium articles, exclusive newsletters, commenting, and virtual events with our leading journalists
Already have an account? sign in
Join our new commenting forum
Join thought-provoking conversations, follow other Independent readers and see their replies