Mike Ashley's journey from Sports Direct to building a 'Harrod's of the High Street'
The 53-year-old has been an entrepreneur from the time he left school aged 16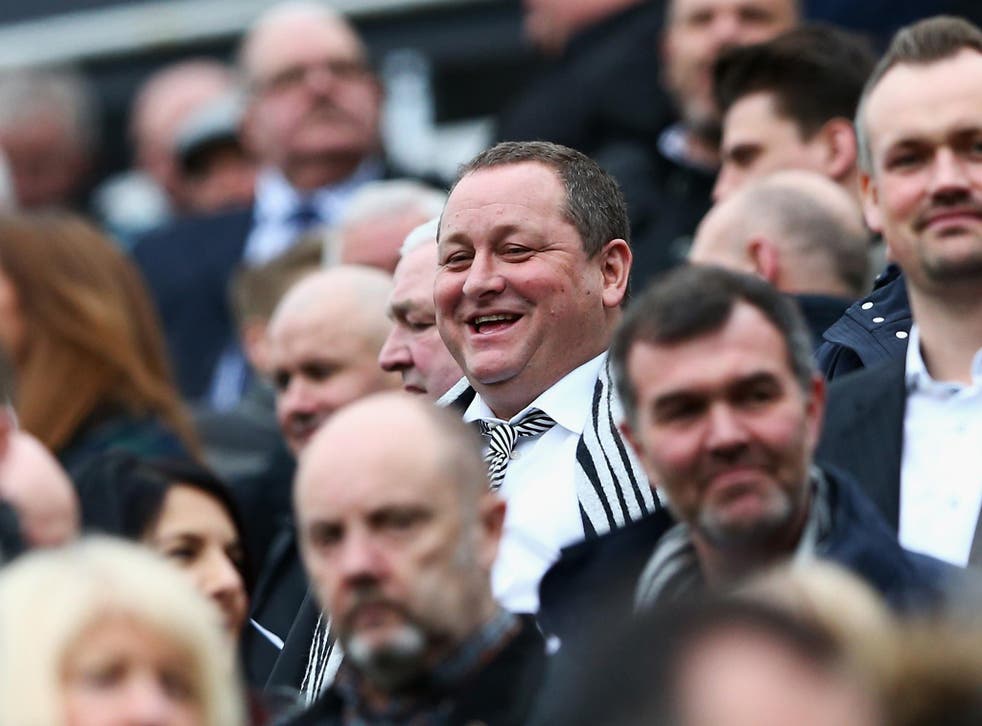 Billionaire businessman Mike Ashley has promised to turn House of Fraser into the "Harrod's of the High Street" after his £90m purchase of the struggling chain.
The last-ditch deal to save the 169-year-old company brings him closer to fulfilling a long-held vision of having a network of department stores to sell his sports goods.
It's a very different prospect from the low-budget, high-volume strategy that has made Sports Direct such a success.
Ashley has at times attracted more attention – perhaps unfairly – for boozy meetings, a questionable approach to corporate governance and his ownership of Newcastle United football club, than for his business acumen.
But the 53-year-old from the West Midlands has been an entrepreneur from the time he left school aged 16. He started his retail empire as Mike Ashley Sports two years later in 1982, growing it to 700 stores, employing 17,000 people and generating £3.2bn in revenue last year.
By 1984 he had opened a shop in London and in 1995 he changed the name of the chain to Sports Soccer.
Not afraid to ruffle feathers, Ashley sparked an Office of Fair Trading probe in 2000 after blowing the whistle on price fixing of football shirts by rivals including then market leader JJB Sports.
At the time, JJB boss Dave Whelan told the young pretender: "There is a club in the north, son, and you're not part of it."
The investigation eventually saw a cartel including JJB and Manchester United kit maker Umbro hit with fines totalling £18.6m.
Over the following years, Ashley boosted his company with the shrewd acquisition of a number of well-known brands, including Slazenger which he bought in 2004 for a reported £40m.
A £50m settlement after divorcing his wife Linda in 2002 did little to dent his rapidly expanding wealth.
By 2005, after another name change, Sports World International had overtaken JJB Sports as the UK's biggest sports retailer.
The company's swift rise also saw Ashley move up the Sunday Times Rich List to 25th by 2007 having amassed a personal fortune estimated at £1.9bn, after netting £929m when he floated Sports Direct that year.
Flying high, Ashley bought Sir John Hall's 41.6 per cent stake in Newcastle United for £55m in May 2007. By July, two months after that initial purchase, Ashley acquired the whole club.
Ashley's approach of sitting in the stands wearing a Newcastle shirt rather than in the director's box initially helped make him popular with fans, as did appearances at local pubs on matchday.
He appeared on live television downing a pint of beer with fans in the away stand during Newcastle's August 2008 game against Arsenal in London, flouting a Premier League ban on consuming alcohol pitchside.
Death of the British high street? The retailers affected

Show all 9
It wasn't his only well publicised drinking incident.
When asked in court last year to explain why he had drunk 12 pints with chasers and then vomited in a fireplace during a meeting with bankers, the Sports Direct owner said: "I like to get drunk, I'm a power drinker. I'm a binge drinker, I'm trying to get drunk."
After MPs criticised Sports Direct for "Victorian workhouse" conditions at its main Shirebrook warehouse, Ashley publicly apologised and implemented improvements.
He also invited media to join him on a tour of the new and improved warehouse but the good news story turned into a PR gaffe when he was asked by security to empty his pockets and pulled out a large wad of £50 notes. "Yes, I've just been to the casino," Ashley said.
He described the House of Fraser deal as a "massive step forward" for the Sports Direct group that would benefit the department store chain and his own luxury business, Flannels, which sells brands including Gucci, Dolce & Gabbana, Paul Smith and Vivienne Westwood.
"We will do our best to keep as many stores open as possible.
"It is vital that we restore the right level of ongoing relationships with the luxury brands. Our deal was conservative, consistent and simple. My ambition is to transform House of Fraser into Harrods of the High Street."
Join our new commenting forum
Join thought-provoking conversations, follow other Independent readers and see their replies