My Week: The unfathomable Frank Field strikes again
With the appointment of Paul Myners to probe the BHS case the redoubtable chair of the Work and Pensions Commitee has overstepped the mark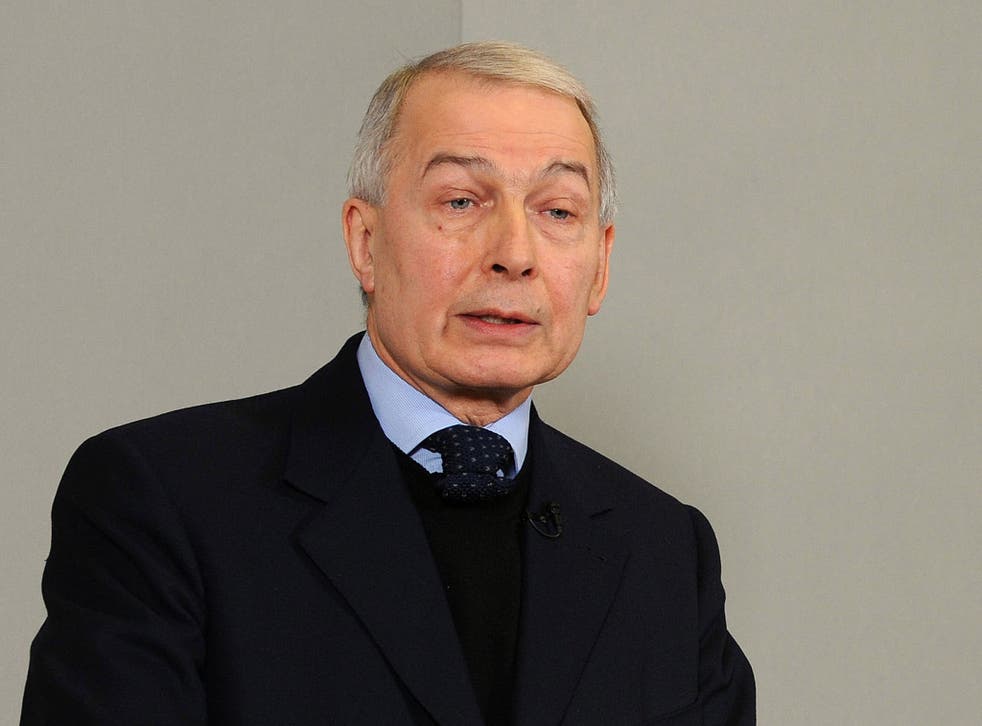 For a large chunk of the early 1990s, my journalistic career involved writing about insurance and pensions. If karma exists, I must have been a serial killer in a previous life.
But if I learned one thing in those grim times, it was that Frank Field was a special kind of MP.
Year in, year out, no matter who was in government, or who led his beloved Labour party, he espoused free-thinking views on the need for more private pension provision and the use of insurance to reduce dependency on the welfare state and NHS.
I didn't always agree with him, but I admired his independence. It was a characteristic that didn't do his career many favours. Tony Blair famously said he hired him to think the unthinkable, but that he'd ended up thinking the unfathomable.
Thanks to the BHS scandal, Mr Field has reappeared in my orbit in his capacity of chairman of the Work and Pensions Committee examining Sir Philip Green's dealings with BHS.
Sir Philip, a man used to getting his own way through foul-mouthed tirades, clearly hadn't read up on Mr Field's tough streak before losing his rag at him this week. Irked by the politician criticising him before his appearance before his MPs' committee, on Thursday night, Sir Philip publically demanded his resignation.
One can only assume Sir Philip thought his bullying would curb Mr Field's aggression a tad. It didn't work. The very next morning, Mr Field announced he was hiring Sir Paul Myners – one of Sir Philip's oldest enemies – to be his chief adviser on the BHS pension deficit investigation.
Two things occurred to me. First, was a conversation I'd had earlier in the week with Vince Cable, the former business secretary, who recalled how Sir Philip had once somehow got hold of his mobile phone number and barracked him about a perceived sleight while Mr Cable was on holiday with his wife in France. The bullying efforts didn't do Sir Philip any favours then, either. Mr Cable stuck to his guns.
The other was to question Mr Field's judgement. Sir Paul and Sir Philip have been bitter enemies since Sir Paul fought off the tycoon's attempt to buy Marks & Spencer. Sir Paul was chairman of M&S at the time.
Both scrapped bitterly, with Sir Paul emerging victorious. I remember Sir Philip accusing his nemesis of being an "anti-Semitic left winger".
Sir Paul threatened to sue for defamation over that one. Fast forward 12 years to now, and Sir Paul has been all over the airwaves slagging off Sir Philip and demanding rigorous inquiries into the scandal. He's right to demand these things, but he clearly has a Philip Green-sized axe to grind. As such, he is hopeless conflicted in any supposedly independent inquiry into the BHS pension deficit.
I sort of admire Mr Field for fighting back against Sir Philip's attack on him, but with this appointment, he's overstepped the mark. Any of Sir Paul's findings will be inherently flawed on the grounds of conflict of interest.
A naive move for such a political veteran. As Mr Blair put it, unfathomable.
Too grand to talk to journalists?
I interviewed Moneysupermarket boss Peter Plumb for a big profile article at his swanky corner office near Soho on Wednesday evening.
On my way in, I bumped into Martin Lewis, the financial journalist who sold Mr Plumb's company his website, MoneySavingExpert.com, for £80m a few years back.
In his journalistic capacity, Mr Lewis is always on the radio and TV, so, as a fellow hack, I introduced myself and asked if he could give me a quote about Mr Plumb for my article. "Talk to my PR people," he huffed, breezing off into the afternoon sun.
I wondered if a bit of cash would make me that grand, too. Mr Plumb's worked with a lot of entrepreneurs in his career: Sir James Dyson, Simon Nixon (founder of Moneysupermarket), and the founders of the Dunnhumby data group, which devised the Tesco Clubcard. He assured me these self-made men aren't as prickly as they seem.
It's not that they're being rude, he assured me, it's just that they're more interested in what gets said, than how you say it. Diplomacy is clearly one of Mr Plumb's strengths.
How to get a Plumb job
I'd expected the Moneysupermarket boss to be some marketing, IT or accounting graduate. How wrong I was.
In fact, Peter Plumb graduated in civil engineering, and embarked in the 1980s on a career in the oil industry building platforms for the North Sea.
That could have been the course set for the rest of his life but for the crash in the price of crude to $14 a barrel soon after he began. Just as today, job losses swept through the industry and Mr Plumb decided to bail out and go to the IMD business school in Lausanne, Switzerland.
He had what sounds like the best year of his life ("transformational" was how he described it), learning how to be a businessman. Jobs at PepsiCo, Dyson, Dunnhumby and Moneysupermarket followed.
It made me ponder just how often it takes a major external accident – in his case an oil crisis – to set people's careers on a path to the top.
Time and again I've met top executives whose career advancement was sparked by events like 9/11, the financial crisis or corporate meltdowns, when they've either proved their mettle in catastrophic conditions, or been forced to forge new careers.
As they always say, change is good.
The true story of Costa coffee's origins
Ninety eight-year-old Nunzio Infanti gave me the highlight of my week when he phoned to take me to task for a piece I wrote on the early history of Costa Coffee.
Mr Infanti, who describes himself as "The Italian Cockney", wasn't impressed that I'd started the story with Sergio and Bruno Costa's first coffee shop in London's dingy Vauxhall Bridge Road in 1977. "You only did the recent bit!" he said.
No recounting of the Costa brothers' tale is complete, he declared, without telling of how Sergio first got into the trade; making the coffees in Mr Infanti's café, Fina's Bar, in London's Victoria Street - then the hub of the country's civil service.
Sergio was, he recalls, "a very good-looking lad. When he was working, we always had groups of girls coming in, sitting there for ages with a coffee and a cake." But the handsome boy had bigger ambitions, leaving Fina's to work for Mr Infanti's coffee bean supplier.
Being a kindly soul, Mr Infanti wanted to give his protegé's new career a nudge: "I put him in touch with a few other café owners who might buy their wares and they went from strength to strength, importing Italian food, then coffee and ice cream machines.
"Next time I saw him he was driving a Rolls-Royce." Only then did he and his brother open up for business in Vauxhall Bridge Road. They sold the chain to Whitbread for nearly £14 million in 1995. Says Nunzio: "I always knew Sergio was destined for greatness."
Join our new commenting forum
Join thought-provoking conversations, follow other Independent readers and see their replies