Network Rail earmarks 18 major stations for privatisation in bid to tackle debt
Industry sources say sales could raise billions for state-backed organisation whose debts could top £50bn by 2020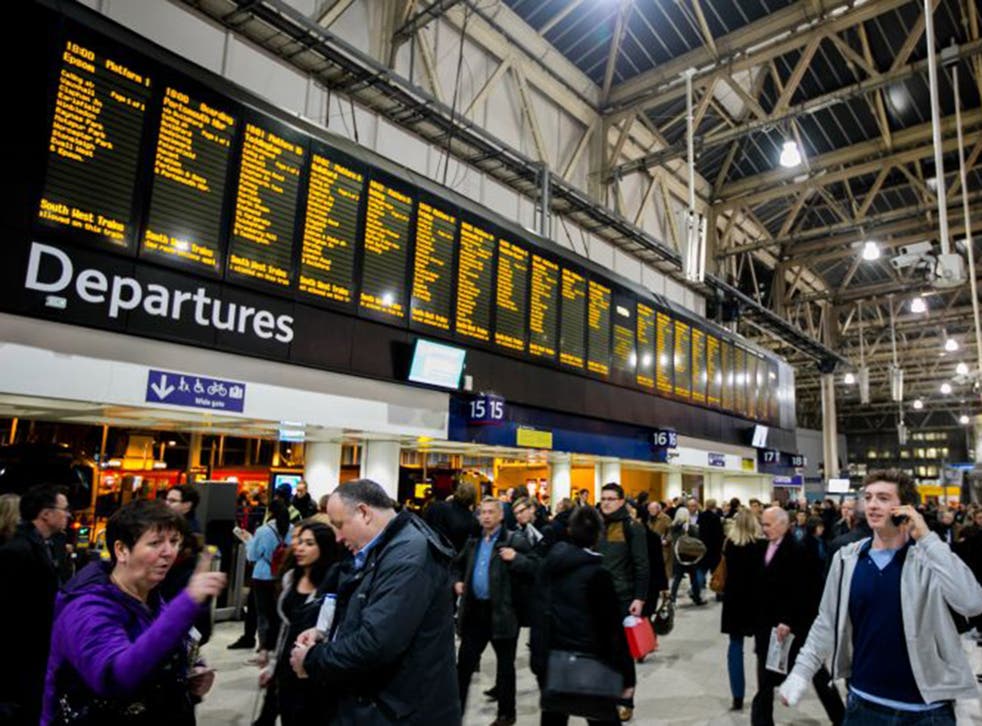 State-backed Network Rail is preparing to sell its biggest stations to developers and shopping centre landlords in its first substantial act of privatisation since moving on to the government's books nearly 18 months ago.
Bankers at Citigroup have been hired to look at options for 18 major stations, such as London Waterloo, Reading, Leeds and Edinburgh Waverley, which most eye-catchingly include either outright sales or the handing of concessions to big firms that would last decades. Any sales, which could raise billions according to industry sources, would help to reduce Network Rail's crippling debt, estimated to top £50bn by 2020, as well as streamline what is considered an overly complicated organisation.
Ministers want to overhaul Network Rail, which runs and maintains 20,000 miles of track and 40,000 bridges and tunnels, at a time when its largely Victorian-era infrastructure struggles to cope with the highest number of passengers travelling by train since the 1920s. Officials were shocked to discover the extent of Network Rail's problems when it moved from being a semi-autonomous body to a formal part of government in September 2014, on the recommendation of the Office for National Statistics, to meet European accounting rules.
The Transport Secretary, Patrick McLoughlin, forced Network Rail to "pause" two major electrification projects on the Trans-Pennine and Midland Mainline routes last year following fears over spiralling construction costs. There have also been embarrassing engineering over-runs that have led to chaotic scenes during rush hours at London Bridge, King's Cross and Paddington, and the organisation's chairman, Richard Parry-Jones, was axed and replaced by the Transport for London commissioner Sir Peter Hendy last summer.
Network Rail, the Treasury and the Department for Transport have commissioned a series of reviews of the organisation and have asked advisers to raise money by selling chunks of a vast property portfolio. Space under railway arches is rented out to businesses such as motor workshops and nightclubs.
A review by Nicola Shaw, the highly regarded chief executive of the High Speed One link that runs from St Pancras in London to the Channel tunnel in Kent, is considering privatising the whole of Network Rail. The forthcoming report could also recommend it remains in the public sector, but allows infrastructure projects to be part-financed through private money.
Privatisation looks likely to start earlier through the sale of a number of large stations, though the candidates ripe for private ownership have not yet been identified. Birmingham New Street, Bristol Temple Meads, Manchester Piccadilly and Charing Cross in London are among the properties in this portfolio of bigger stations. Experts and ministers think that managing these stations has distracted Network Rail from its main task of making sure the track works properly and safely.
Not all stations would be sold, with several of them unavailable as they are undergoing substantial expansion work over the next five years. Options will also include asking firms to run just the shops in the stations, grouping several together for sale, or offering individual concessions.
The concession model has been used at St Pancras station. This is run by HS1, which in turn is managed by Canadian pension funds on a 30-year concession, having paid £2.1bn for the privilege in 2010.
A Network Rail source told The Independent on Sunday that Citi has been asked "to pull together options to realise best value from our stations". The source added: "It could be just the retail; it could be a concession option like St Pancras. It could be some, could be all. It might be same answer for all or treating them individually.
"The point is there are lots of possibilities. Citi is testing the market so there will be lots of opinions out there and none of them right, as our board will make that decision some months down the line from now."
UK rail operators ranked

Show all 22
But firms that bid against Citi for the work pointed out the hiring of a heavyweight US bank in Citi meant that sales were inevitable, given it tends to specialise in outright divestments rather than reviews. "They will gauge investor interest [in sales]," said a source.
A second source said: "Any concessions would have to be more than 10 years in order to attract companies to invest. Some of the older stations would need them to put in quite a lot of investment."
This source added that Citi could see if train-operating companies, such as Virgin, would like to manage stations. The bankers could woo developers such as British Land, which owns the Broadgate office complex in the City of London, and shopping centre owners, such as California-based Westfield Group.
A Network Rail spokesman said: "Generating funds to invest in building a bigger, better railway is at the core of our disposals strategy. We're taking a long hard look at our assets, ensuring we keep what we need to grow and expand the railway, but then looking at ways we can realise best value from the rest to reinvest."
Join our new commenting forum
Join thought-provoking conversations, follow other Independent readers and see their replies