Network Rail's upgrade plans face further delays down line
Exclusive: Senior director warns that another overrun is 'now inevitable'
Mark Leftly
Thursday 16 July 2015 07:43 Comments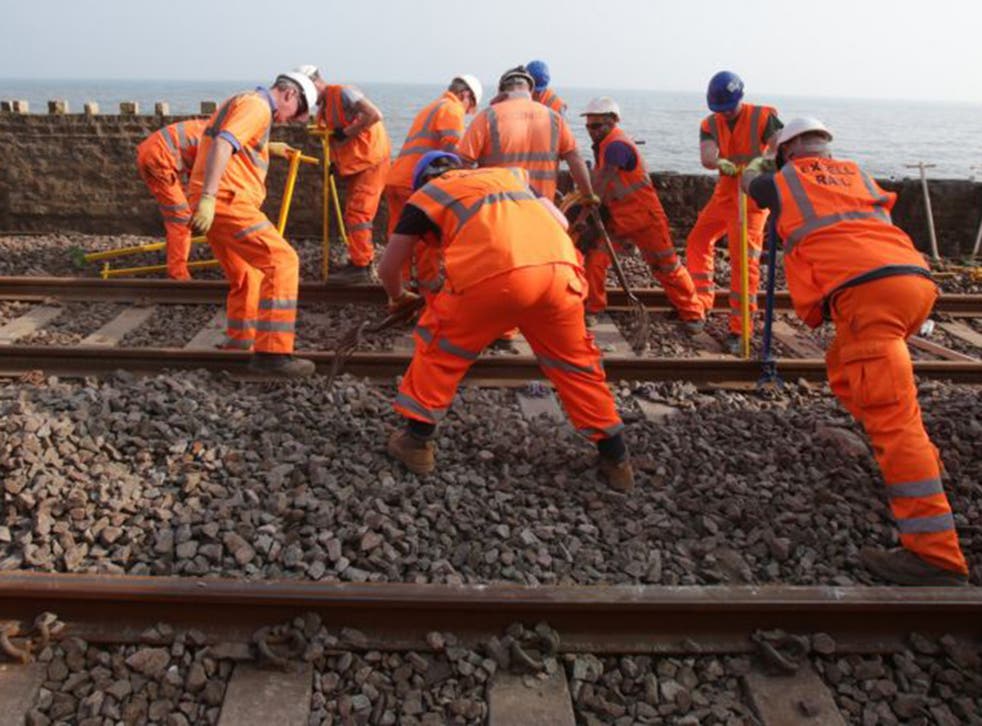 Network Rail will not be able to complete all the infrastructure work planned within its £38.5bn five-year spending programme, directors at the state-backed company have told The Independent.
Transport Secretary Patrick McLoughlin stunned the rail industry last month when he announced he had "paused" Network Rail's electrification of the Midland Main Line and the Trans-Pennine route between Manchester and Leeds. Mr McLoughlin protected the five-year budget, known as control period 5 (CP5), which runs to 2019. This suggested that work on the electrification schemes could still be completed on time once they had been reviewed to control their spiralling costs, or at least would not cause knock-on delays for other projects.
However, a senior Network Rail director said that work will "inevitably" seep into control period 6 (CP6), while a second admitted that was "a fair assumption" that all the work could not be finished by 2019. A senior adviser to Network Rail said the organisation "doesn't have the institutional capacity to accelerate projects that have been delayed a bit" within the current cycle.
Mark Carne, Network Rail's chief executive, has already admitted the current spending plans might be "over ambitious". Network Rail executives were concerned as far back as last year over the programme, with November's board minutes noting work was needed to "overcome the significant challenges of efficiency and deliverability in CP5".
Network Rail runs and maintains 20,000 miles of Britain's track, 6,300 level crossings, and 40,000 bridges and tunnels. The Government is deeply concerned about the organisation's ability to oversee a creaking, Victorian-era rail system that is struggling to cope with the highest number of passengers since the 1920s.
The ex-Ford Motor Company executive Richard Parry-Jones was replaced as chairman by Transport for London commissioner Sir Peter Hendy last month and a special director, the former Eurostar boss Richard Brown, was imposed on Network Rail's board to report directly to Mr McLoughlin. The Independent revealed in March that Mr Parry-Jones' position was under threat and the Transport Secretary would take the highly unusual step of implementing his right to introduce his own director.
Sources close to Mr Carne, an ex-Royal Dutch Shell executive, said will not resign. He has been in post a little more than a year but industry sources believe Sir Peter will now, in effect, lead Network rail.
Network Rail, and a debt mountain of more than £30bn, went on the public sector's books last autumn after the Office for National Statistics said it was necessary to comply with accounting rules.
This has placed the organisation under greater government scrutiny than at any point since it succeeded the failed Railtrack in 2002. Several Network Rail directors are known to be frustrated by what they consider to be ministerial meddling.
As well as the structural changes, Nicola Shaw, who is chief executive of the High Speed One line linking London to the Channel Tunnel, has been asked to review the "future shape and financing of Network Rail".
A Network Rail spokesman said: "Two sizeable projects have been paused while others are subject to a review but there are still hundreds of improvement schemes going on across the country with a new railway in Scotland on schedule to open in a few weeks, as well as newly-rebuilt and transformed stations at Manchester Victoria and Birmingham New Street."
Register for free to continue reading
Registration is a free and easy way to support our truly independent journalism
By registering, you will also enjoy limited access to Premium articles, exclusive newsletters, commenting, and virtual events with our leading journalists
Already have an account? sign in
Join our new commenting forum
Join thought-provoking conversations, follow other Independent readers and see their replies