New £5 note to sell for more than £80,000
More than 100 people have bid on the £5 with an AK47 serial number
Zlata Rodionova
Thursday 13 October 2016 11:21 Comments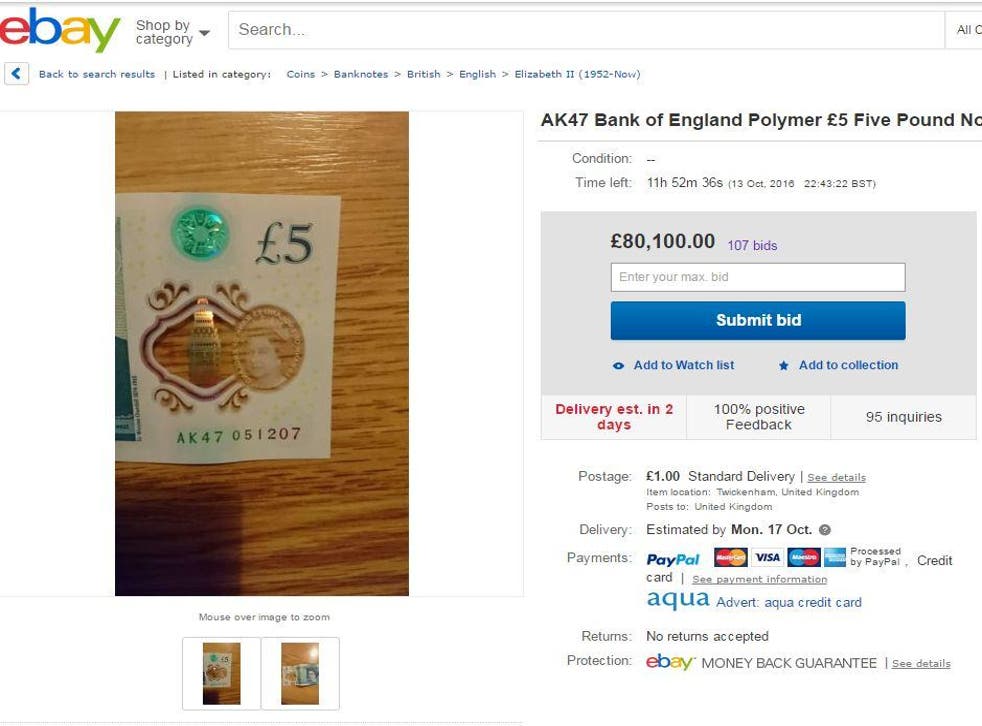 A new £5 polymer note could be sold for more than a 16,000 times its face value on eBay.
An astonishing bidding war on Gareth Wright's note has seen its value reach more than £80,000 on the auction site. This is just because it has AK47 on the serial number sought by collectors.
The bidding war now stands at £80,100 with 11 hours left to purchase the banknote.
So far more than 100 people have already bid on the item.
According to eBay rules, a potential buyer "must pay" for any item he commits to buying.
However, Wright, from Twinckenham, is concerned that many of the excessive bids are not genuine.
He told The Independent: "I do think most of these bids are fake but you never know! I can only hope for the best and that somone does want to buy it."
"If I do get the money I will probably look into buying my mother's house for her and then travel to South America."
Five things to know about the new £5 banknote
A spokesperson for eBay said: "When you bid on eBay you enter a binding contract."
"Where we believe there is unhelpful bidding activity we will take an active role in monitoring the sale for the seller."
Since they were released in September, the new plastic £5 notes featuring Sir Winston Churchill, have become collectors' items with people selling them for up to £800 on eBay.
Collectors are looking for notes with a serial number starting AA01 and ideally followed by a low six-digital serial numbers.
There are 440 million new fivers printed but not all of them have made it into circulation yet, so it's possible that lower-numbered notes may still appear in cash machines.
The Queen was presented with the first note leaving a further 999,998 fivers bearing the AA01 prefix.
Business news: In pictures

Show all 13
The new notes fit in cash machines like paper ones, but are considerably more durable, cleaner and harder to counterfeit.
Each note is expected to last about five years – two and a half times longer than their paper counterparts – because of the durability of the polymer material.
In April, the Bank of England unveiled the design of a new £20 featuring the artist JMW Turner and his painting "The Fighting Temeraire" that will enter into circulation in 2020.
The old fiver, featuring prison reformer Elizabeth Fry, can still be used in shops until it is withdrawn from circulation in May 2017.
Register for free to continue reading
Registration is a free and easy way to support our truly independent journalism
By registering, you will also enjoy limited access to Premium articles, exclusive newsletters, commenting, and virtual events with our leading journalists
Already have an account? sign in
Join our new commenting forum
Join thought-provoking conversations, follow other Independent readers and see their replies