Bank of England warns of business closures and job losses under no-deal Brexit
Mark Carney also says Brexit developments over next few days and weeks will have 'a material impact' on pound
Olesya Dmitracova
Economics and Business Editor
Tuesday 15 October 2019 15:21 Comments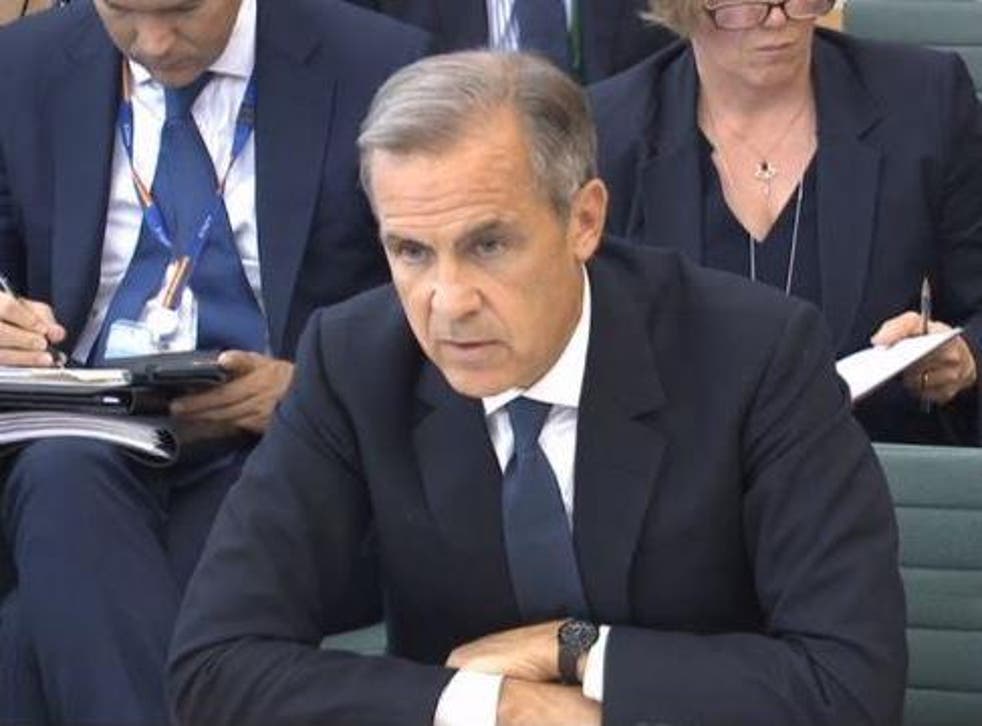 A no-deal Brexit is likely to result in business closures and job losses, the governor of the Bank of England has said – sticking to his earlier warning, as Britain enters the final fortnight before its planned departure from the EU.
Mark Carney spoke on Tuesday before parliament's Treasury Committee in a crunch week for Brexit talks. The government has rejected claims a Brexit deal cannot be negotiated in time for the EU leaders' summit on Thursday. The bloc's chief negotiator Michel Barnier has said a deal is still possible this week but added that it looks "more and more difficult".
As a crash-out exit remains a possibility, Mr Carney said: "There are likely to be circumstances in an abrupt no-deal Brexit where certain businesses become uneconomic and they close."
"And so, for the person who runs that business or works for that business or has someone in their family who works for that business, they will be directly affected … because of a loss of a market or potentially shorter-term disruption."
The central bank governor has previously made similar forecasts. In August, he said a no-deal Brexit would deliver a blow to a "potentially substantial number" of companies.
Even those businesses that survived would not emerge unscathed, he suggested at the time, citing a survey of 10,000 firms by the central bank.
"They think that output will go down, they'll have to let people go … That is the view of those firms."
Boris Johnson and Brexit merchandise for sale at the Tory conference

Show all 10
Mr Carney reiterated the warning despite noting in September that Britain, as a whole, had become better prepared for a no-deal outcome.
One part of the economy where the impact of the Brexit process has been particularly visible is the volatile exchange rate, and Mr Carney predicted more sharp moves ahead.
"Developments over the course of the next several days, next several weeks will have a material impact on the value of the pound," he said. "The [financial] system can handle those changes and will reprice those assets, but there will be material moves… A sentence here or there, this morning or this afternoon, can have a material impact on the level of the pound."
Analysts, polled by Reuters earlier this month, forecast that the pound will fall to $1.10-$1.19 if Britain leaves the EU without an agreement. That will take a quarter off the currency's value before the EU referendum in 2016.
Likewise, economists, including those at the Bank of England, have been warning of a stark impact on the broader UK economy from a disorderly Brexit.
Mr Carney said, on Tuesday, that the bank has some ability to support the economy in that case, by bringing interest rates "close to but slightly above zero".
"We can lower them and we can make sure that [cut] is passed on to households," he added.
Register for free to continue reading
Registration is a free and easy way to support our truly independent journalism
By registering, you will also enjoy limited access to Premium articles, exclusive newsletters, commenting, and virtual events with our leading journalists
Already have an account? sign in
Join our new commenting forum
Join thought-provoking conversations, follow other Independent readers and see their replies