Panama Papers bubble chart shows politicians are most mentioned in document leak database
It appears to show that politicians are mentioned most often, followed by lawyers, business people, entrepreneurs, and those working in association football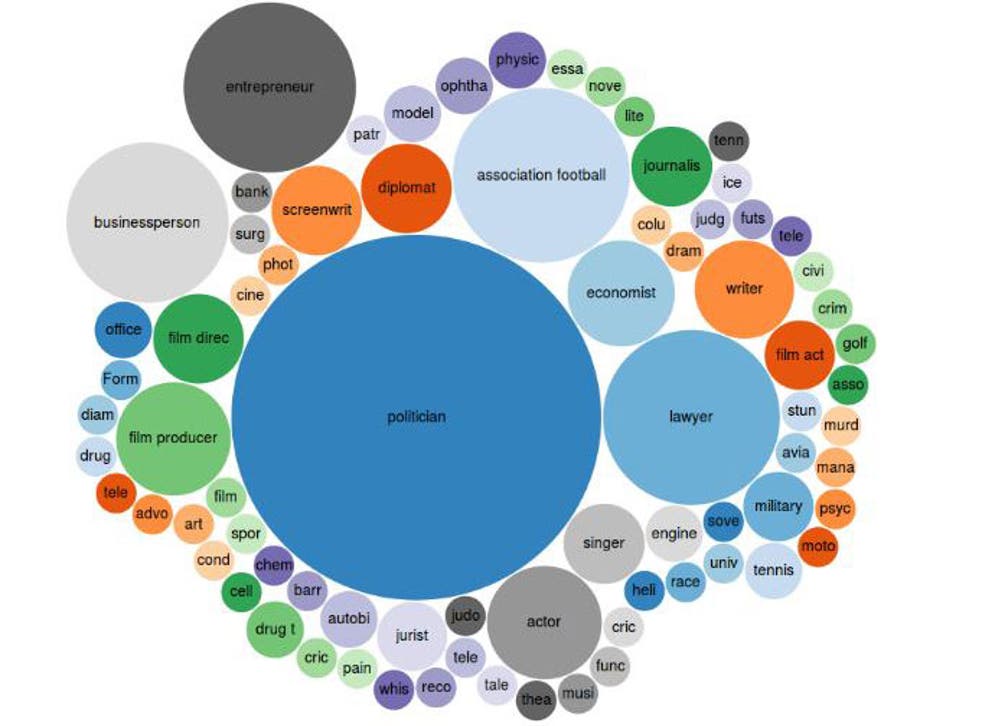 Politicians are by far the most referenced occupation in the Panama Papers.
That's according to a chart created by a data researcher from Denmark, who used Wikidata to plot the occupations associated with those featured in the leaked documents.
Finn Årup Nielsen, senior researcher from the department of applied math and computer science at the Technical University of Denmark, published the bubble chart on his blog.
It appears to show that politicians are mentioned most often, followed by lawyers, business people, entrepreneurs, and those working in association football.
Nielsen said the flaw with the Wikidata means that only people who are notable enough to get their own Wikipedia page will be included in the data, which might mean many smaller business people featured in the papers don't count towards the bubble chart.
What are The Panama Papers?
At least three dozen Americans did business with Mossack Fonseca, the law firm based in Panama that wrote to all its clients to tell them it had leaked their details to the press on April 1.
Among the Americans listed are Len Gotshalk, a former Atlanta Falcons football star who was charged in 2010 with being a key player in a kickbacks scheme to inflate stocks of tech companies. Three days later, he bought a British Virgin Islands shell company that Mossack Fonseca had set up.
Emma Watson's name has also been found in the searchable database published by the International Consortium of Investigative Journalists.
World leaders linked to 'Panama Papers'

Show all 15
Watson's spokesperson confirmed the 26-year-old had set up an offshore company, but added that she does not receive any tax or monetary advantages whatsoever. The spokesperson said she uses it for privacy purposes.
Setting up an offshore company is not in itself illegal or evidence of illegal conduct.
A number of past and present world leaders were named in the first leak as having offshore holdings. The database is the largest ever trove of data about offshore companies to be made publicly available.
Join our new commenting forum
Join thought-provoking conversations, follow other Independent readers and see their replies